May 28 & 29: Black Box Play - Crimes of the Heart
May 31: Memorial Day - No School
June 2: Yearbook Signing Party for Seniors
June 3: Seniors Last Day of School
June 4: Synchronous Classes
June 4: Graduation
June 5: Senior Party
June 9 & 10: Term 4 Finals
June 10: Last Day of School
Yearbooks have ARRIVED!
The yearbook staff is happy to share that the yearbooks have arrived and we are getting ready to hand out the books. Yearbooks will be distributed from Gym 9. We will once again be having a Senior Signing Party on Wednesday, June 2 from 3:15 p.m. - 6:15 p.m. We will have a photobooth for you to capture some fun pictures with your friends and the book. For all other grades, yearbooks will be distributed on Thursday, June 3 and Friday, June 4 during all lunches. Please be sure to pick up your book at this time. We have ordered a limited number of extra books that will be available for purchase on a first come first serve basis. Books will be $98.00, payable by cash, credit card or check (payable to WHS Yearbook).
Missing Textbooks
Parents and Students, please look around your home for any textbooks that can be returned to the school. With COVID ending in-person learning early last year, many departments are missing textbooks and will be in desperate need next year if they don't get them back.
Summer Learning Opportunities
Check out the following student contests for some project learning over the summer.
In honor of Juneteenth, help your students build digital skills while commemorating this important holiday. For more fun, enter our Juneteenth Flyer Contest for a chance to win Google Swag.
Adobe and Netflix - The Great Untold
What is the Great Untold? It's your story told your way. Maybe it's a coming-of-age story or an overcoming-the-odds one. A feel-good saga or an existential journey. Whatever moves you — we want to know. If your story is one of the three selected, you'll get to turn it into a short film with the help from Adobe and the guidance of a mentor from the Netflix community. Winners will receive $10,000 and come away with a priceless experience.
2021-2022 WHS Student Council Senate Members Announced!
We are pleased to inform you that the following students were elected to the WHS 2021-2022 Student Council Senate. These students will serve as representatives of the WHS student body. You can contact the student council at whsstudentcouncil@isd284.com to voice concerns and offer suggestions for how to improve the student experience at Wayzata.
Time to Return Materials
All textbooks and library books are due before the end of the school year. If you would like to know what you have currently checked out it's easy to log in and see.
Go to wayzata.follettdestiny.com
Click on Wayzata High School
Click on Log In in the upper right and use your usual username and password
Click on the My Info tab to see what you have checked out and make a plan to return it.
Textbooks and books can be dropped off in the Media Center if you are in the building. Distance learners may drop off books at the front greeter between 7:45 a.m. and 3:15 p.m. daily.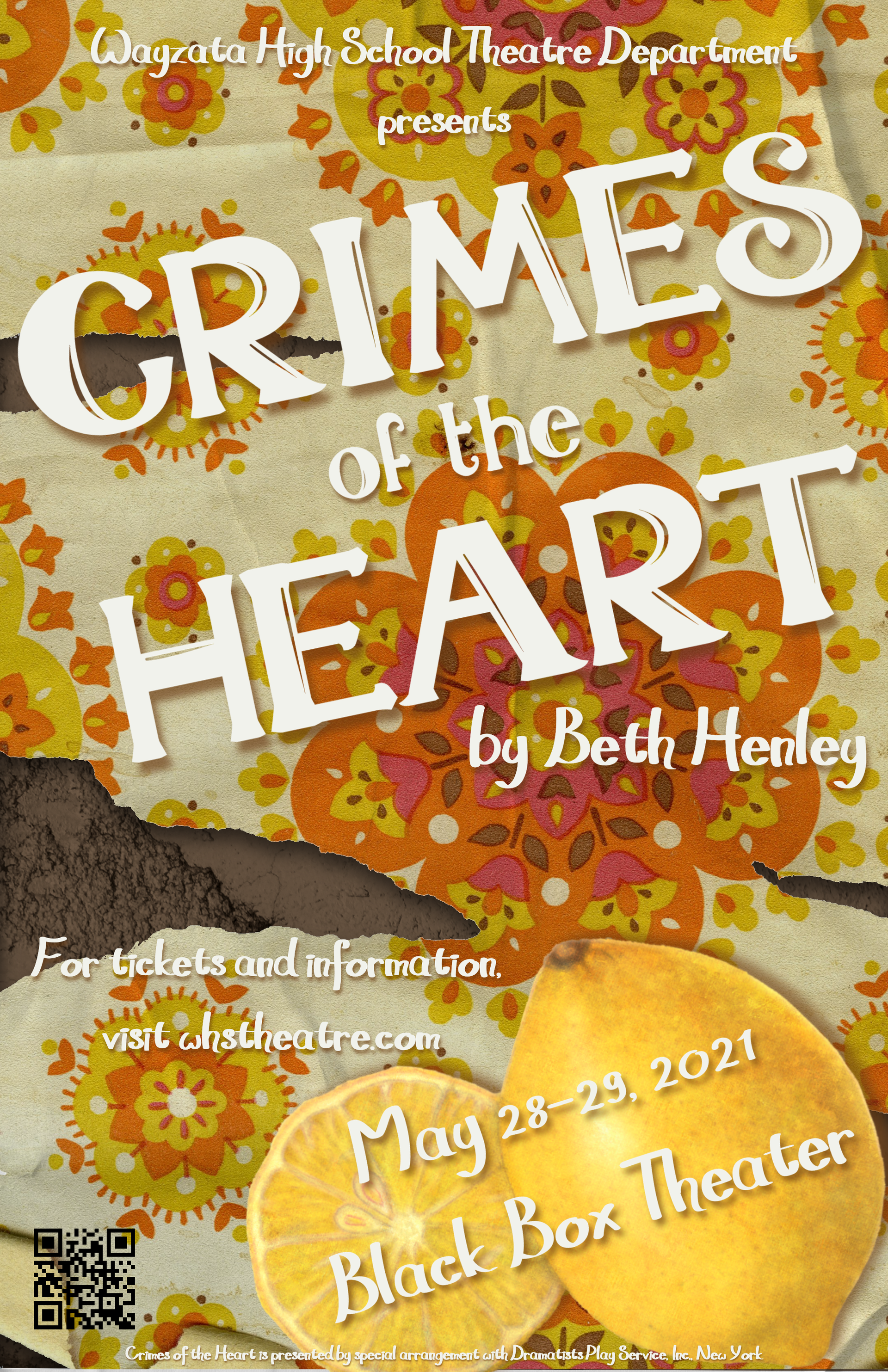 SPRING Play directed by Grant Sorenson

This hysterical and heartwarming dark comedy concerns itself with the three quirky Magrath
sisters, forced to spend a fraught couple of days at their childhood home in Hazlehurst,
Mississippi in the fall of 1974. Youngest sister Babe has just shot her husband for unknown
reasons, middle sister Meg is home to rekindle a long lost love, and oldest sister Lenny just
wants to celebrate her birthday in peace. As the sisters rehash old traumas and new
territory, they move past their disturbing childhood and begin to heal together. Crimes of the Heart won the 1981 Pulitzer Prize for Drama.
Performance Dates: Black Box – limited seating
whstheatre.com / Box Office
GENERAL ADMISSION
Tickets: Adult $15, Senior (62+) $12, Student/Staff $10
Friday, May 28 at 7:00 p.m.
Saturday, May 29 at 1:00 p.m. & 7:00 p.m.
Online Mindfulness Class for WHS Students
Mindfulness is a powerful, research-based practice that can help teens reduce stress and anxiety, and improve focus and concentration. This mindfulness class consists of seven sessions in which students will learn basic mindfulness practices and develop strategies for self-care and stress reduction. The course also includes:
strategies for navigating school-related and/or test anxiety

practices for working with overwhelm and distraction

relaxation and calming exercises
The class is open to all interested students and will be taught by Sarah Rudell Beach, a Mindful Schools Certified Mindfulness instructor and former Wayzata High School teacher.
Students are encouraged to join us via Zoom for any or all of the following Fridays from
11:20 a.m.-12:00 p.m. Meeting ID: 898 7002 338, Passcode: 56751223
Join us for our last session of Mindfulness this year on June 4.
Class of 2021/Senior Information
CORRECTION - iPad and Curriculum Materials Return
iPad and Curriculum Material Return
Graduates are expected to return their iPad, charging cable, charging block, and all curriculum items (textbooks, etc.) on one of the following dates:
Wednesday, June 2, from 3:15 p.m. to 5:00 p.m. (Media Center)

Thursday, June 3, please return all materials to the Media Center prior to the "Senior Program" following block 2

Friday, June 4, from 10:00 a.m. to 2:00 p.m. (drive-up in bus lot)
Please read the iPad Return Process for specific directions on how to back up your iPad and have it ready to return.
Broken iPads should be repaired prior to June 3. Students will be charged a fee for broken iPads and/or unreturned bricks and cables. Please access EPay to pay iPad fees prior to Thursday, June 3.
Please make sure all items are turned in by Thursday, June 3 to avoid delays in receiving your diploma!
Senior Name Announcement at Graduation - LAST CHANCE
Please help us in announcing your name correctly at graduation by filling out the 2021 Graduation Name Pronunciation form that has been sent to you by your counselor.
Rock the Block Senior Party - Registration Extended
Tickets are still available for $15.
There will be something for everyone: Games, Photo Booth, Hypnotist, Human Whack A Mole, Bungee Basketball, Spike Ball, Caricature Artist, Henna Tattoos, Fair Food, Ben and Jerry's, Davanni's Maui Wowi Smoothies, a DJ and
so much more…
Sign up and purchase tickets here. You can also visit the Senior Party website for more information.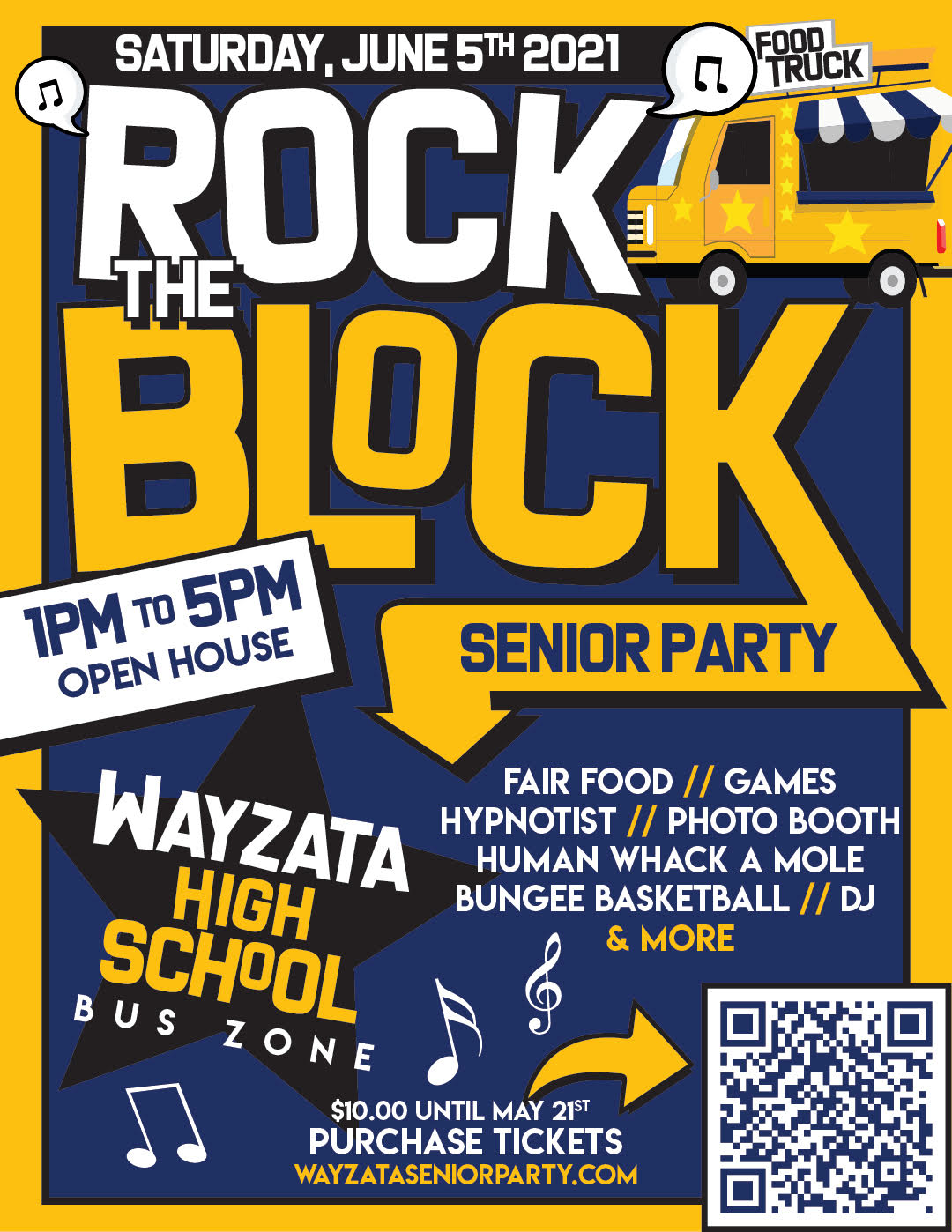 4955 Peony Lane, Plymouth, MN 55446 | Phone 763-745-6600