May 28 & 29: Black Box Play - Crimes of the Heart
May 27: Wayzata Unity Block Party
May 31: Memorial Day - No School
June 3: Seniors Last Day of School
June 4: Synchronous Classes
June 4: Graduation
June 5: Senior Party
June 9 & 10: Term 4 Finals
June 10: Last Day of School
Time to Return Materials
All textbooks and library books are due before the end of the school year. If you would like to know what you have currently checked out it's easy to log in and see.
Go to wayzata.follettdestiny.com
Click on Wayzata High School
Click on Log In in the upper right and use your usual username and password
Click on the My Info tab to see what you have checked out and make a plan to return it.
Textbooks and books can be dropped off in the Media Center if you are in the building. Distance learners may drop off books at the front greeter between 7:45 a.m. and 3:15 p.m. daily.
Wayzata Kids Hiring Opportunities
Wayzata Kids is hiring for the 2021-2022 school year! We are a growing program and need someone like you to join our team.

Wayzata Kids is the school-age care program for students in Kindergarten through Grade 5. We are looking for applicants who have a passion for working with children in a fast-paced environment. We are hiring at all of our elementary schools with both before school and after school hours available. Hourly rates start at $14.00 per hour.


If you have any questions, please fill out this google form and we will reach out to you with the answers and any other information you need. Questions can be asked on the form or emailed to Hilary Disch. We look forward to working with you!
Summer Student Volunteers Needed
Wayzata High School students are needed as volunteers across the community this summer. Volunteering during the summer is a great way to serve one's community and gain valuable experience and skills.
Organizations and programs needing Wayzata High School student volunteers this summer include: Camp Explore at Meadow Ridge, Wayzata Kids summer sites, Wayzata Summer Youth Camps at Oakwood, Wayzata Chamber of Commerce special events, City of Plymouth, local senior living communities, and more.
Check out the Wayzata High School - Summer Youth Volunteer Opportunities brochure for a wide variety of volunteer opportunities. Many volunteer opportunities have registration deadlines coming up fast, so don't delay reviewing the volunteer options for summer. For questions, contact Brenda Badger, Club Y.E.S. Program Manager at brenda.badger@wayzataschools.org or (763)745-6807.
Youth in Business Virtual Summer Camp
Youth in Business is hosting a virtual summer camp at a low cost from June 14-18, 9:00 a.m. to 11:00 a.m. for interested incoming seventh through ninth graders who want an introduction to business! Camp will feature lectures and a guest speaker, with students creating their own marketing plans to present. Go to https://youthinbusinessmn.weebly.com/ for more information/registration!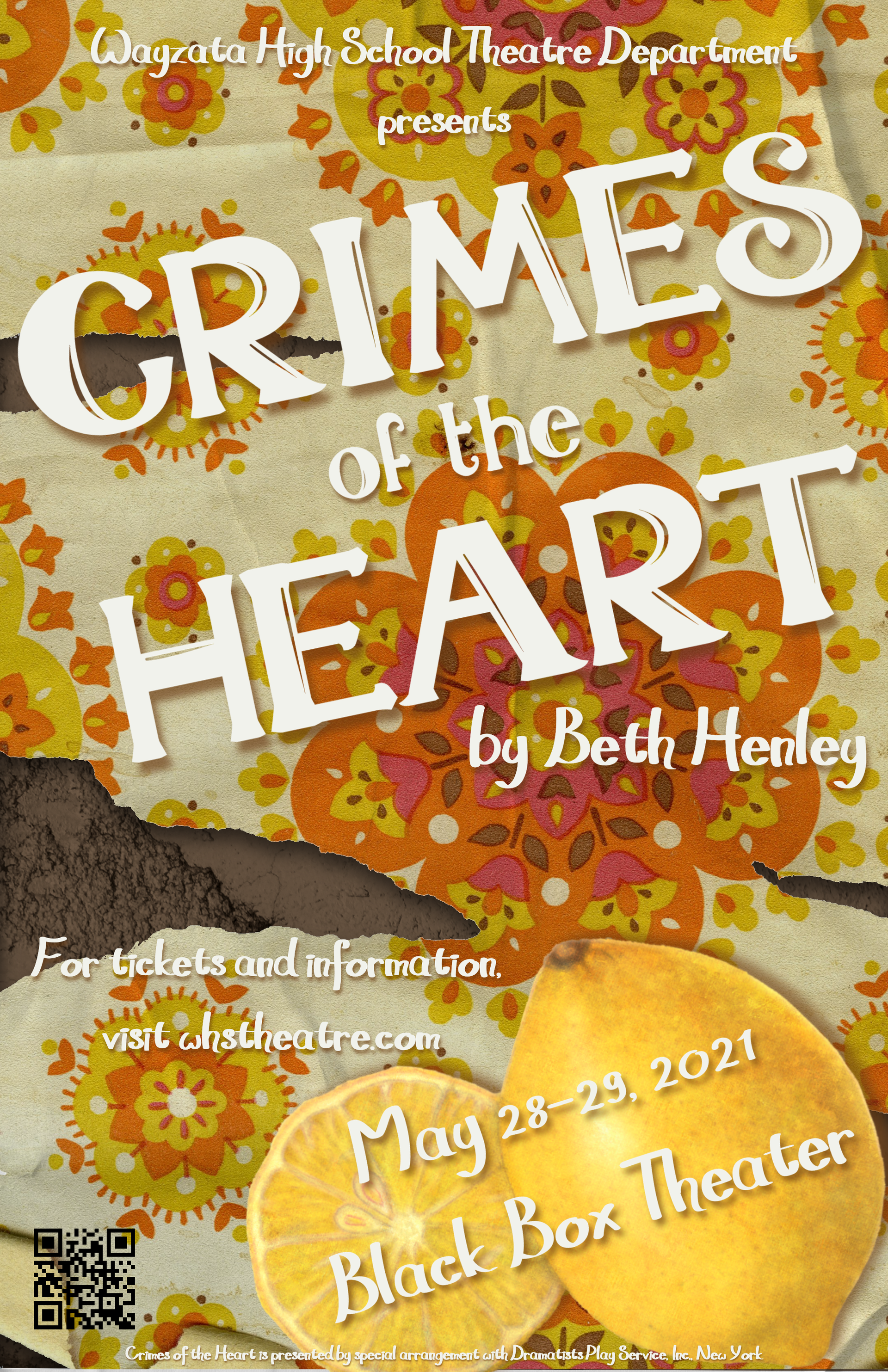 SPRING Play directed by Grant Sorenson

This hysterical and heartwarming dark comedy concerns itself with the three quirky Magrath
sisters, forced to spend a fraught couple of days at their childhood home in Hazlehurst,
Mississippi in the fall of 1974. Youngest sister Babe has just shot her husband for unknown
reasons, middle sister Meg is home to rekindle a long lost love, and oldest sister Lenny just
wants to celebrate her birthday in peace. As the sisters rehash old traumas and new
territory, they move past their disturbing childhood and begin to heal together. Crimes of the Heart won the 1981 Pulitzer Prize for Drama.
Performance Dates: Black Box – limited seating
whstheatre.com / Box Office
GENERAL ADMISSION
Tickets: Adult $15, Senior (62+) $12, Student/Staff $10
Friday, May 28 at 7:00 p.m.
Saturday, May 29 at 1:00 p.m. & 7:00 p.m.
Wayzata Unity Block Party
This event, sponsored by Club Y.E.S., is a student-led party to celebrate all cultures and to unite through music and performances. This event will be held on May 27 during 3rd block (during students assigned lunch periods) on the lawn outside Culinary. Questions can be sent to @rina.adem, @aaliyah.foxx or @miijallah via Instagram.
Online Mindfulness Class for WHS Students
Mindfulness is a powerful, research-based practice that can help teens reduce stress and anxiety, and improve focus and concentration. This mindfulness class consists of seven sessions in which students will learn basic mindfulness practices and develop strategies for self-care and stress reduction. The course also includes:
strategies for navigating school-related and/or test anxiety

practices for working with overwhelm and distraction

relaxation and calming exercises
The class is open to all interested students and will be taught by Sarah Rudell Beach, a Mindful Schools Certified Mindfulness instructor and former Wayzata High School teacher.
Students are encouraged to join us via Zoom for any or all of the following Fridays from
11:20 a.m.-12:00 p.m. Meeting ID: 898 7002 338, Passcode: 56751223
Join us for our last 2 sessions of Mindfulness this year: May 28 & June 4.
Class of 2021/Senior Information
iPad and Curriculum Materials Return
Please be prepared to return your iPad and other school materials on the following dates:
June 3 - 3:15 p.m. - 5:00 p.m.
June 4 - during first and second blocks and after graduation practice.
June 5 - drive up - bus lot outside Gym 7.
Directions to backup and erase your iPad can be found at
EMS and WMS Time Capsule Letters
Time capsule letters for EMS and WMS were handed out before school on May 20.
If you attended EMS and didn't come in on the 20th, your letter can be picked up at the front greeter window from 8:00 a.m.-3:00 p.m. Monday-Friday.
Letters for WMS students that weren't picked up are being mailed home by the middle school. If your address has changed since 8th grade, you can email chris.bisanz@wayzataschools.org
Senior Name Announcement at Graduation
Please help us in announcing your name correctly at graduation by filling out the 2021 Graduation Name Pronunciation form that has been sent to you by your counselor.
Rock the Block Senior Party - Registration Extended
GREAT NEWS…Registration has been extended to Friday, May 21.
Buy your tickets today for only $10!
There will be something for everyone: Games, Photo Booth, Hypnotist, Human Whack A Mole, Bungee Basketball, Spike Ball, Caricature Artist, Henna Tattoos, Fair Food, Ben and Jerry's, Davanni's Maui Wowi Smoothies, a DJ and
so much more…
Sign up and purchase tickets here. You can also visit the Senior Party website for more information.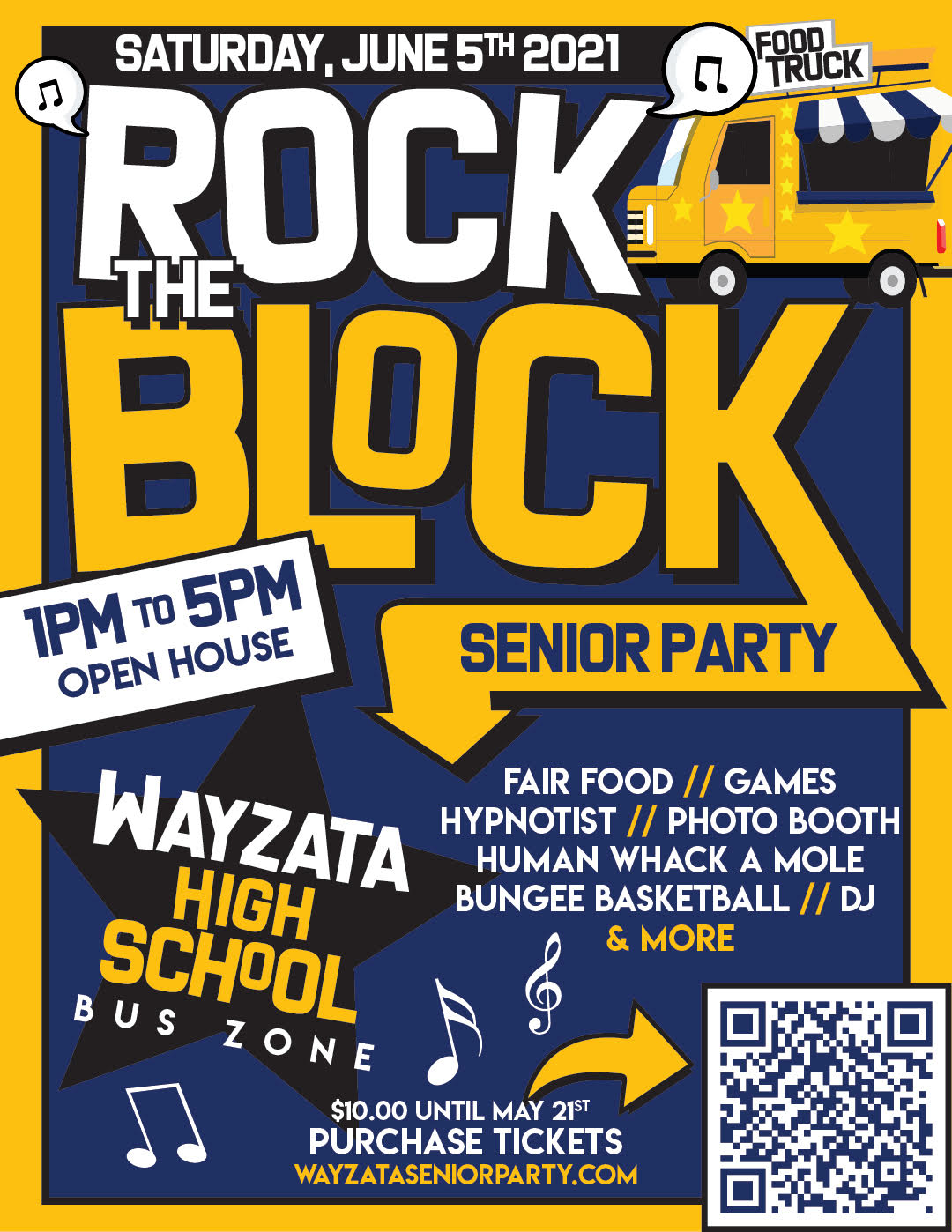 4955 Peony Lane, Plymouth, MN 55446 | Phone 763-745-6600