May 15: Prom
May 17: NHS Senior Recognition Night
May 21: Online Mindfulness Class for Students
May 27: Wayzata Unity Block Party
May 31: Memorial Day - No School
June 3: Seniors Last Day of School
June 4: Synchronous Classes
June 4: Graduation
June 5: Senior Party
June 9 & 10: Term 4 Finals
June 10: Last Day of School
Last Chance to Get a Student Yearbook
ONE WEEK LEFT - ONLINE Yearbook Sales end Friday, May 21. Limited books are available for purchase. This is the last week to purchase yearbooks online. Be sure to secure a copy, it is first come first serve. Visit whsyearbook.com to purchase a book today. After the online site shuts down there will be an option to purchase books if they are available during distribution for $98 by cash, check or credit card.
Are You Keeping Your Passwords Safe?
How important is your password? Everyone knows not to give out their password information...right? Not exactly. Three students from the Compass Cybersecurity and Applied Mathematics class tested that theory and asked their very own Wayzata students for their passwords! Please watch this video and then give us your feedback in this short three-question survey about what you learned. All the answers are anonymous, so responses are greatly appreciated!
National Honor Society Recognition Night
Monday, May 17 at 7:00 p.m. is the National Honor Society Senior Recognition Night for the class of 2021. Families and loved ones can live stream the event using this link. If you have any questions, please reach out to Mrs. Ellis.
Wayzata Unity Block Party
This event, sponsored by Club Y.E.S., is a student-led party to celebrate all cultures and to unite through music and performances. This event will be held on May 27 during 3rd block (during students assigned lunch periods) on the lawn outside Culinary. Questions can be sent to @rina.adem, @aaliyah.foxx or @miijallah via Instagram.
Mindfulness Sessions Feedback Requested
Help us keep Mindfulness available in our building next year!
If you participated in any of our virtual Mindfulness Sessions on Fridays this school year, we would love to have your feedback. Our Mindfulness Sessions are provided to us through a grant and we need your input to keep Mindfulness available next year! Please complete the 2020-2021 Mindfulness Program Evaluation. We appreciate your help!
Online Mindfulness Class for WHS Students
Mindfulness is a powerful, research-based practice that can help teens reduce stress and anxiety, and improve focus and concentration. This mindfulness class consists of seven sessions in which students will learn basic mindfulness practices and develop strategies for self-care and stress reduction. The course also includes:
strategies for navigating school-related and/or test anxiety

practices for working with overwhelm and distraction

relaxation and calming exercises
The class is open to all interested students and will be taught by Sarah Rudell Beach, a Mindful Schools Certified Mindfulness instructor and former Wayzata High School teacher.
Students are encouraged to join us via Zoom for any or all of the following Fridays from
11:20 a.m.-12:00 p.m. Meeting ID: 898 7002 338, Passcode: 56751223
Join us for our last 4 sessions of Mindfulness this year: May 21, May 28 & June 4.
Class of 2021/Senior Information
Senior Name Announcement at Graduation
Please help us in announcing your name correctly at graduation by filling out the 2021 Graduation Name Pronunciation form that has been sent to you by your counselor.
Graduation Update
On Wednesday, May 12, Principal Gengler sent out an email to update seniors and senior parents about graduation and other end of the year senior events. If you have not read this email, please click here.
Rock the Block Senior Party - Registration Extended
GREAT NEWS…Registration has been extended to Friday, May 21.
Buy your tickets today for only $10!
There will be something for everyone: Games, Photo Booth, Hypnotist, Human Whack A Mole, Bungee Basketball, Spike Ball, Caricature Artist, Henna Tattoos, Fair Food, Ben and Jerry's, Davanni's Maui Wowi Smoothies, a DJ and
so much more…
Sign up and purchase tickets here. You can also visit the Senior Party website for more information.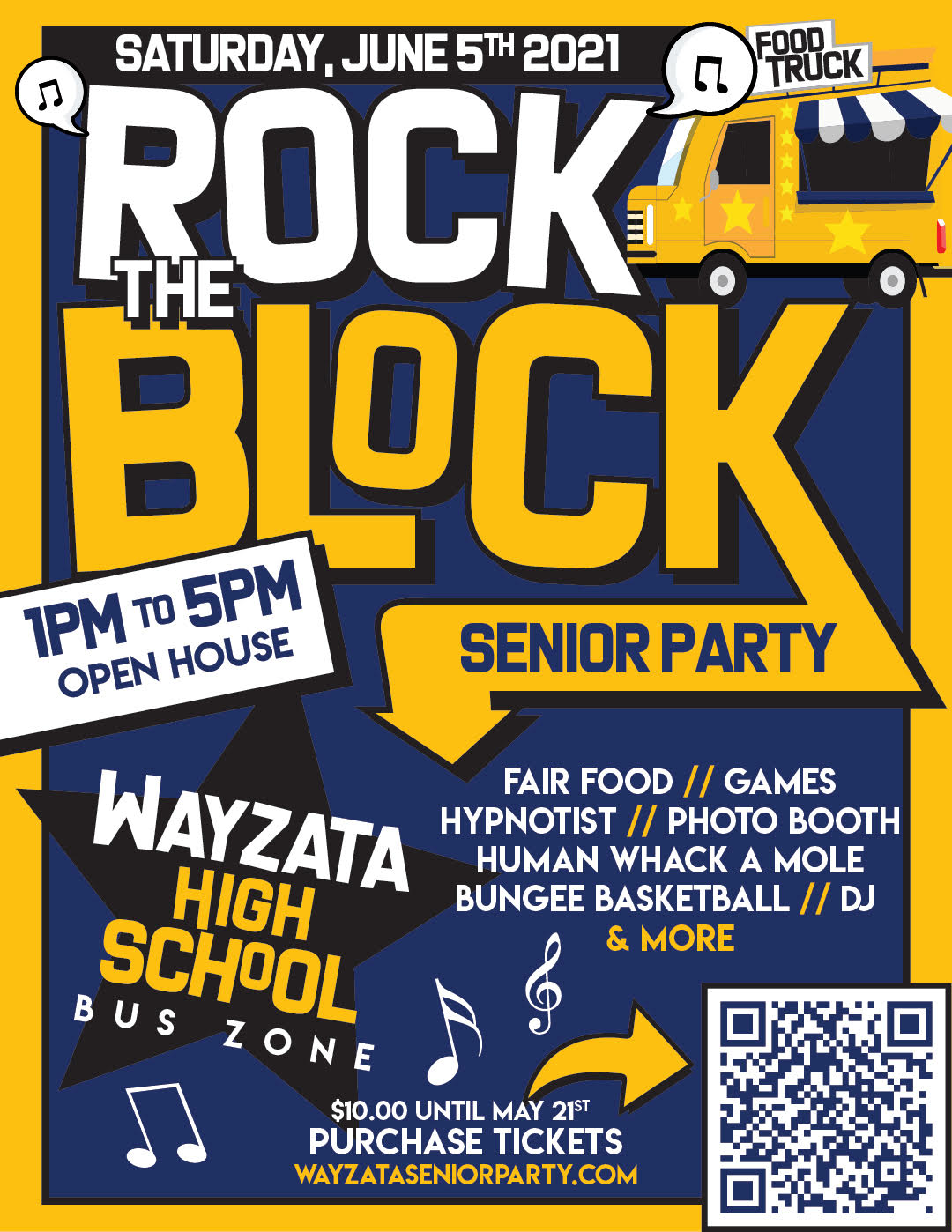 Mark Your Calendar for Next Week
Another great opportunity to support the Senior Party and treat yourself!!
Wayzata Evereve has generously offered to donate 15% of proceeds to the WHS Senior Party.
On May 19, shop in-store or over the phone!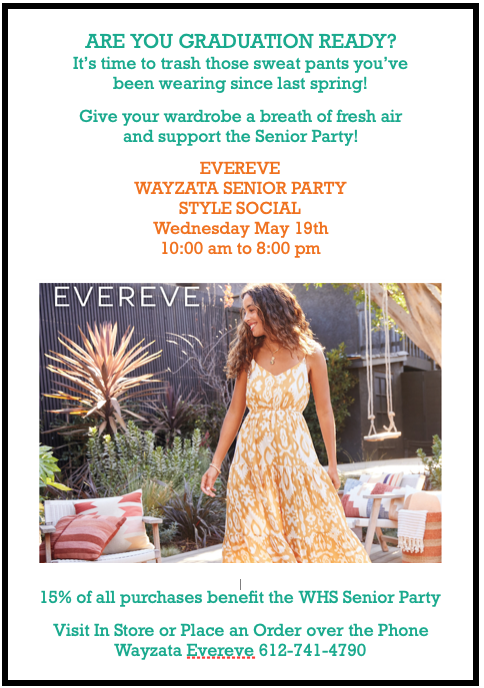 4955 Peony Lane, Plymouth, MN 55446 | Phone 763-745-6600