April 30 & May 1: Spring Musical - Drowsy Chaperone
May 3: Senior Awards Night, 7:00 p.m. - Live Stream Link
May 3: Senior Declaration Day
May 7 & May 8: Spring Musical - Drowsy Chaperone
May 15: Prom, Seniors Only
June 4: Graduation
June 5: Senior Party
WHS Recognized as One of Nation's Best High Schools
With an overall score of 97.6 out of 100, Wayzata High School (WHS) was recently ranked #2 among traditional public high schools in Minnesota by U.S. News & World World Report . The ranking, which factors data on 17,857 public, charter and magnet high schools across the nation, is based on state assessments and preparation for post-secondary education.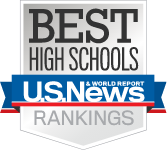 Class of 2021/Senior Information
Senior Commencement Speech Voting Closes May 3
Voting is now open and will remain open through 11:59 p.m. on Monday, May 3. A reminder email was sent today with detailed information. Please review the speeches and vote for your top choice for a senior speaker at commencement.
Cap and Gown Pickup
Didn't get here to pick up your cap and gown last week? They will be available for pickup at Senior Declaration Day on May 3 or you can stop by the Administration Office on the 2nd floor during business hours from 7:30 a.m. - 4:00 p.m. Questions can be directed to Deb Lange.
Senior Declaration Day
The annual Senior Declaration Day will be celebrated on Monday, May 3 during all lunches. Seniors are invited to come to the Upper Commons after their lunch to declare their plans for next year. Seniors who are distance learners can come to the Upper Commons anytime between 11:15 a.m. - 1:40 p.m. and should enter WHS at the front greeter's desk. This fun event celebrates the various destinations that the Class of 2021 will take -- four-year college, community college, technical college, the military, a gap year, or employment. Seniors are welcome to wear a t-shirt or sweatshirt that reflects their destination. If you have any questions, please contact Deb Musser in the College and Career Center (CCC).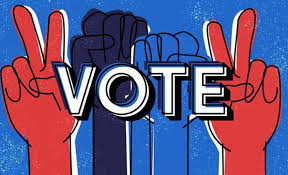 Attention Seniors: Celebrate Your 18th Birthday Register to VOTE
Celebrate your 18th birthday by registering to vote!
Register online at https://www.sos.state.mn.us/elections-voting/
You will need an email address, your Minnesota driver's license/Minnesota state ID card or the last four numbers of your Social Security number.
Summer Volunteer Opportunity for Wayzata High School Students - Camp Explore
Camp Explore is a summer learning camp for elementary students in Wayzata Public Schools. It is designed with programming that ensures each student reaches their academic goals while having FUN! It's more like going to camp than going to school! Enthusiastic and caring high school student volunteers are needed throughout the camp to provide assistance to teachers and help ensure campers have a fun summer camp experience. Students in service programs such as Club Y.E.S. and NHS are encouraged to apply. Registration is required and space is limited. View the 2021 Camp Explore Volunteers program flier for more information and to access the registration link. The registration deadline is May 14 or until all spots are filled. For questions contact Brenda Badger.
Asian American and Pacific Islander Experiences
Join Dakota County for a series of dedicated programs that uplift diverse Asian American and Pacific Islander (AAPI) experiences and voices. Honor and celebrate AAPI literature, music, art and culture and learn about historical and contemporary personal experiences of being AAPI in America. Gain an understanding of how the contributions of the AAPI community make a positive difference in Minnesota and beyond and learn of the ongoing movement for Asian American civil rights and the fight for acceptance and belonging in this country. Click here for a listing of programs beginning May 10.
WHS Chinese Club Guest Speaker
WHS Chinese Club is excited to announce guest speaker Dr. Hong Cheng's presentation on "Cultural Shocks across the Ocean: an Early History of Asian Immigrants in America" to celebrate AAPI Heritage Month! Chinese Club will be hosting a Zoom meeting open to all WHS students and the communities on Friday, May 14 at 2:15 p.m. Contact Heng Laoshi for more information.

Hong Cheng has his Ph.D. and MA in History and MLIS in Library and Information Science from the University of California, Los Angeles (UCLA). He is currently the Chinese Studies Librarian at UCLA, and the Vice President / President-Elect of the Council on East Asian Libraries in North America. Hong Cheng's research fields include Asian socio-economic and cultural history, historical philosophy, and library theory, and he published a number of books and academic articles in history and library studies.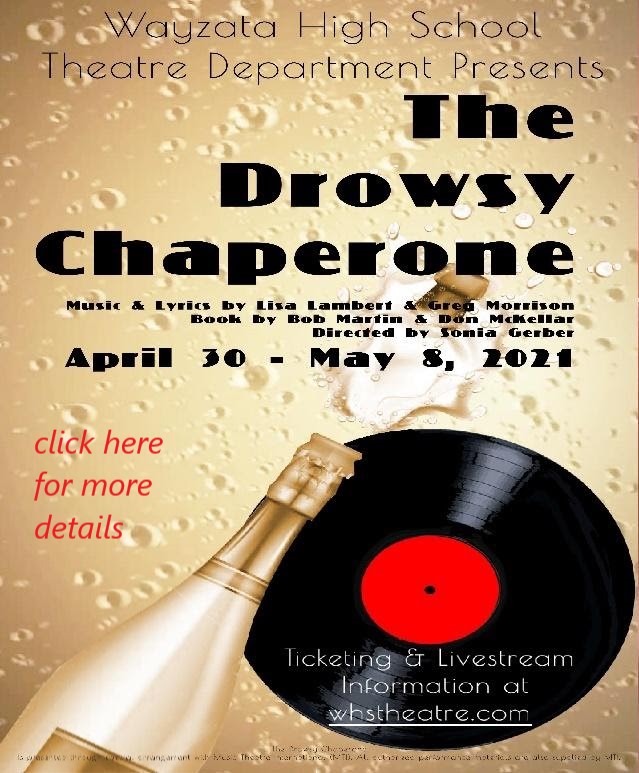 LIMITED IN PERSON TICKETS
Show Dates
Friday, April 30 at 7:00 p.m.
Saturday, May 1 at 1:00 p.m. & 7:00 p.m.
Friday, May 7 at 7:00 p.m.
Saturday, May 8 at 1:00 p.m. & 7:00 p.m.
LIVESTREAM TICKETS
Show Times
Friday, May 7 at 7:00 p.m.
Saturday, May 8 at 1:00 p.m. & 7:00 p.m.
Questions? email Kristyn Nelson
A hilarious send-up of Golden Age musical comedies, The Drowsy Chaperone is a bubbly glimpse into one man's Broadway obsession. Using a clever show-within-a-show structure, the introverted narrator, Man in Chair, shares his favorite musical with the audience, The Drowsy Chaperone. As he listens to the worn-out record, the show comes to life in his tiny apartment, transforming his world into the Morosco Theatre in New York City, 1928. Within the musical, vaudeville starlet Janet Van de Graaf is due to marry dashing leading man, Robert Martin -- but plans go awry thanks to a classic blend of mix-ups, mayhem, and mistaken identities. Will the wedding go on as planned or will this cast of hilarious show-biz types ruin Janet's one shot at true love and happiness?
4955 Peony Lane, Plymouth, MN 55446 | Phone 763-745-6600