April 28: Senior Cap & Gown Pickup
April 30: MCA Exams, Reading/Science for Sophomores
April 30: Online Mindfulness Class for Students
April 30 & May 1: Spring Musical - Drowsy Chaperone
May 3: Senior Awards Night
May 3: Senior Declaration Day
May 3: Senior
May 7 & May 8: Spring Musical - Drowsy Chaperone
May 15: Prom, Seniors Only
June 4: Graduation
June 5: Senior Party
Class of 2021/Senior Information
Senior Commencement Speech Voting Now Open
Voting is now open and will remain open through 11:59 p.m. on Monday, May 3. An email was sent today with detailed information. Please review the speeches and vote for your top choice for a senior speaker at commencement.
Cap and Gown Pickup
Student cap and gown pick up is scheduled for Wednesday, April 28 from 11:00 a.m.-6:00 p.m. in Culinary. Students and parents will receive an email on Monday, April 26 with specific details.
Senior Declaration Day
The annual Senior Declaration Day will be celebrated on Monday, May 3 during all lunches. Seniors are invited to come to the Upper Commons after their lunch to declare their plans for next year. Seniors who are distance learners can come to the Upper Commons anytime between 11:15 a.m. - 1:40 p.m. and should enter WHS at the front greeter's desk. This fun event celebrates the various destinations that the Class of 2021 will take -- four-year college, community college, technical college, the military, a gap year, or employment. Seniors are welcome to wear a t-shirt or sweatshirt that reflects their destination. If you have any questions, please contact Deb Musser in the College and Career Center (CCC).
COVID Vaccine for 16- and 17-year-olds
The 'Roll Up Your Sleeves, MN' Campaign is highlighting our youngest COVID-19 vaccine-eligible Minnesotans this upcoming week: 16- and 17-year-olds.
Doing Some Spring Cleaning?
The College and Career Center (CCC) is in need of gently used ACT, SAT and AP exam prep books. If your student is done using any of these materials, please consider donating them to the CCC for other students to use. The books can be dropped off to the CCC or the front greeter's desk. Your donations are much appreciated!
Junior Ladies: Time To Order Your Senior T-Shirt
It is time to order your senior ladies t-shirts. Please place your order through E-Pay. Orders must be placed by Thursday, April 28. Shirts will be a pink tie-dye, the approximate color/design was shared on social media. There is also an option to order joggers as well. View this flyer for a design template. If you have any questions, please email Skye Huff.
Minnesota Bilingual Seals & Global Seals
Students in grades 10, 11, or 12 have the opportunity to earn a Minnesota World Language Certificate, Bilingual/Multilingual, or Global Seal through home-testing options. This is a wonderful opportunity to recognize all of our students' languages as assets. To earn a Minnesota Certificate or Seal, students must demonstrate proficiency in listening, reading, speaking and writing in a language(s) other than English. NEW this spring, students can earn a Global Seal by demonstrating proficiency in speaking and writing in a language(s) other than English. All Certificate and Seal awards will be noted in students' high school transcripts. Students who earn a Certificate or Seal may be eligible for college credit and/or advanced placement in a university-level language course.
Students who complete an AP Language & Culture Exam automatically earn a Certificate (AP score of 3), Gold Seal (AP score of 4), or Platinum Seal (AP score of 5). No further testing is needed.
Students who do not or cannot complete the in-person AP Language & Culture Exam have the opportunity for home-testing on Friday, May 21 from 12:00 p.m.-3:00 p.m. Proficiency tests are currently available in the languages of Amharic, Armenian, Arabic, Chin (Hakha) Chinese, Chuukese, Czech, Filipino (Tagalog) French, German, Hatian-Creole, Hawaiian ('Ōlelo Hawai'i), Hebrew, Hindi, Hmong, Ilocano, Italian, Japanese, Kannada, Korean, Marathi, Marshallese, Polish, Portuguese, Russian, Samoan, Spanish, Somali, Tamil, Telugu, Thai, Turkish, Urdu, Vietnamese, and Yup'ik.
Interested students should register and submit payment on ePay. The deadline for registration and payment is May 10, 2021. Additional testing opportunities will be offered in August 2021, February 2022, and May 2022.
More information can be found here.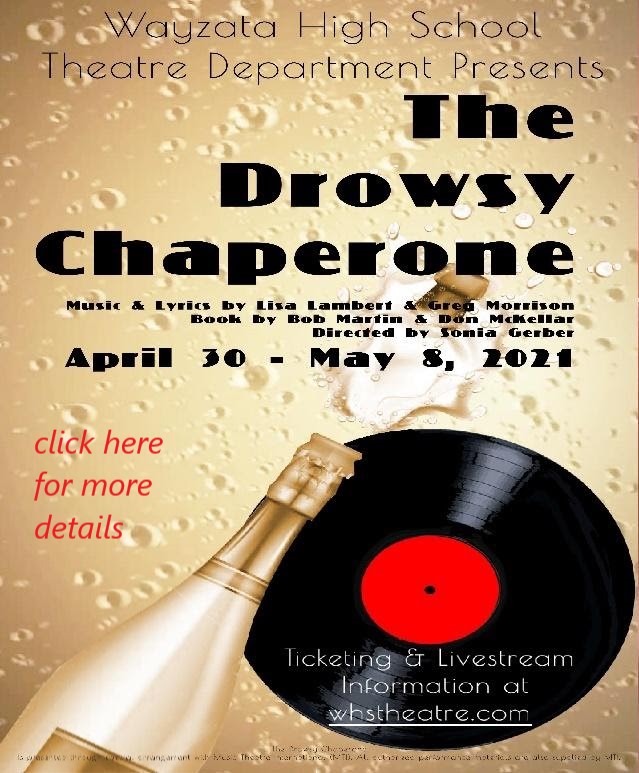 LIMITED IN PERSON TICKETS
Show Dates
Friday, April 30 at 7:00 p.m.
Saturday, May 1 at 1:00 p.m. & 7:00 p.m.
Friday, May 7 at 7:00 p.m.
Saturday, May 8 at 1:00 p.m. & 7:00 p.m.
LIVESTREAM TICKETS
Show Times
Friday, May 7 at 7:00 p.m.
Saturday, May 8 at 1:00 p.m. & 7:00 p.m.
Questions? email Kristyn Nelson
A hilarious send-up of Golden Age musical comedies, The Drowsy Chaperone is a bubbly glimpse into one man's Broadway obsession. Using a clever show-within-a-show structure, the introverted narrator, Man in Chair, shares his favorite musical with the audience, The Drowsy Chaperone. As he listens to the worn-out record, the show comes to life in his tiny apartment, transforming his world into the Morosco Theatre in New York City, 1928. Within the musical, vaudeville starlet Janet Van de Graaf is due to marry dashing leading man, Robert Martin -- but plans go awry thanks to a classic blend of mix-ups, mayhem, and mistaken identities. Will the wedding go on as planned or will this cast of hilarious show-biz types ruin Janet's one shot at true love and happiness?
Online Mindfulness Class for WHS Students
Mindfulness is a powerful, research-based practice that can help teens reduce stress and anxiety, and improve focus and concentration. This mindfulness class consists of seven sessions in which students will learn basic mindfulness practices and develop strategies for self-care and stress reduction. The course also includes:
strategies for navigating school-related and/or test anxiety

practices for working with overwhelm and distraction

relaxation and calming exercises
The class is open to all interested students and will be taught by Sarah Rudell Beach, a Mindful Schools Certified Mindfulness instructor and former Wayzata High School teacher.
Students are encouraged to join us via Zoom for any or all of the following Fridays from
11:20 a.m.-12:00 p.m. Meeting ID: 898 7002 338, Passcode: 56751223
Upcoming Dates: April 23, April 30, May 14, May 21, May 28 & June 4
4955 Peony Lane, Plymouth, MN 55446 | Phone 763-745-6600