Newsletters will be sent weekly on Fridays to parents/guardians and students. If you have questions or suggestions regarding the newsletters, email Deb Lange. We value your feedback. Past newsletters are available on the WHS website.
March 25: WHS Survivor Application Deadline
March 25&26: Shades of Brown
March 26: Online Mindfulness Class for Students
March 31: Last Day of Term 3
April 1-9: Spring Break, Classes Resume April 12
April 23: MCA Exams, Math for Juniors
April 30: MCA Exams, Reading/Science for Sophomores
There is still time to apply for WHS Survivor - application and videos are due Thursday, March 25.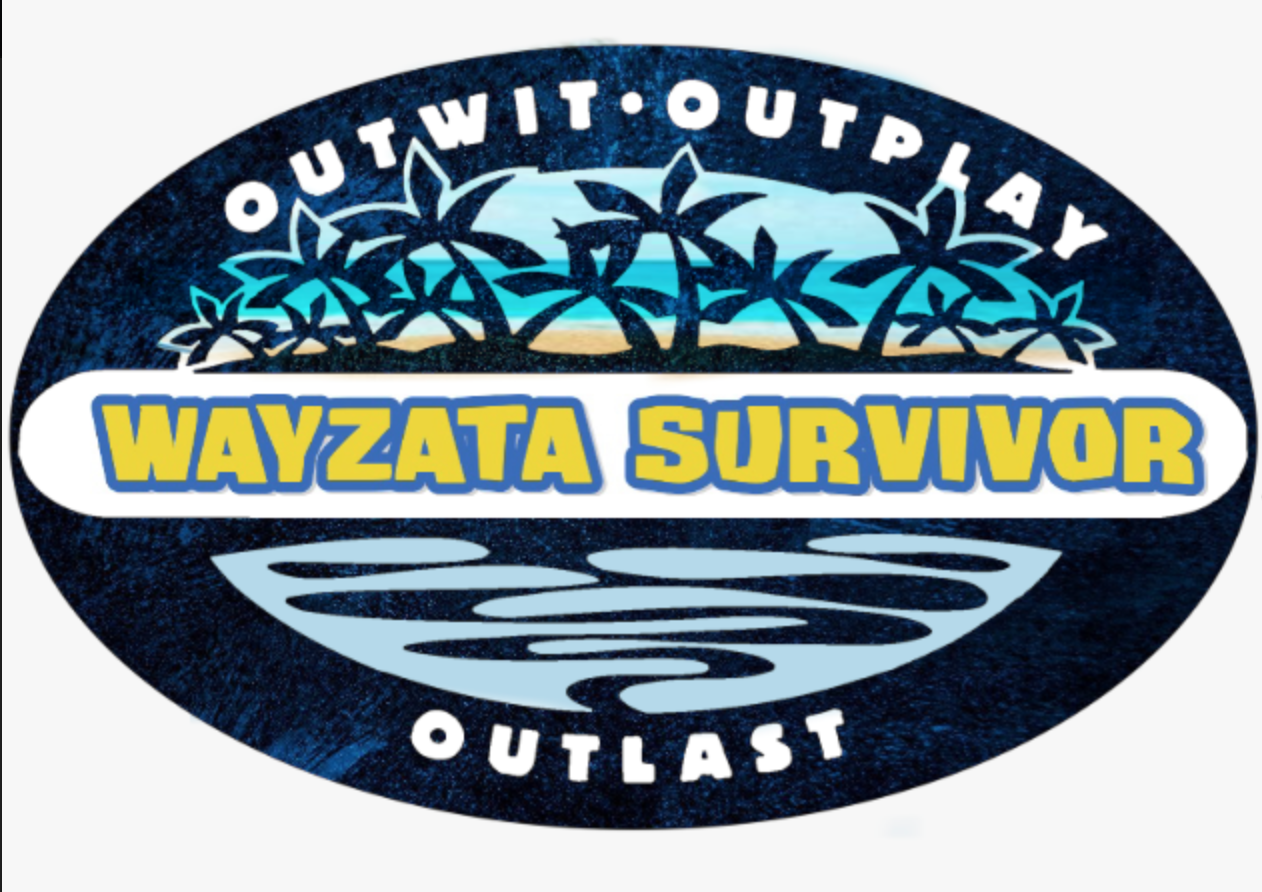 Looking for:
14 WHS Students and 2 Staff Members
Can you successfully outwit, outlast, and outplay your competition, or will you fall behind and get eliminated? Find out by taking part in the Wayzata Survivor competition to fundraise for WHS's Fund-A-Need program.
This year's event will take place from April 19 - 22! (*With COVID friendly challenge-pre-filming April 12-15) Contestants will be required to participate in physical, mental, and creative challenges that will occur both in-person and virtually. To apply please complete the Survivor Application Form and turn in your audition video by Thursday, March 25 at 3:30 p.m. All grades are welcome to participate in Survivor!
Questions? Contact Ms. Wilvers.
Shades of Brown, an annual Wayzata High School celebration of all cultures through performance, has been pre-recorded for this year. This celebration is one way that we recognize Black History through performances by our students. We encourage you to watch this performance during study hall on Thursday, March 25, or at your convenience on Friday, March 26.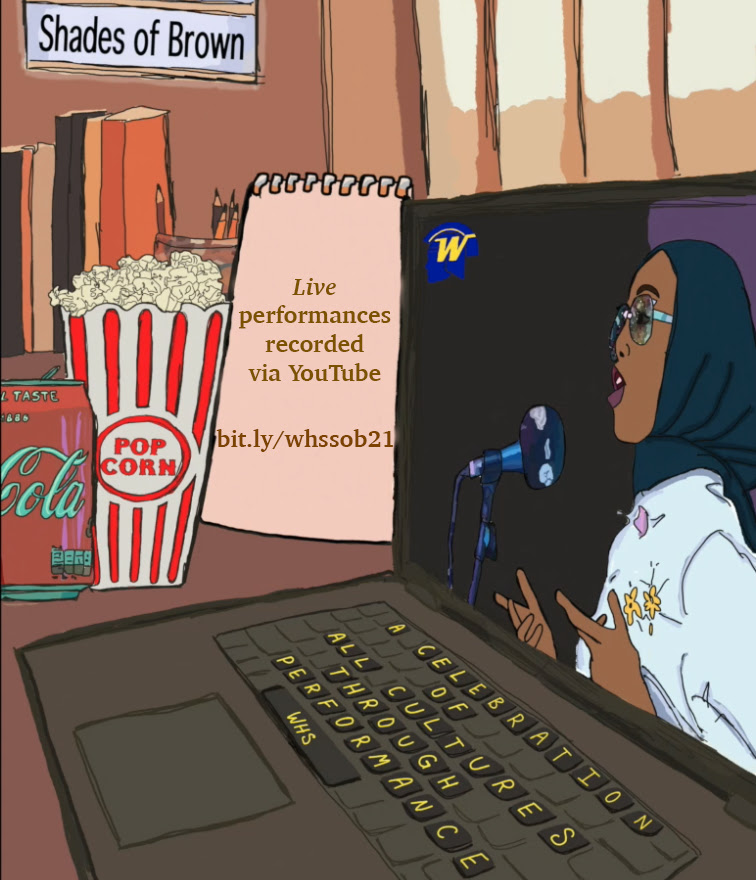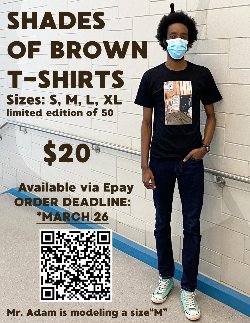 Important Testing Information

Wayzata High School will be administering the Minnesota Comprehensive Assessments (MCAs) in reading, math and science. The MCA exams are required by the federal Every Student Succeeds Act (ESSA) and measures the degree to which students have learned the concepts and skills in the Minnesota Academic Standards.
Friday, April 23 - Math MCAs for juniors

Friday, April 30 - Reading/Science MCAs for sophomores
Please look for an email on March 22 from "surveys@wayzataschools.org" with the subject, "WHS MCA/MTAS Participation - Please Respond." If you do not see the email, please check your spam/junk folder. We need parents to complete this survey by April 9, so we can make plans for transportation, meals, rooms, and staff. Please read this document explaining more details of the testing procedures for MCA testing day.
Trojan Technology Updates
Looking for a stylus but don't want to spend the money for an Apple Pencil? Wayzata students recommend this substitute Active Stylus Pen - at $12 the price is right and provides flexibility when solving a math problem or annotating an article.

Canvas and other important school links are accessible via the web. Students may use the MyApps app on the iPad to access all web-based tools.
Watch the how-to use MyApps video.
2021 President's Volunteer Service Award - Application Information
Wayzata High School students who volunteer on a regular basis and who wish to receive recognition for their service hours may apply once a year for the prestigious President's Volunteer Service Award (PVSA). Students must track their hours throughout the year and obtain official proof of hours served. The key is to start early with official tracking of one's hours. See the 2021 President's Volunteer Service Award - Information Guide for specific award details and for an hours tracking form. The application process will open in Fall of 2021. For further questions contact Brenda Badger.
Transferring Schools?
Moving? Changing schools? Please contact Nancy Vogt, Registrar, at 763-745-6731 or email nancy.vogt@wayzataschools.org. Nancy will work with teachers to get withdrawal grades if your student is leaving before the term is over and send records to the new school once a records request is provided by the new school. Please also fill out the withdrawal document at https://www.wayzataschools.org/welcome which notifies our Welcome Center that your student is withdrawing and will allow them to withdraw your student and any other students in your family that might be withdrawing.
Culinary Update - How Your Student Can Get A Barcode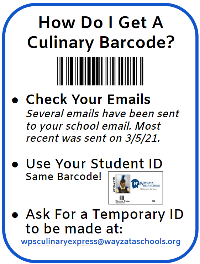 Theatre Department Feature

Wayzata High School Theatre is preparing for two upcoming productions this Spring! If your student is interested in getting involved, we have plenty of opportunities within our various crew programs. Each crew is led by an industry professional theatre artist:
Build Crew: Students can help to build and paint the set for the show.
Costume Crew: Students can help create the costumes for the shows.
Lighting Crew: Students learn about theatrical lighting and help to prepare lights for the shows.
Props Crew: Students build the "world of the play" by finding or creating all the items within the show.
Sound Crew: Students work with microphones, sound effects, and more.
Run Crew: Students work various positions during the run of the show and become a part of the live production!
For more information on how to get involved, visit whstheatre.com and check out our Tech Crew page! Questions? Contact Sonia.Gerber@wayzataschools.org.
Online Mindfulness Class for WHS Students
Mindfulness is a powerful, research-based practice that can help teens reduce stress and anxiety, and improve focus and concentration. This mindfulness class consists of seven sessions in which students will learn basic mindfulness practices and develop strategies for self-care and stress reduction. The course also includes:
strategies for navigating school-related and/or test anxiety

practices for working with overwhelm and distraction

relaxation and calming exercises
The class is open to all interested students and will be taught by Sarah Rudell Beach, a Mindful Schools Certified Mindfulness instructor and former Wayzata High School teacher.
Students are encouraged to join us via Zoom for any or all of the following Fridays from
11:20 a.m.-12:00 p.m. Meeting ID: 898 7002 338, Passcode: 56751223
March 26, April 23 & April 30
4955 Peony Lane, Plymouth, MN 55446 | Phone 763-745-6600