Newsletters will be sent weekly on Fridays to parents/guardians and students. If you have questions or suggestions regarding the newsletters, email Deb Lange. We value your feedback. Past newsletters are available on the WHS website.
March 12-14: The Ten Spot-Sr. Class Party Fundraiser
March 18: Panera-Sr. Class Party Fundraiser
March 19: Junior Seminar, 11:30 a.m.
March 26: Mindfulness Class for Students
March 31: End of Term 3
The SUN IS OUT and temperatures are rising! Are you ready? Here's a great way to get yourself SPRING TIME ready and help support the Wayzata 2021 Senior Party. The Ten Spot beauty bar is donating 15% of proceeds purchased from March 12 - 14. You can purchase gift certificates online or in person. Call your friends and schedule a Private Party before May 1 and those proceeds will support our fundraiser too! Check out their website for more information on available services.
As we know, businesses have struggled tremendously over the past year.
We are so thankful for the continued support of organizations that have still offered to donate proceeds to the Senior Party.
THANK YOU
Wayzata families for supporting these businesses and contributing to the 2021 Fundraiser.
Panera Fundraiser
Thursday, March 18, 4-8:00 p.m.
The 2021 Senior Party Committee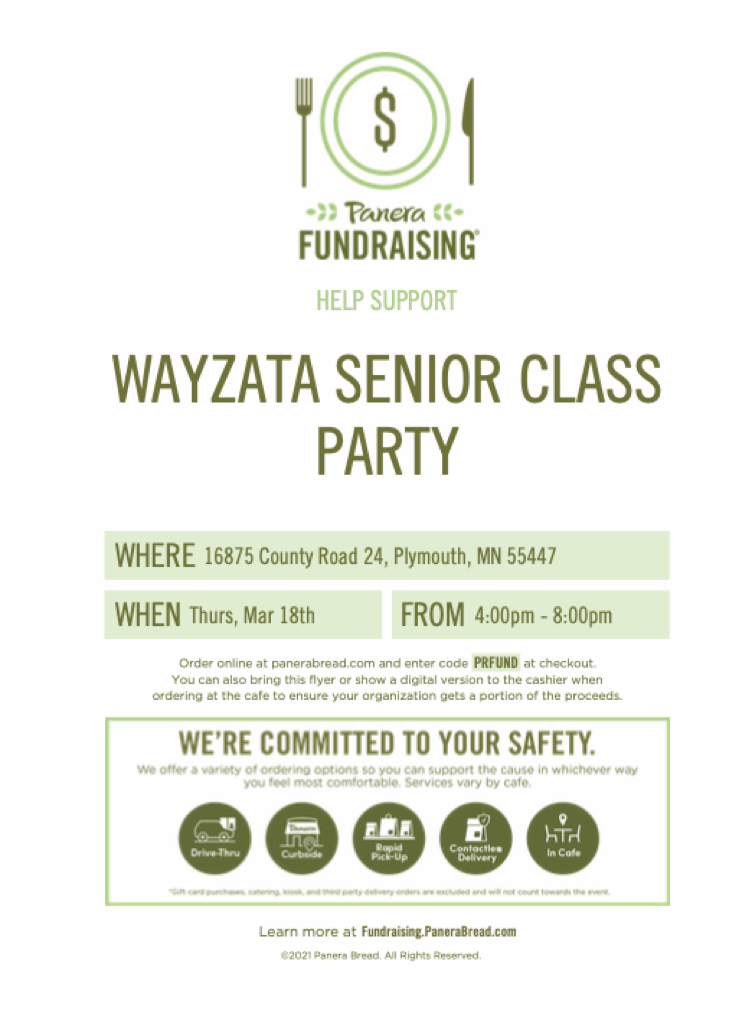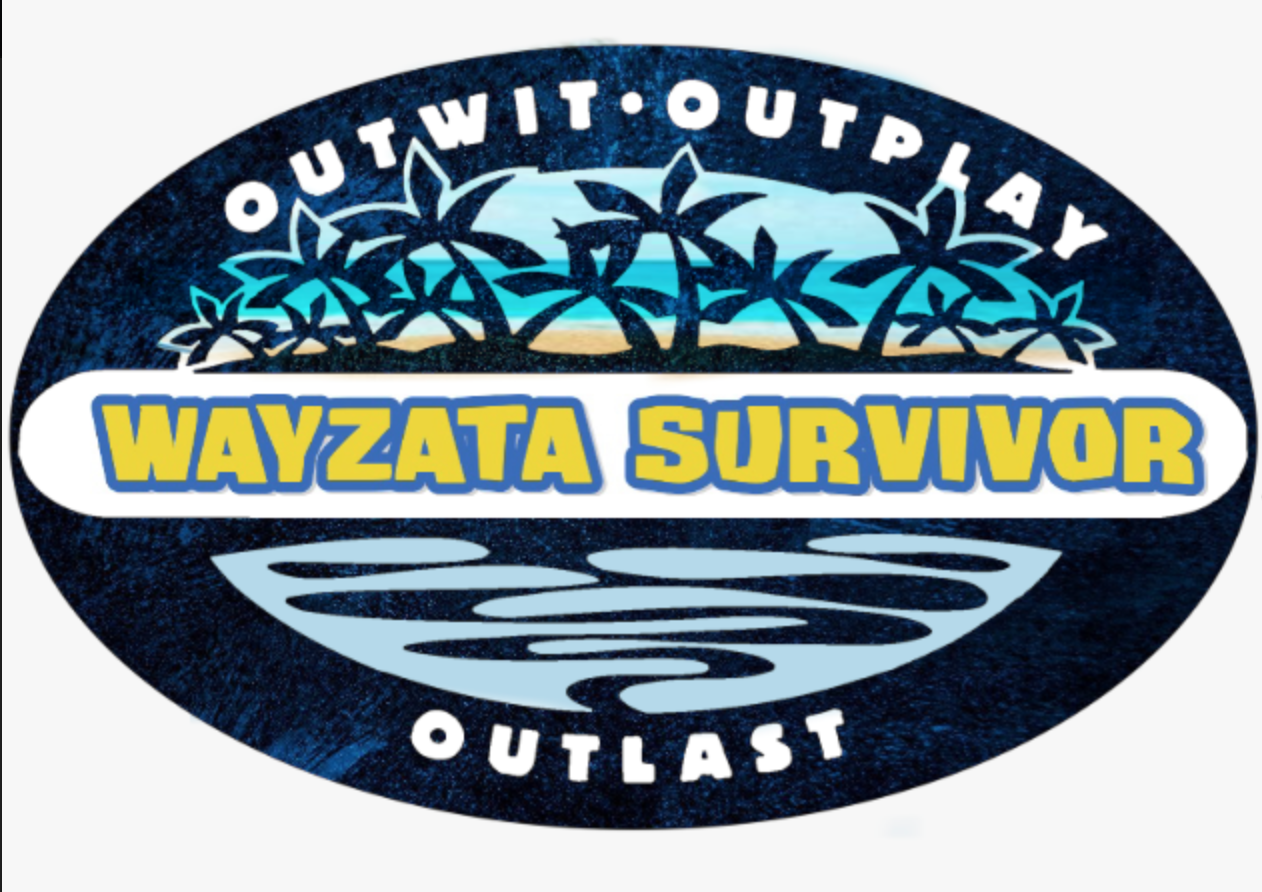 Looking for:
14 WHS Students and 2 Staff Members
Can you successfully outwit, outlast, and outplay your competition, or will you fall behind and get eliminated? Find out by taking part in the Wayzata Survivor competition to fundraise for WHS's Fund-A-Need program.
This year's event will take place from April 19 - 22! (*With COVID friendly challenge-pre-filming April 12th-15th.) Contestants will be required to participate in physical, mental, and creative challenges that will occur both in-person and virtually. To apply please complete the Survivor Application Form and turn in your audition video by April 19 at 3:30 p.m. All grades are welcome to participate in Survivor!
Questions? Contact Ms. Wilvers.
Attendance Reporting
If your student is designated as an in-person learner, but is home attending classes virtually due to an illness or other reason, please enter the attendance in Skyward Family Access and indicate that they are attending virtually in the comment section. Students who do not have verified reasons to be absent from an in-person class may be marked Unverified/Participating if they Zoom into class without a parent notifying the school first. This ensures we have accurate records should we need to contact trace.
Please know that your student may be marked unverified if they log into their Zoom class and are not present or responsive to prompts for engagement from the teacher via the camera, chat or verbally.
Top 20 Training March Video Message from Tom Cody
As we prepare for some big transitions in the coming weeks, Tom Cody of Top 20 offers some great insight on the Nature of Confusion. Check out this empowering perspective and discuss with your student the power of YET. For more information about Top 20, visit the website or contact Grace Lephart.
Culinary Update - How Your Student Can Get a Barcode
2021 Respect Retreat
Youth Frontiers has cancelled the 2021 Respect Retreat for freshmen.
Model United Nations
Wayzata students are you interested in international affairs? Join the Wayzata delegation at YMCA Youth in Government Model UN! Join for a 3-day virtual conference discussing global policy and meet students from all around the state. For more information or if you have any questions email wayzatamun@gmail.com. Registration closes March 12 so be sure to register to secure your spot!
World Languages Department Update

Explore the world with World Languages and Cultures at WHS!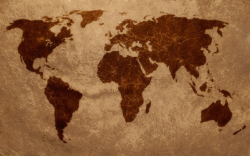 Did you know about 65% of our students study a language at WHS? Watch this short video to hear our students' experiences! Our language clubs are student activities groups that meet twice a month on zoom and are led by students and WHS World Languages and Cultures staff. Even during the pandemic, the WHS World Languages and Cultures Department is offering our language clubs and opportunities for our students to connect with each other in Chinese, French, German and Spanish. It is not too late to join a World Language Club or to visit us during a meeting. See the contact information for each club below.
Chinese Club: You can join the Chinese Club by signing up on Epay or by contacting Heng Laoshi for more information. We would love to see you at our meetings. We meet the 2nd and the 4th Fridays of every month at 2:10 p.m. Here is the zoom link. 欢迎你来参加我们中文俱乐部!
French Club: You can join French Club by signing up on Epay and by contacting Madame Berg for more information. We would love to see you at our next French Club meeting! We meet on Fridays @ 2:30 p.m. Click here for the dates and Zoom link. Nous aimerions vous y voir!
German Club: Willkommen in den Deutschklub. We meet on alternating Tuesdays and Thursdays from 3:15-4:15 p.m. You don't need to be in German class to join! You can join German Club by signing up on Epay and by contacting Frau Kroll for more information. Zoom Link for German Club (password: GermanClub) Deutsch Klub macht Spaß!
Spanish Club: You can join Spanish Club by signing up on Epay and by contacting Profes Allison Jakucki and Monica Vlach. We would love to see you at our next Spanish Club Meeting! Currently, we meet on asynchronous Fridays at 2:15 p.m. and synchronous Fridays at 3:15 p.m. on Zoom. ¡Nos encanta ver a Uds. en el club de español!
Hora de Conversación (¡En Español!): Would you like to keep your Spanish skills strong and/or do you crave a little human interaction? This is an option that is currently available to all Spanish 4, Spanish 5 and AP students at WHS. We meet on Fridays from 11:00 a.m.-12:00 p.m. over Zoom for an hour of discussion. You can join us for any amount of time for this informal conversation practice. This is not curriculum-related and is organized by Elizabeth Gerbuz and is assisted by Profe Monica Vlach, Profe Lisa Parra Staves, and Profe Jose Parra Staves. Please see this link for more information or to sign up!
The Bilingual Seal test is a great opportunity for students to show their proficiency in languages. The Bilingual Seal will be given again in May and you can sign up for this exam in April. Watch the parent connection for details on how to sign up for the test. Please see this link for additional information.
Dare 2 Be Real Outreach
This week jury selection began for the trial of the former officer who is charged in the death of George Floyd. Our students may continue to feel the effects of trauma throughout the rest of the school year, and for the foreseeable future. Here are some local resources to help students during this difficult time:
Class of 2021/Senior Information

Senior Class Graduation Party
Senior Party co-chairs Lauren Hoffman and Dawn Zouber are excited to begin planning the Class of 2021 Graduation Party. If you are interested in being involved with the planning committee or have questions, please email wayzata.seniorparty@gmail.com.
Looking for a great way to support Wayzata Class of 2021?
Our Seniors have worked so hard and deserve a fantastic celebration as they wrap up their years at Wayzata High School. Please consider making a donation in support of the Senior Class Party. We have a plan in place and are determined to host a well-deserved, fun, and COVID safe celebration. Current restrictions prohibited many of our traditional types of fundraisers, so we created this opportunity for our community to come together to make a difference in the party planning process.

As always, any contribution made, no matter what amount is tax-deductible. Please consider a donation today!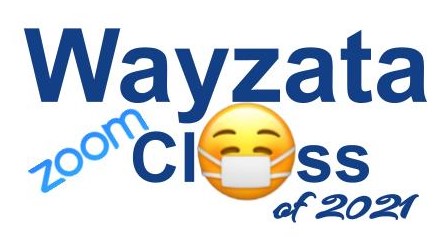 Minnesota Principal of the Year
Wayzata High School Principal Scott Gengler has been named Minnesota High School Principal of the Year. Mr. Gengler has been a school administrator for 20 years and served as Wayzata High School principal for the past seven years. He has fostered innovation, creativity and is committed to affording all students the opportunity to learn and grow in a safe, secure, nurturing and supportive environment. Congratulations Mr. Gengler!
---
Culinary Express Meal Updates for March
Learning models are shifting, which requires Culinary to shift as well. With more students returning to our schools for in-person learning, Culinary resources must be adjusted to equally meet the needs of both our in-person and distance choice students. Starting Friday, March 5th, Culinary will transition back to providing two meal services. Students will only have access to the meal service that is provided for their learning model and we will no longer be able to serve meals to the greater community.
---
MDH recommends COVID-19 testing every two weeks
The Minnesota Department of Health announced a recommendation for all school-age students returning to school, youth sports, or extracurricular activities, and their families, to get tested every two weeks through the end of the school year. While it is not a requirement, regular testing complements other safety measures already in place, such as masking and social distancing.
Covid-19 Testing for Kids and Families
---
Update Health and Emergency Contact Information
We need your assistance updating your child's health information and emergency contact information in Skyward Family Access. For most of you this will only take a few clicks of the mouse. Your school nurse will receive an alert to the updated information. Thanks in advance for your help.
Drivers Ed: Wayzata Community Ed has created a strategic partnership with A+ Driving School to provide driver education. Classroom and Behind the Wheel packages are available. Classes start monthly and are offered online from the safety of your home! You will receive a secure login to the online classroom. Class times are available from 3:00-6:00 p.m., 4:00-7:00 p.m., or 6:15-9:15 p.m. Be sure to select Wayzata High School as the location for online classes. Visit the A+ Driving website for more information.
---
Join us for Pickleball - all levels welcome! Youth ages 15-17 may register and attend with a registered adult.
---
---
Financial assistance is available or call 763-745-5200 for more information.
Thursday, March 18, 2021
12:00 PM - 1:00 PM
Monday, March 22, 2021
4:00 PM - 6:00 PM
4955 Peony Lane, Plymouth, MN 55446 | Phone 763-745-6600