Newsletters will be sent weekly on Fridays to parents/guardians and students. If you have questions or suggestions regarding the newsletters, email Deb Lange. We value your feedback. Past newsletters are available on the WHS website.
February 26: Senior Cap & Gown Orders Due
March 2: ACT Exam Administration
March 3: AP Registration Deadline
March 3: Junior College Planning Night
March 9-11: Virtual College Exploration
March 10: Wisconsin Education Fair
March 10: Selective College Night
March 12: Mindfulness Class for Students
Tuesday, March 2 - ACT Exam Administration

Freshmen and Sophomores taking the Practice ACT on March 2
On March 2 all freshmen and sophomores will have the opportunity to take a free Practice ACT at home using their iPad or other device. Students will be emailed an access code for the practice ACT on March 1. These codes will only be active from 7:30 a.m. - 4:00 p.m. on March 2. There will be no formal classes for students on March 2 as WHS staff will be proctoring the ACT for juniors.

The practice ACT covers the same content as the ACT that is given during the junior year. While the ACT is a junior-level exam, students do benefit from doing a practice test. One of the greatest benefits is that students get first-hand knowledge about what types of questions will be asked and gain familiarity with the general format of this high-stakes exam. While it is a junior-based exam the score reports from the practice exam will give students valuable information that can assist with course planning in addition to identifying current strengths and weaknesses. Students may not submit their practice ACT score to colleges for admission purposes and scores will not be entered into Skyward.
College & Career Center Information

Post Secondary Planning Night
Wednesday, March 3 at 6:00 p.m. - Come join the Counselors to learn about the college application experience. Topics include post-secondary planning, resources/tools, financial aid, and ACT/SAT information.
Zoom Link ID: 88521139293, Passcode: dyPv0xXd
Phone: ‪(US) +1 346-248-7799‬, Passcode: 96101452
Selective College Night
Wednesday, March 10 at 6:00 p.m. - Join the Wayzata High School Counselors and a panel of college representatives from Boston College, Notre Dame, Macalester, MIT, and Northwestern on Wednesday, March 10 at 6:00 p.m. via Zoom. Representatives will cover topics including trends, essays, recommendation letters, application tips.
Technology Update - Helpful Hints for Return to In-Person Learning
The iPad will continue to be an important learning tool when students return to school, please do the following prior to your return on March 8 and 9.
iPad Tasks Before Returning to School
Update to iOS 14.4

Reset Network Settings

Log in to the MyApps Portal (MyApps icon/app)and access all school websites via the portal

Log in to Google Drive with school credentials

Log in to Mail with school credentials (this is sometimes erased after an iOS update)

Go to self-service - reinstall Canvas, Notability
When you return to school on March 8 and 9
Bring your charged iPad to school each day

Bring your charger and cable so you are able to recharge during the day

Bring headphones or earbuds if you have them

Reset Network Settings - join WPS network
Directions (for the above tasks) and scheduled times for technology help can be found on the Trojan Technology website.
Attention ALL AP Students! Deadline Approaching!
If you are enrolled in a Semester 2 or Term 4 AP Course, the exam registration deadline is March 3.
Most students have completed Step 1 of the AP Exam Registration Process by joining their AP course on the College Board site. The College Board takes the information the student provides in this step to create a testing ticket for the May exam. Your AP teacher should have provided you with a Join Code for the course. If you have not completed this step, please do so ASAP!
Most students have not completed Step 2 of the AP Exam registration process. Students should go to the Total Registration site to pay for the intended exams. Once the exam is paid for, WHS will place the order for the exam with the College Board.
Please note that the exams listed in a student's College Board account should MATCH the exams paid for in the Total Registration account.
Step 1 AND Step 2 must be completed by March 3 if a student intends to take the May AP exam. If a student no longer wishes to take the exam, they must contact amy.swenson@wayzataschools.org so that she can cancel the testing ticket with the College Board. If a student has paid for an exam in Total Registration and no longer wishes to take that exam, they should log into their Total Registration account and request to cancel.
For the 2020-21 AP Exam administration, the College Board is waiving their cancellation fee for unused exams.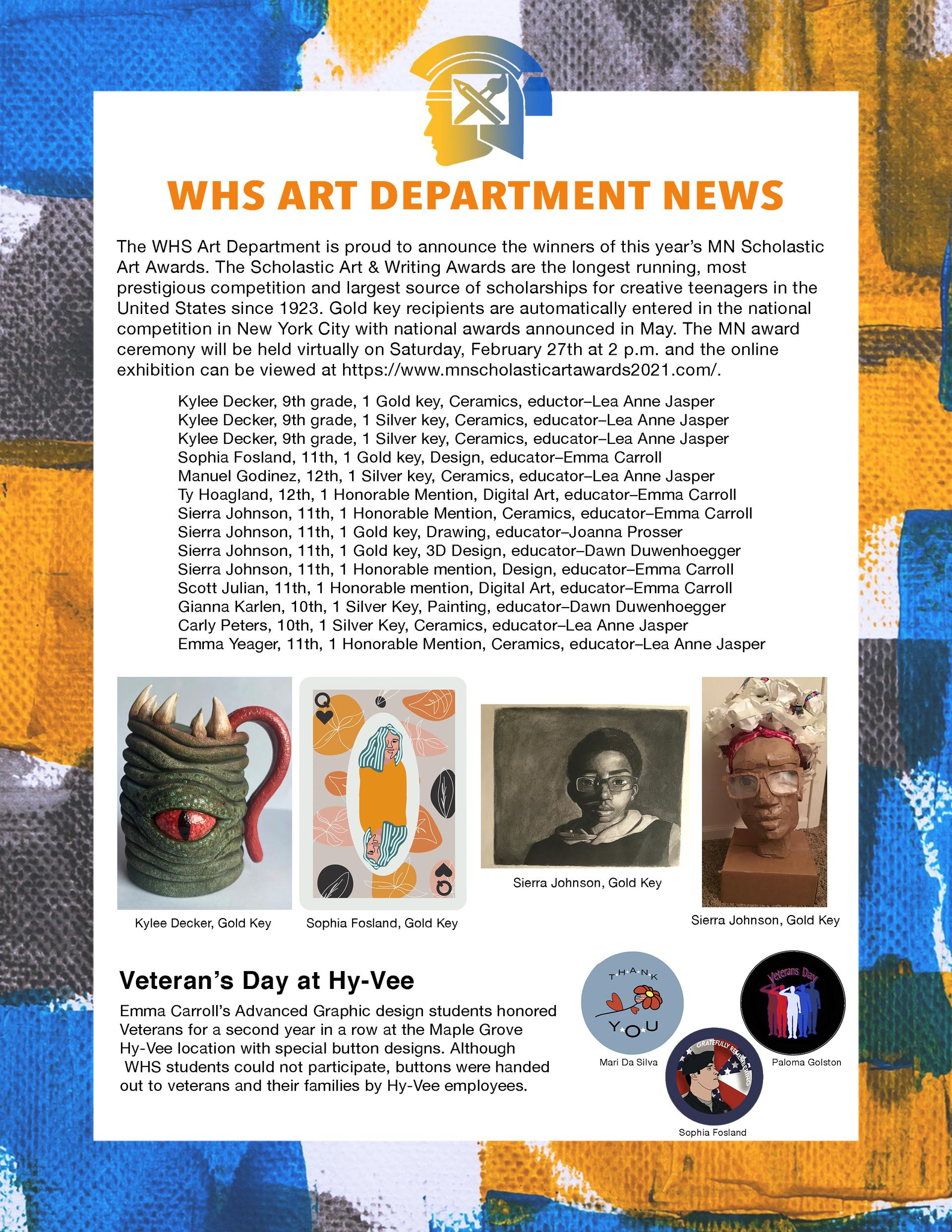 Wayzata Fishing Team
The Wayzata Fishing Team is open to boys and girls who reside in the Wayzata School District boundaries and will be in grades 9 -12 during the 2021-2022 school year. Our members participate in recreational and competitive fishing events including tournaments, fundraisers, practices, and seminars. We also give back to our local community and sponsors by volunteering at local events and various service projects. Visit our website for more details at www.wayzatafishing.org. A Zoom information meeting will be held on March 1. If you are a new angler, please email wayzatafishingteam@gmail.com and an invitation to the Zoom meeting will be emailed to you.
Class of 2021/Senior Information

Class of 2021 Cap & Gown Ordering Information
Due TODAY, February 26
To get you started and ready for graduation, please watch the Cap & Gown information video then you will need to fill out this Cap & Gown order form by February 26 to reserve your gown, cap & tassel for graduation. Information is private and will not be shared.
The commencement ceremony is scheduled for Friday, June 4 at 6:30 p.m. at Mariucci Arena on the University of Minnesota campus. If we need to move to an alternate plan due to COVID-19 social distancing restrictions, we will plan for an outdoor ceremony on June 5 at the high school.
Also, please make sure to check your name in Skyward as this is how it will appear on your diploma. The diploma will include your first, middle, and last name.
If you have questions, regarding your cap and gown order, contact Carson Amiot. Any other questions regarding graduation can be directed to Deb Lange.
Senior Class Graduation Party
Senior Party co-chairs Lauren Hoffman and Dawn Zouber are excited to begin planning the Class of 2021 Graduation Party. If you are interested in being involved with the planning committee or have questions, please email wayzata.seniorparty@gmail.com.
Looking for a great way to support Wayzata Class of 2021?
Our Seniors have worked so hard and deserve a fantastic celebration as they wrap up their years at Wayzata High School. Please consider making a donation in support of the Senior Class Party. We have a plan in place and are determined to host a well-deserved, fun, and COVID safe celebration. Current restrictions prohibited many of our traditional types of fundraisers, so we created this opportunity for our community to come together to make a difference in the party planning process.

As always, any contribution made, no matter what amount is tax-deductible. Please consider a donation today!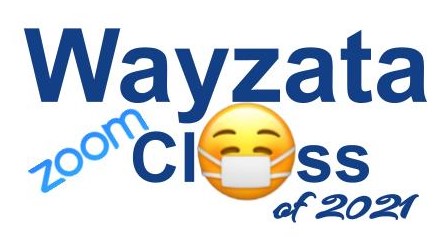 Update Health and Emergency Contact Information
We need your assistance updating your child's health information and emergency contact information in Skyward Family Access. For most of you this will only take a few clicks of the mouse. Your school nurse will receive an alert to the updated information. Thanks in advance for your help.
---
Culinary Express Meal Updates for March
Learning models are shifting, which requires Culinary to shift as well. With more students returning to our schools for in-person learning, Culinary resources must be adjusted to equally meet the needs of both our in-person and distance choice students. Starting Friday, March 5th Culinary will transition back to providing two meal services. Students will only have access to the meal service that is provided for their learning model and we will no longer be able to serve meals to the greater community.
---
Apply for Federal Meal Benefit
Families in our district who qualify for free or reduced-priced meals are now eligible for federal Pandemic-Electronic Benefit Transfer (P-EBT). In addition, if your family income has been affected by the pandemic, or if you are eligible, and have not yet completed an online Application for Educational Benefits (Free or reduced-price meal application) for this school year, please complete and submit your application by Sat., Feb. 28, 2021.
Overview of Federal Meal Benefit
---
Minnesota School Board Recognition Week
February 22-26 is School Board Recognition Week! A special thank you to our elected district leaders for their service to our school community. As a member of the board they help make decisions that have a tremendous impact on your child's future and the quality of life in our community. School board membership can be one of the most personally demanding forms of public service, especially during a pandemic. They devote a great amount of their time to learning and studying health and education issues and listen to the concerns of families and teachers. A special thank you to our Wayzata Public School board members.
Drivers Ed: Wayzata Community Ed has created a strategic partnership with A+ Driving School to provide driver education. Classroom and Behind the Wheel packages are available. Classes start monthly and are offered online from the safety of your home! You will receive a secure login to the online classroom. Class times are available from 3:00-6:00 p.m., 4:00-7:00 p.m., or 6:15-9:15 p.m. Be sure to select Wayzata High School as the location for online classes. Visit the A+ Driving website for more information.
---
Join us for Pickleball - all levels welcome! Youth ages 15-17 may register and attend with a registered adult.
---
Financial assistance is available or call 763-745-5200 for more information.
Thursday, March 18, 2021
12:00 PM - 1:00 PM
Monday, March 1, 2021
5:00 PM - 6:00 PM
Monday, March 8, 2021
7:00 PM - 9:00 PM
4955 Peony Lane, Plymouth, MN 55446 | Phone 763-745-6600