January 27-29: End of Term 2 Finals
January 29: MN World Language Proficiency Certificates and Bilingual Seals registration due
January 29: ACT Practice Exam registration deadline
January 29: All Semester 1 Materials Due
February 2-5: Semester 2 Materials Pickup - 8:00 a.m.-3:30 p.m.
February 4: Wayzata Idol-Virtual
February 5: President's Volunteer Service Award application due
February 12 & 15: No School
February 18: Shades of Brown Performances
February 19: CORRECTION: Synchronous Class Day
March 2: Act Exam Administration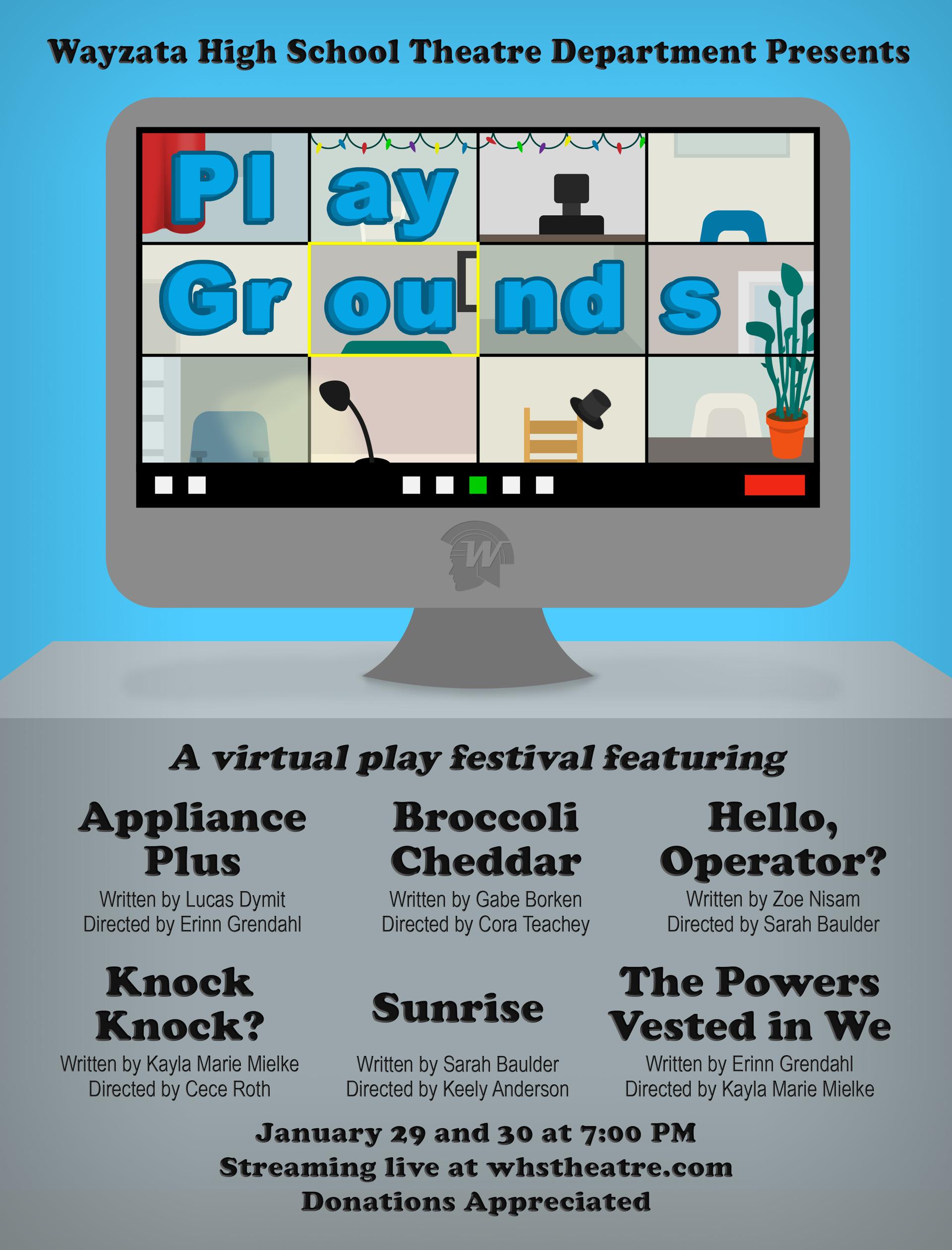 PlayGrounds 2021 - A Virtual Play Festival
Wayzata Theatre's annual new play festival features plays written, directed, designed, and performed entirely by WHS Theatre students.
Student produced plays facilitated by Sandra Struthers, Sonia Gerber and Grant Sorenson.
PlayGrounds 2021 will livestream
on January 29 & 30 at 7:00 p.m.
Visit whstheatre.com for more information.
College & Career Center Information

ACT Exam Administration - College and Career Day - March 2
On March 2, we will be administering an in-person ACT to 950 WHS juniors. Freshmen and Sophomores will have the opportunity to take a Practice ACT at home utilizing their ipads. Seniors will be able to utilize this time for "college and career explorations" and will not report to the building on this day.
The ACT is considered a high-stakes exam. As a result, in order to administer this exam to our students, and to ensure an optimal testing environment for all, we are working diligently to provide a safe environment for our students and staff. Additional information will be shared with students and families in the near future.
Students and families who are planning to opt out should complete and submit the Parent/Guardian Refusal for Student Participation in District Standardized Assessments 2020-2021 by February 12, 2021.
Take-Home ACT Practice Exam
Wayzata Community Education is partnering with a local tutoring company to offer a take-home ACT Practice Exam on January 30-31 for all 9-12 grade students at WHS. Students can pick up their practice exam at the WHS main entrance on Saturday, January 30 from 9:00 a.m.-11:00 a.m. Students can complete the practice exam at home and then drop it off at the WHS main entrance on Sunday, January 31 from 1:00 p.m.-4:00 p.m. The fee to take the ACT Practice Exam is $40 and registration closes on Friday, January 29. Please refer to the ACT Practice Flyer and Registration Link for more information about the practice exam. If you have any questions, please contact Max Dupslaf or Deb Musser.
WHS Scholarship Program Reminder
The following scholarships in the WHS Scholarship Program are still available for seniors to apply for. The application deadlines are listed for each scholarship. Applications can be found on Naviance under the Colleges tab (Scholarships and Money, Scholarship List and then Local and Regional Scholarships). Contact Deb Musser with any questions.
Maple Grove Lions Dick Reimer Memorial Scholarship -- Application due February 4.
Rotary Club of Plymouth Scholarship - Transcript Request due February 22. Application due March 6.
Walser Foundation "Driving a Stronger Community" Scholarship - Application due February 9.
End of Term 2 Finals Schedule
Wednesday, January 27 - Finals for Blocks 3 and 4
Thursday, January 28 - Finals for Blocks 1 and 2 (with regular class for blocks 3 and 4)
Friday, January 29 - Intervention day, may include make-up testing or re-assessment
Minnesota World Language Proficiency Certificates and Bilingual Seals
Students in grades 10, 11, or 12 have the opportunity to earn a Minnesota World Language Certificate, Bilingual or Multilingual Seal through home-testing options. This is a wonderful opportunity to recognize all of our students' languages as assets. To earn a Certificate or Seal, students must demonstrate proficiency in listening, reading, speaking and writing in a language(s) other than English, as well as meet all WHS English Language Art requirements. World Language Certificates and Bilingual/Multilingual Seal awards will be noted in students' high school transcripts. Students who earn these awards may also earn college credit at Minnesota State Colleges and Universities.
Students who complete an AP Language & Culture Exam automatically earn a Certificate (AP score of 3), Gold Seal (AP score of 4), or Platinum Seal (AP score of 5). No further testing is needed.
Students who do not complete an AP Language & Culture Exam have the opportunity for home-testing on Friday, February 5. Proficiency tests are currently available in the languages of Arabic, Chinese, French, German, Hebrew, Hindi, Hmong, Italian, Japanese, Korean, Polish, Portuguese, Russian, Somali, Spanish, Thai, & Vietnamese.
Interested students should register and submit payment on ePay. The deadline for registration and payment is January 29, 2021. Additional testing opportunities will be offered in May 2021 and August 2021.
More information can be found here.
Curriculum Materials Return and Pick Up
Starting Monday, January 25, students should return all Semester 1 materials as they complete their coursework. Materials may be returned between 8:00 a.m. and 3:30 p.m. at the Trojan Head inside the Main Entrance. All Semester 1 materials must be returned by Friday, January 29.
Because we run on a semester schedule, we must have materials returned on time in order to have enough textbooks and other materials available for Semester 2 students. With thousands of items to turn around, curriculum drop off and pick up will be two separate events.
Students may pick up Semester 2 materials at the Trojan Head just inside the main entrance Tuesday, February 2 through Friday, February 5. Staff will be available from 8:00 a.m.- 3:30 p.m. Teachers know that students will be picking up materials throughout the first week of class and are planning their first week's lessons accordingly. Please check your schedule and the Curriculum Document to see which of your courses have required materials. If your course is not listed, you will not need to pick up anything for that course during Curriculum Distribution.
Please contact Joyce Poppele if there are special circumstances we need to know regarding textbook return or pickup.
President's Volunteer Service Award
The President's Volunteer Service Award (PVSA) is a national award offered in recognition of one's volunteerism. As a Certifying Organization of the President's Volunteer Service Award, Wayzata High School can nominate potential recipients and distribute the award to those who meet or exceed the award criteria. The application process has recently been updated to a completely digital application system. Any student who wishes to apply for a 2020 President's Volunteer Service Award must follow the application instructions as outlined in the 2020 President's Volunteer Service Award Application Guide, which includes enrolling in the new 2020 PVSA Canvas Course. A tutorial video on the PVSA application process is also available. Students are able to submit their applications for review at this time. The deadline for submitting an application is 3:30 p.m. on Friday, February 5, 2021. Late submissions will not be accepted and beginning the application process early is advised. Read the Application Guide for more information. For additional information email Brenda Badger, Club Y.E.S. Program Manager.
Doctors of Tomorrow
Doctors of Tomorrow (DOT) is a WHS student-led group that aims to give Wayzata students experience in and information about the medical field. Some of their opportunities include weekly guest speakers, volunteering experiences, and informational events. On Friday, February 5, from 1:00 p.m.-3:00 p.m., DOT is collaborating with Ochsner Health to provide a virtual shadowing field trip. This trip will take the group through a Simulation Center, which includes information about the emergency medicine area, respiratory therapy, a med lab, etc. This trip will be taking place over zoom, and the link can be found here. Past speaker recordings can be found on the Doctors of Tomorrow website.
If you are interested in joining this group or getting more information, you can:
Club Y.E.S.
Registration for Club Y.E.S. is open from Monday, January 25 through Monday, February 8 in Epay for any Wayzata High School student who still wishes to join the club for the remainder of the 2020-2021 school year. The registration link can be found in Epay under Wayzata High School - Activities & Clubs. Only registered students may participate in Club Y.E.S. service opportunities. Registrations will be processed the next business day. Students will receive a welcome email to the club after his/her registration is processed with further instructions regarding access to the Club Y.E.S. project portal and Canvas course. For questions contact Brenda Badger.
Class of 2021/Senior Information
Something Special for Seniors!
Although the yearbook has received your senior portraits for the main book, the yearbook staff wants to give the graduating class another opportunity to celebrate their accomplishments! We are offering an opportunity for your parents to purchase a 1/8 ad in a printed supplement that will only be given out to the senior class. This book will be similar to the spring supplement you receive each year. We are only able to print 350 ads so it will be first-come, first-serve. The cost is $40 for an ad. The fee will be paid directly to Josten's from the link provided in this message. Photos must be submitted by February 1, 2021. There will be NO extensions to this date. To order your ad go to www.jostensadservice.com. From there you will create an account, pay the fee for the ad, choose a layout, upload a photo or two, and/or write a message. Photos must be school appropriate but do not have to be headshots like the senior portraits. Please read this flyer for more detailed information. Please review this document for examples of a senior ad. If you have any questions, feel free to email wayako.activities@gmail.com
4955 Peony Lane, Plymouth, MN 55446 | Phone 763-745-6600