January 18: No School
January 21: Food For Everyone Event
January 22: CORRECTION: Synchronous Class Day for Group A (A-LAQ)
January 22: USA Astronomy & Astrophysics Competition 2021 (USAAAO) registration due
January 29: MN World Language Proficiency Certificates and Bilingual Seals registration due
February 4: Wayzata Idol-Virtual
February 5: President's Volunteer Service Award application due
February 12 & 15: No School
February 18: Shades of Brown Performances
February 19: CORRECTION: Synchronous Class Day for Group A (A-LAQ)
The annual Food For Everyone Event will be Thursday, January 21 from 4:30 p.m. to
7:30 p.m. and is being reconfigured this year due to the pandemic. The purpose of this event is to raise awareness about food waste and food insecurity in our community. The Compass Ecology of Food and Nutrition class, under the direction of AP Greg Sowden, is partnering with Loaves and Fishes to offer a free meal kit to be picked up at the WPS Welcome Center. View flyer for more information and to sign up for this event.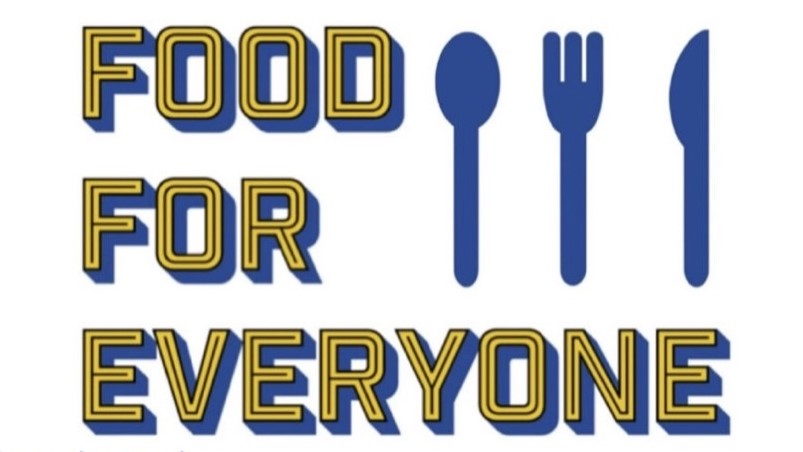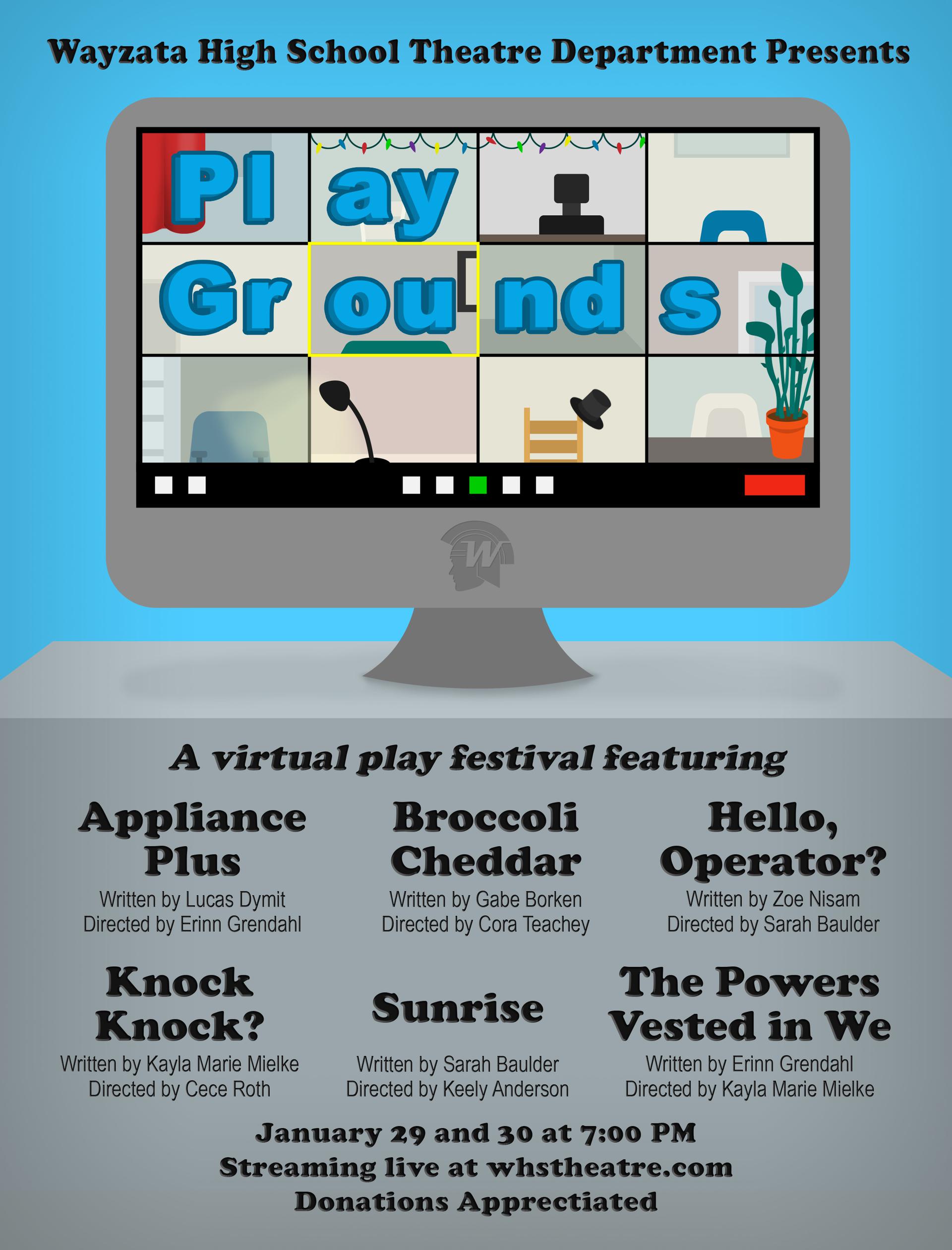 PlayGrounds 2021 - A Virtual Play Festival
Wayzata Theatre's annual new play festival features plays written, directed, designed, and performed entirely by WHS Theatre students.
Student produced plays facilitated by Sandra Struthers, Sonia Gerber and Grant Sorenson.
PlayGrounds 2021 will livestream
on January 29 & 30 at 7:00 p.m.
Visit whstheatre.com for more information.
College & Career Center Information

Midyear Report Information for Seniors
Seniors do not need to request or pay for a midyear report to be sent to most colleges/universities. Mrs. Marr maintains a list of all Common Application transcripts initially sent out, and we automatically send midyears for those applications. They will be sent after term 2 grades are finalized in February. If you applied to a school but did not use the Common Application and need a midyear sent, please contact Mrs. Marr.
Take-Home ACT Practice Exam
Wayzata Community Education is partnering with a local tutoring company to offer a take-home ACT Practice Exam on January 30-31 for all 9-12 grade students at WHS. Students can pick up their practice exam at the WHS main entrance on Saturday, January 30 from 9:00 a.m.-11:00 a.m. Students can complete the practice exam at home and then drop it off at the WHS main entrance on Sunday, January 31 from 1:00 p.m.-4:00 p.m. The fee to take the ACT Practice Exam is $40 and registration closes on Friday, January 29. Please refer to the ACT Practice Flyer and Registration Link for more information about the practice exam. If you have any questions, please contact Max Dupslaf or Deb Musser.
Curriculum Materials Return and Pick Up
As the end of the semester approaches, students may continue to return books they no longer need to the book return box in the Main Entrance between 8:00 a.m. and 3:30 p.m. daily. Starting Monday, January 25, students should return all Semester 1 materials as they complete their coursework. All Semester 1 materials must be returned by Friday, January 29.
Because we run on a semester schedule, we MUST have materials returned on time in order to have enough textbooks and other materials available for Semester 2 students. With thousands of items to turn around, curriculum drop off and pick up will be two separate events.
Students may pick up Semester 2 materials at the Trojan Head just inside the main entrance Tuesday, February 2 through Friday, February 5. Staff will be available from 8:00 a.m.-3:30 p.m. Teachers know that students will be picking up materials throughout the first week of class and are planning their first week's lessons accordingly. Information will be shared next week about which classes have required or optional materials.
Please contact Joyce Poppele if there are special circumstances we need to know regarding textbook return or pickup.
COMPASS Course Opportunities
Juniors and seniors, are you interested in a career in computers or mathematics? Consider COMPASS Cybersecurity and Applied Mathematics and learn about these subjects while working with business professionals from the field. There is still space available in the COMPASS Cybersecurity and Applied Mathematics course for semester 2. The class will run as a hybrid course, however, accommodations will be made for distance choice students. Email Tika Kude or Katherine Granlund for more information.
Do You Like to be Creative?
Escape the Vape is a PSA video contest that puts the power to fight back in your hands. Just create your vape-bashing masterpiece, upload and you could win $500 and $500 for your school or organization.
Escape the Vape is a collaboration between the Minnesota Department of Health, CCF Advertising, Tobacco-Free Alliance, University of Minnesota, MN Youth Council, MNAAP and Allina Health Change to Chill. While all uniquely different organizations, they're each united in a strong desire to undo the damage vaping has done to teen health.
Check out the Escape the Vape website to learn more about the contest and the program.
USA Astronomy & Astrophysics Competition 2021 (USAAAO)
The USAAAO organizes a competition each year for high school students to represent the United States at the International Olympiad on Astronomy & Astrophysics. Registration is now open. Students should let Amy Swenson know by 3:30 p.m. on January 22, 2021, if they would like to commit to participate in the First Round Exam. She will complete the registration for them and submit payment for WHS students who plan on entering the competition.
The First Round Exam will take place online on January 31, 2021. The exam will be proctored over Zoom and the exam time will depend on the time zone. Additional information regarding the exam format will be provided closer to the exam. Students can also find additional information at USAAAO. Students who progress in the competition will compete in the Event round on March 20, 2021.
Club Y.E.S.
Registration for Club Y.E.S. is open from Monday, January 25 through Monday, February 8 in Epay for any Wayzata High School student who still wishes to join the club for the remainder of the 2020-2021 school year. The registration link can be found in Epay under Wayzata High School - Activities & Clubs. Only registered students may participate in Club Y.E.S. service opportunities. Registrations will be processed the next business day. Students will receive a welcome email to the club after his/her registration is processed with further instructions regarding access to the Club Y.E.S. project portal and Canvas course. For questions contact Brenda Badger.
Class of 2021/Senior Information
Something Special for Seniors!
Although the yearbook has received your senior portraits for the main book, the yearbook staff wants to give the graduating class another opportunity to celebrate their accomplishments! We are offering an opportunity for your parents to purchase a 1/8 ad in a printed supplement that will only be given out to the senior class. This book will be similar to the spring supplement you receive each year. We are only able to print 350 ads so it will be first-come, first-serve. The cost is $40 for an ad. The fee will be paid directly to Josten's from the link provided in this message. Photos must be submitted by February 1, 2021. There will be NO extensions to this date. To order your ad go to www.jostensadservice.com. From there you will create an account, pay the fee for the ad, choose a layout, upload a photo or two, and/or write a message. Photos must be school appropriate but do not have to be headshots like the senior portraits. Please read this flyer for more detailed information. Please review this document for examples of a senior ad. If you have any questions, feel free to email wayako.activities@gmail.com
4955 Peony Lane, Plymouth, MN 55446 | Phone 763-745-6600