Note from Principal Mary McKasy
If you have not yet signed up for conferences, please do that today. The online conference scheduling window closes tomorrow, October 5 at 4 p.m. Please log in to  Skyward Family Access. Click on "Teacher Conference" at the left hand side of the screen to schedule. If you need additional help, please call the office to schedule for you at 763-745-5401. Thank you.
Fall Festival is tomorrow Friday, October 5
We look forward to seeing you at our Fall Festival. Two slices of pizza, apple, carrots, cookie and a drink will be available for $2.00 in the commons and we will have activities on the playground for our students. Please come and join the fun! Please email our principal, Mary McKasy, if a scholarship is needed at Mary.McKasy@wayzataschools.org. 
Book Fair is October 9, 11 and 15
The book fair is held at the same time as conferences. Please stop by before or after your conference and browse through the books for sale. Purchasing books at the fair directly benefits Gleason Lake and helps to instill the joy of reading into your student. You can preview (and order) books by going to the Scholastic website.
Box Top Contest
It's time to send in Box Tops for the first collection of the year! Each Box Top for Education is worth $0.10 and last year you helped collect enough to earn $1500 for Gleason Lake! Check btfe.com/products for a list of products. There is a Box Tops Bonus App that lets you buy, scan and earn for education. Ask friends and family to participate. Please turn in Box Tops to your teacher between October 8-12.
Fun Run Results
A big thank you goes out to all of the students, volunteers and staff who participated in the Fun Run last Friday. The total amount donated is officially $36,314. The top classrooms at every grade level were Hasselfeldt ($1,459), Lewis ($1,297), Eickhoff ($1,275), Morgan / Wall ($1,678), Carson ($1,759.67) and Breyer ($2,046). Bright Start was new to the program this year and donated $643. Thanks to all of the families and neighbors who contributed to this important fundraiser. And thank you also to the following companies who funded the t-shirts that were given to every student in the school: Pronto Heating & Air Conditioning, Local Lakes Construction, Mark Schill with Coldwell Banker Realty, and Chad Greenway's Lead the Way Foundation.
MCA Test Results
Spring 2018 MCA Test Results for our current 4th and 5th graders will be sent out the week of October 8.
November Book Club Sign Up 
Students will have the chance to meet author Abby Cooper during our November book club! Book club will meet on Wednesday, November 7 at 7:45 a.m. in the media center for breakfast snacks and discussion about our next book, Sticks and Stones. Students will need a completed permission slip for Breakfast Book Club. Hurry, because spots are limited to the number of books available.
Subscriptions Available for Book Reading
We have a number of online subscription sites that students can log in to read books online for free. Please make use of this wonderful opportunity!
Great Apple Crunch 2018
Thursday, October 11 is the 2018 Great Apple Crunch! We're celebrating National Farm to School Month by crunching into apples at noon. Everyone is welcome to crunch! Check out our video on Facebook from Great Apple Crunch 2017.
Try It Tuesday: Bell Peppers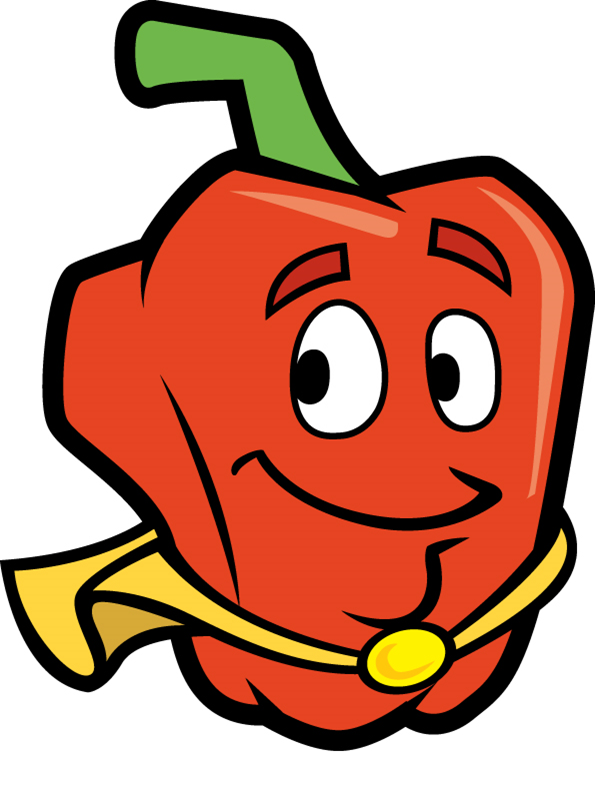 Tuesday, October 9 is Try It Tuesday and we'll be trying bell peppers! Did you know all bell peppers start out green, but turn to yellow, then red as they ripen? Or that peppers sweeten as they ripen, therefore red peppers are the sweetest? Bell Peppers are high in Vitamin C, which helps fight off germs as well as other vitamins & minerals which also helps us keep our eyes healthy!
Lost and Found will be donated during MEA 
Please be sure to check our lost and found during conferences. All items will be donated on October 18 during MEA break.
Yearbooks for Sale
To purchase a yearbook, please go to the Lifetouch website. Yearbooks will be $12 this year.

All parents and guardians are members of our PTO. Our next PTO meeting is Wednesday, October 10 at 9:30 a.m. in the commons. We welcome you to our monthly meetings at the school.
Social/Fundraising Committee Opportunity
We are currently putting together a Social/Fundraising Committee for our annual Parents Night Out event this winter. We are looking for two chairpeople and additional volunteers for subcommittees. Roles include finding a fun venue and creating invitations. Organizing subcommittees to help with decorations, food, and small fundraising efforts. This is a great opportunity for someone who wants to be involved but can't meet during the day. Most of the event coordination can be done by phone and email. Please email Laurie Hasko at laurie.hasko@gmail.com for more information.
Community Education WISHES Youth Enrichment
Register now for our after school WISHES classes at Gleason Lake!
Gleason Lake Engineering Club
Art Sampler
Lever Developers - STEM Enrichment using LEGO® bricks for the 21st Century learner
Canvas Fun: Winter Night with Reindeer
Grandmasters of Chess - next session starts Nov 29
Destination Imagination registration is open until Oct 29! Visit our website for more information.
Auditions for All District Choir for grades 4-5 are October 9 & 10 at Birchview Elementary. Find more information here.
Upcoming Events:
Oct 8 - Young Scientist Roundtable, Tornadoes: Mathematics and Physics Behind Their Power
Oct 11 - Parenting with Vision: Top 20 Parents Live Above the Line: How Our Thinking Governs Our Experience
Both events are free with no registration required.
 310 County Road 101 North, Plymouth, MN 55447 | 763-745-5400