Newsletters will be sent weekly on Fridays to parents/guardians and students. If you have questions or suggestions regarding the newsletters, email Deb Lange. We value your feedback. Past newsletters are available on the WHS website.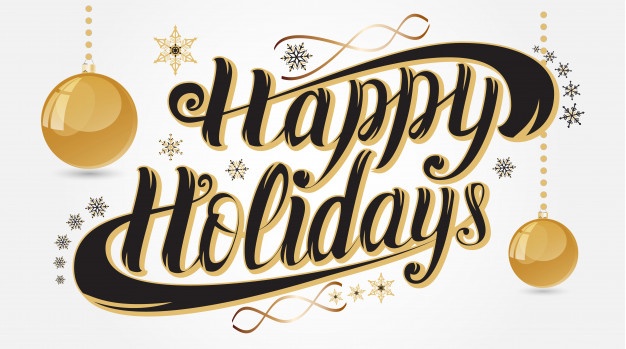 December 21: Shades of Brown audition videos due
December 21: Wayzata Idol audition videos due
December 24-January 1: Winter Break
January 6: 2021-2022 Honors Mentor Connection Applications Due
January 8: Scholarship Applications due
January 8: F=MA (U.S. Physic team) registration due
January 22: USA Astronomy & Astrophysics Competition 2021 (USAAO) registration due
College & Career Center Information

Elevate Futures Virtual Career Expo
Students can explore future careers, learn about various industries and get to know future employers by attending a free Elevate Futures Virtual Career Expo on January 8 from
9:00 a.m.-2:00 p.m. Any questions, please contact Deb Musser.
WHS Scholarship Program Applications Due Early January
Every year, local sponsors provide scholarship opportunities for WHS seniors. These scholarships can be redeemed at any two-year or four-year college or university in the United States. There are two types of scholarship packets. Click on the links below to get more information about the various types of scholarships that are offered.
Packet #1 - Shared Application Packet
All of the scholarships in this packet use a shared application (Google form).

The application deadline is January 8, 2021.

View the shared application Questions before you start the application.
Here's the Application.
Packet #2 - Separate Application Packet
All of the scholarships in this packet have separate applications.

These applications can be found on Naviance -- instructions are listed in the packet.

Application deadlines vary but most deadlines are January 8, 2021.
If you have any questions, please contact Deb Musser.
Virtual Study Abroad Opportunity
Hallo! Do you have a student who has always wanted to go to Germany?
Have they wondered how to get connected with someone in Germany?
Are they looking for something to spice up their winter and 2nd semester?
Please have them flip through this video slideshow and fill in this form asap if they are interested in participating in the Virtual German Exchange with our partner school in Dusseldorf, Germany.
Have your student sign up and they will be connected with a student from our exchange school in Dusseldorf Germany. Together, from February 1-20, they will participate in various activities like attending a virtual welcome party and figuring their way out of a virtual escape room.
This is a great way to use their German, even if they are just a beginner. Connections made through our exchange often last a lifetime. Hopefully next school year we can host and travel in person, but for now - everyone is welcome to take part in this experience.
We have 20 German students just waiting for our students to sign up. We'll take the first 20 WHS students who fill out the form. Be sure to have your student use their WHS email to fill out the form. Here is the slideshow without the video for reference as well.
If you and/or your student would like more information or have any questions, email Karen Nickel.
Save the Date: ACT Test Administration for WHS Juniors
On March 2, 2021 all WHS Juniors will have the option to take the ACT during the school day. Planning for this day has already started, and the district continues to be in close communication with MDE and MDH so that we can provide a safe and secure testing experience. More information will be shared with families in early to mid-January and again as we move closer to the testing date.
F=Ma (U.S. Physics Team)
The AAPT and the American Institute of Physics (AIP) sponsor a competition each year for high school students to represent the United States at the International Physics Olympiad Competition. Registration is now open. Students should complete the registration form and return it to Amy Swenson by 3:30 p.m. on January 8. Registrations received after this date will not be able to participate as part of the WHS team.
All participants will take the exam online this year on February 18 at 3:00 p.m. This is the only window that will be provided by F=Ma to participate. At this time, the plan is to have students take the exam at home. The exam will need to be proctored by a parent or guardian. This plan may change if and when we are able to bring students back to WHS. Details regarding the format of the exam will be sent to participants in mid-late January. Wayzata High School will pay the registration fee for the competition. You do not need to include a check or credit card information with your student's registration.
USA Astronomy & Astrophysics Competition 2021 (USAAO)
The USAAAO organizes a competition each year for high school students to represent the United States at the International Olympiad on Astronomy & Astrophysics. Registration is now open. Students should let Amy Swenson know by 3:30 p.m. on January 22, 2021 if they would like to commit to participate in the First Round Exam. She will complete the registration for them and submit payment for WHS students who plan on entering the competition.
The First Round Exam will take place online on January 31, 2021. The exam will be proctored over Zoom and the exam time will depend on the time zone. Additional information regarding the exam format will be provided closer to the exam. Students can also find additional information at USAAAO. Students who progress in the competition will compete in the Event round on March 20, 2021.
2020 Wayzata Idol Competition
Get ready for this year's 2020 Wayzata Idol competition! This year, the event will be a virtual experience! Students who want to participate should send in their audition video to Jane Luedke. The performance is planned to happen at the beginning of January with live performances streamed to our audience. More finalized details will follow! Please have your auditions submitted by December 21! If you have any questions, please reach out to Mrs. Ellis.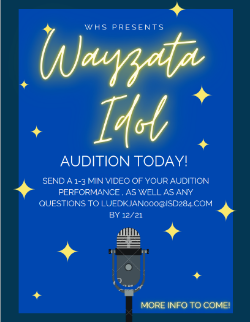 Dare 2 Be Real (D2BR)
Lisa Parra Staves (Profe. Parra) is a Spanish teacher at WHS, and is starting a Dare 2 Be Real group for WHS staff. Staff Dare 2 Be Real (D2BR) is a group that promotes, addresses and discusses racial equity and leadership. The staff D2BR group supports and complements the work of the student D2BR group, while also providing a safe place for staff to learn, grow and practice having and facilitating hard conversations. If you'd like more information, contact Lisa Parra Staves.
The podcast series by Scene On Radio "Seeing White" helped Profe Parra become more aware of the historical contexts of race and racism in the United States, and the role of whiteness. Want to know more about the podcast, this is a good short introductory video to the podcast.
2021-2022 Honors Mentor Connection Applications Now Open
Honors Mentor Connection (HMC) is a highly selective, rigorous, academic course offered at WHS. HMC students design, plan, and implement a yearlong investigation to address a research question, that will culminate in the submission of an academic research paper to the College Board and the MN Department of Education. Applications are now being accepted for admittance into the 2021-2022 Honors Mentor Connection program.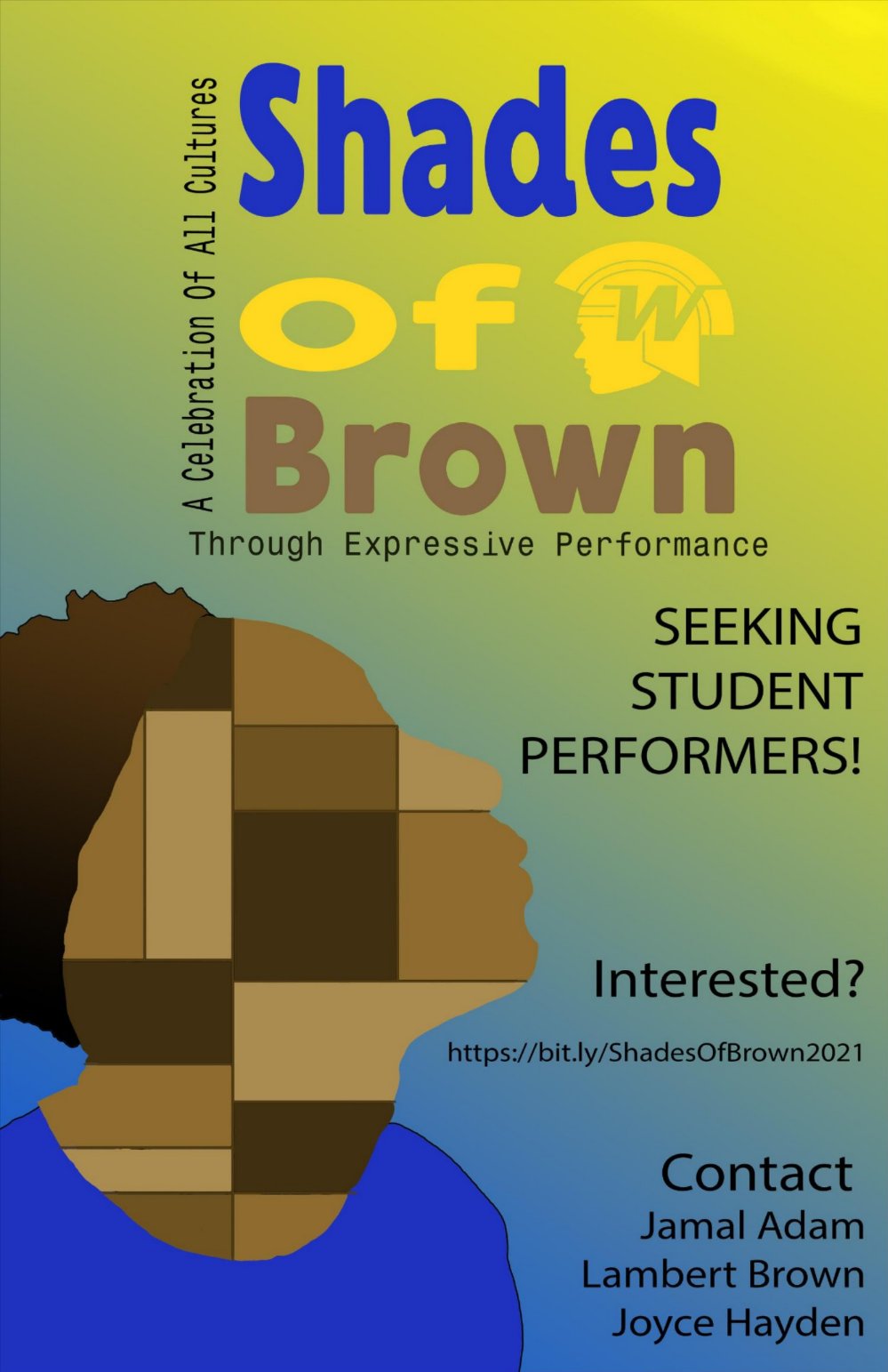 Shades of Brown Auditions
Shades of Brown Auditions are almost here! We hope that this year, as different as it feels, has been off to a good start! Shades of Brown, like everything else, will be different this year. To audition, please complete the Shades of Brown Audition form. Audition videos are due December 21, please include link to video on the audition form. We are also looking for emcees! If you are interested, please fill out the emcee form.
Questions? Contact Jamal Adam, Lambert Brown or Joyce Hayden.
Performing Arts Department Feature

We've heard the question many times: "How do you even do performing arts classes during distance learning?" This question, rooted in our experiences of seeing and hearing music and theater students share their work, reflects the loss we feel when they are unable to bring their collaborative efforts to the community. Evenings in the auditorium, however, are only one slice of the educational pie present in the performing arts. For example, Hybrid and Occasional Hybrid classes in the performing arts have allowed many students to learn and collaborate in person. Zoom breakout rooms have allowed for an additional level of peer-to-peer interaction. While our curricula temporarily reflects a reduced emphasis on performing, students have deepened their individual skills, strengthened elements such as theory and ear training, and expanded the integration of technology in ways that will have post-COVID-19 benefits. Student feedback and teacher observation tells us that students also see the opportunities present in this new environment and are willing to persevere knowing that they will be prepared to make art together in robust ways as soon as the pandemic ebbs.
As families consider registration for the 2021-2022 school year, the absence of the arts in the traditional, collaborative sense this year reminds us that returning to making art in community will be that much more meaningful next year. Teachers will be communicating specific information about registration and auditions for band, choir, and orchestra in January. The department also offers a wide range of classes for students not in band, choir, or orchestra, and for students looking to further expand or deepen their current performing arts experiences. In addition to music theory, music history, and music production, we have both sequential theater courses and single theater courses such as Improvisation and Comedy Studies.
The value of an education in the arts is grounded in both brain and social science, but it is the countless and deeply meaningful aesthetic and social experiences created by our students that lies at the heart of why the performing arts matter. We encourage all students and families to make the performing arts a part of their well rounded high school education. Reach out to department head Rebecca Wyffels with questions.
WHS Christmas Quartet
Four WHS orchestra students - Adelaide Slaven, Carinn Tryon, Brad Gale, and Merritt Hyman - were not to be deterred from making music together this fall. Students in the performing arts have lost most of their opportunities to collaborate since the pandemic struck but this string quartet, which rehearses independently and adheres to masking and distancing expectations, decided to make the best of a challenging situation. Their initial plan was to perform for staff at the Trojan Head entrance on occasional Friday mornings but they shifted gears, as we all have since we pivoted to distance learning, and instead recorded this video of holiday selections. This is their "thank you" to staff for all of their efforts on behalf of students. In addition to completing this project, the quartet was recently coached virtually by Jean Marker DeVere, a violinist with the Minnesota Orchestra.
Club Y.E.S. December Service Project - Enjoy the Holiday Music
Some Club Y.E.S. volunteers are busy serving senior living centers and seniors' programs in the community by creating Holiday Music Performance Videos. The videos are uploaded to the Club Y.E.S. YouTube channel as unlisted videos, then the links are shared with community partners serving seniors. The senior citizens are loving the opportunity to listen to and see the Y.E.S. volunteers, even though it's virtually in these special videos. Check out these awesome holiday music videos:
Health & Wellness Resources!

Under Pressure: Stresses Teens Face and How to Keep them Healthy
Oh, the pressures teenagers now face! From social media to hybrid schooling, physically distant friendships to new substance trends, teens' stressors continue to grow. This blog article will explore what stress teens face today, and how adults in their lives can ease these pressures in order to promote teen health.
Class of 2021/Senior Information

Senior Class Graduation Party
Senior Party co-chairs Lauren Hoffman and Dawn Zouber are excited to begin planning the Class of 2021 Graduation Party. If you are interested in being involved with the planning committee or have questions, please email wayzata.seniorparty@gmail.com.
Monday, December 21, 2020
4:00 PM - 6:00 PM
Monday, January 11, 2021
7:00 PM - 9:00 PM
4955 Peony Lane, Plymouth, MN 55446 | Phone 763-745-6600