Newsletters will be sent weekly on Fridays to parents/guardians & students. If you have questions or suggestions regarding the newsletters, email Deb Lange. We value your feedback. Past newsletters are available on the WHS website.
December 9: Yearbook Photo Submission Deadline
December 11: Sophomore & Freshman Seminars
December 11: Mindfulness Class for Students
December 16: Parent-Teacher Conferences
December 21: Shades of Brown audition videos due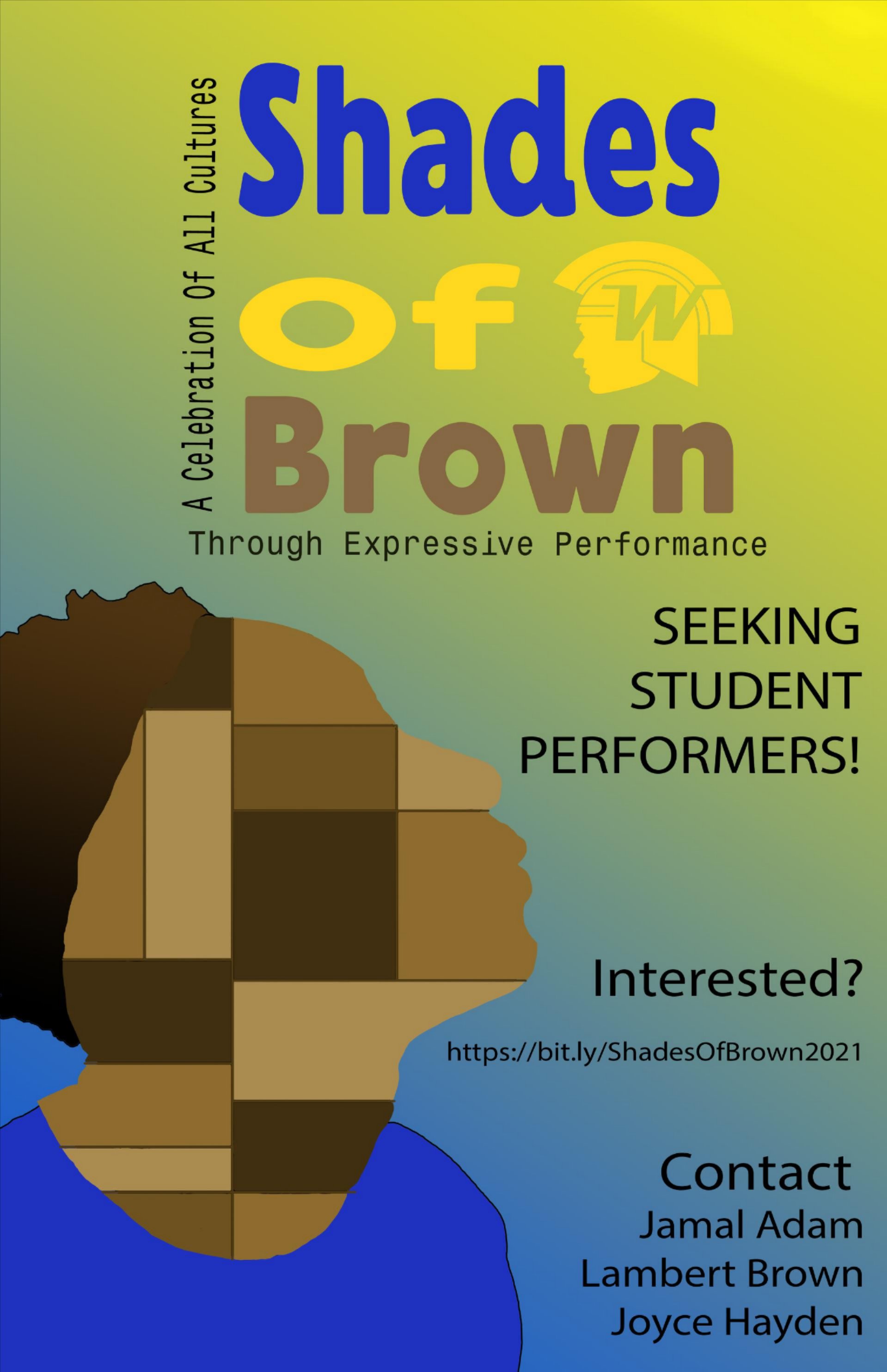 Shades of Brown Auditions
Shades of Brown Auditions are almost here! We hope that this year, as different as it feels, has been off to a good start! Shades of Brown, like everything else, will be different this year. To audition, please complete the Shades of Brown Audition form. Audition videos are due December 21, please include link to video on the audition form. We are also looking for emcees! If you are interested, please fill out the emcee form.
Questions? Contact Jamal Adam, Lambert Brown or Joyce Hayden.
Lifetouch School Photos
Due to the recent shift to a predominantly distance learning model, there will be no makeup/retake days scheduled at this time for Lifetouch photos. If you did not get your picture taken but still want to have your photo in the yearbook, please check out the instructions below. Photo submissions are due by no later than Wednesday, December 9.
Still need a portrait? If your student was not able to get their Lifetouch picture taken at school, we have an alternative option for them! We will provide a portal for them to upload a picture that is taken on their own. Please make sure to use a neutral background which will then be used to photoshop a color similar to other yearbook portraits. Portrait submission deadline has been extended to Wednesday, December 9. Follow the instructions to understand the guidelines for the photograph and how to upload it. If taken on a phone, they must upload it to a computer to rename it. Check out this photo tip sheet for tips on taking a usable photo. The photograph must be renamed in the correct format before uploading it to the Josten's portal. They will need the ID 415463794 to access the site. If they have any questions, email wayako.people@gmail.com.
If your student had their Lifetouch photo taken, their portraits can be ordered at MyLifetouch.com (ID: EVTTKTWTT). All questions regarding photos that were taken at WHS should be directed to Lifetouch customer service at 800-736-4753, Monday-Friday 7 a.m. - 7 p.m. You can also use their chat feature at mylifetouch.com. Find answers to frequently asked questions.
Thank you to WHS Student Volunteers from Vidya Gyan
The WHS culture of encouraging students to engage in community connections, volunteering, and getting involved is what prepares them for an ever-changing global society. From the perspective of a local nonprofit organization, Vidya Gyan is grateful that a dozen student volunteers from WHS (the Scholars) shared their knowledge (Gyan) in educating (Vidya) the children (the Schoolers) through a series of camps on diverse topics. Click on the links below for more detailed information.
Social Studies Department Feature
As we move towards registration for the 2021-2022 school year, please consider the Social Studies Department elective course offerings! From classic Social Studies courses such as Y.E.S., United States Military History, World Religions, Psychology, Human Geography, and #Trending Topics (just to name a few), to our newer course offerings Race and Ethnicity in America, Mock Trial, and Middle East Studies, the Social Studies Department has courses that appeal to any and all learners. In addition, we also provide elective Advanced Placement offerings such as, but not limited to, Comparative Government, Psychology, and Human Geography. To help your student(s) find the classes that best fits their learning needs, please refer to the course catalogue that the school will be providing electronically once we get closer to registration. The course catalog will provide class descriptions and as well as identify any prerequisite or grade level requirements needed for a course. Questions can be directed to Social Studies Chair, Erin O'Neill.
Class of 2021/Senior Information
Senior Class Graduation Party
Senior Party Co-Chairs Lauren Hoffman and Dawn Zouber are excited to begin planning the Class of 2021 Graduation Party. If you are interested in being involved with the planning committee or have questions, please email wayzata.seniorparty@gmail.com.
Health & Wellness Resources

Especially for the Holidays: Help for Families Faced with Addiction
Join us on Friday, December 18 from 10:45 a.m. - 12:00 p.m., for an information-packed webinar on strategies, resources and care for families facing addiction—during the holiday season and beyond.
Inspirational recovery speaker Tom Farley, brother of the late comedic genius Chris Farley, will share humorous and telling insights about families and addiction.

Interventionist David Marion will present options to consider when loved ones are resistant to getting help for addiction.

Clinical director Lydia Burr will offer an overview of treatment programs and recovery services.
We will save time for your questions, too. No cost. Sign up now by registering here.

Questions? Please contact Joel Cycenas by email at jcycenas@hazeldenbettyford.org or by phone at 651‑213‑4631.
Additional Resources:
4955 Peony Lane, Plymouth, MN 55446 | Phone 763-745-6600