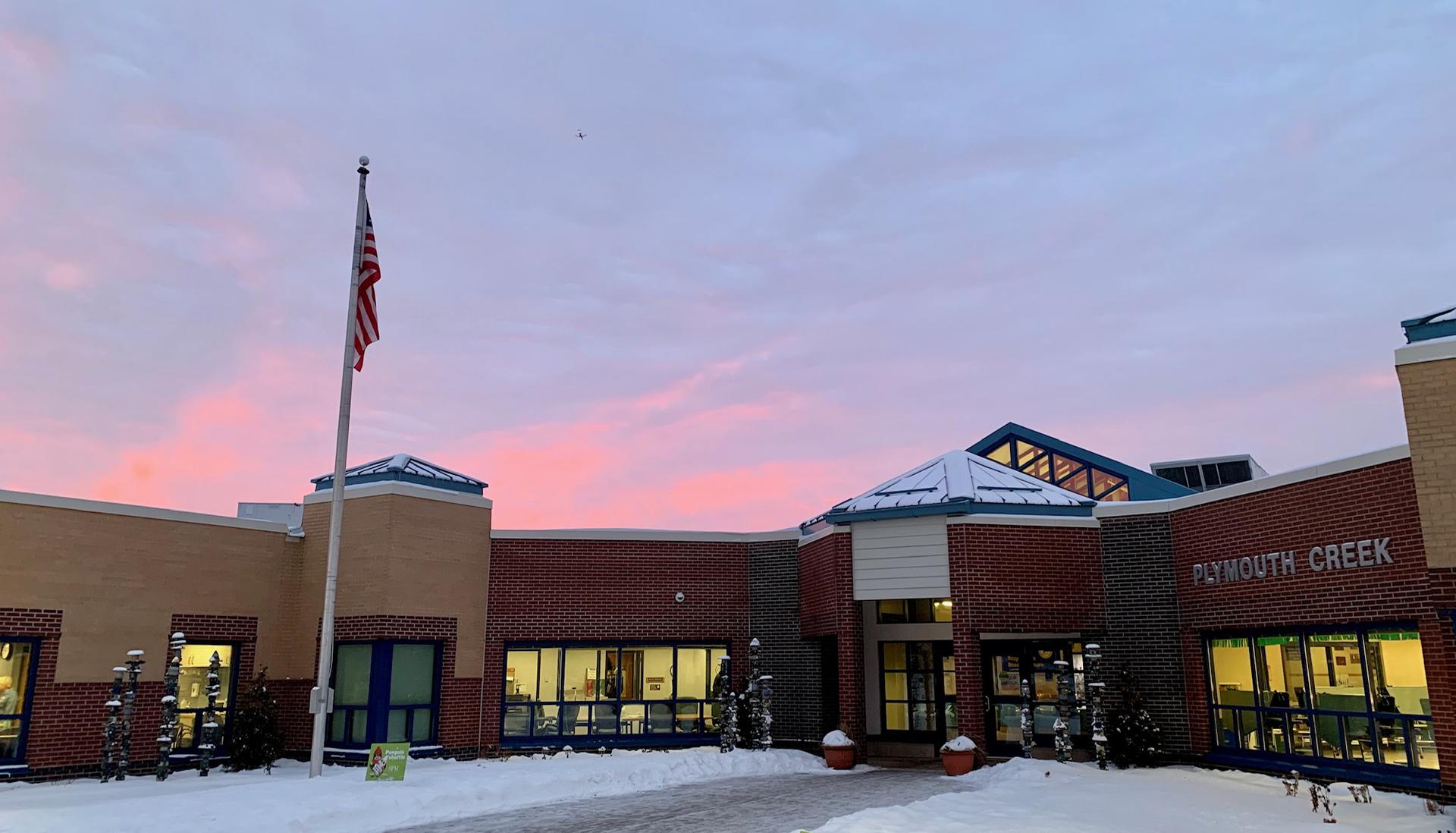 Message from Mrs. Paul
Plymouth Creek Families:
Staff spent yesterday and today saying goodbye to students while we transition to distance learning. It is difficult for all of us, knowing that we won't see each other in person again for several weeks. While this is the safest solution at this time, we are sad to watch students walk out of our doors and will miss that in-person connection we've worked so hard to build. In preparation for distance learning, teachers have spent time planning, participating in professional development and professional learning communities, and reflection on last spring in an effort to make this distance learning experience successful for everyone. Individual class schedules will be emailed to you from your child's teacher in the afternoon of Tuesday, November 24.
Talking to your child about this transition is important. Remember, you "make the weather." What you share about distance learning or your child's teacher will be the mindset your child is likely to adopt. We appreciate your help in setting a positive tone to the learning your child will do virtually for the next several weeks. This is an opportunity to set goals, talk about perseverance, and promote resiliency. I'll be discussing these same ideas during our "Mindset Monday" segments on the morning news.
Plymouth Creek staff are here to support you and your child during this transition. We are in this together - and we can't wait until we can see your children in person again.
Stay well,
Ashley Paul
Distance Choice Materials Pick Up - Friday, November 20
There is a materials pick up for Distance Choice students in all classes tomorrow, November 20. Mark your calendars for upcoming Distance Choice Materials Pickup dates for all classes on November 20; December 4 and 18; and January 8 and 22.
Hybrid Materials Pick Up - Thursday, December 3
Materials Pick-Ups for students in the Hybrid model will take place every two weeks on a Thursday during our time in distance learning. The next materials pick up will take place on Thursday December 3. More information from your child's teacher will be forthcoming during the week of November 30.
Supplies for Specialists Classes
Your child will continue to participate in specialist classes during distance learning. Being at home or in a childcare setting may present some unique challenges as they pertain to materials. Sra. Seeland has requested that 4th and 5th grade students have the following items ready on their Spanish days: a pencil, something to color with (markers, crayons, colored pencils), lined paper, and plain paper.
Additionally, Mrs. Hallson would like to be sure all students have what they need to participate in art class during distance learning. Let us know which supplies you have access to and which supplies you need. Thank you in advance for your help!
No School Friday, November 23 and 24 for Distance Learning Preparation
Reminder: There is no school next week (November 23 and 24) so that we can all continue to work on a smooth transition to distance learning. Wayzata Kids childcare will also be closed on those days. Non-school day care on Wednesday, November 25 is available for those students who previously registered.
Canvas Tips for Families
Are you wondering whether your child has submitted all of their assignments for the day? Would you like to know which lessons were assigned? One of our teachers has created this short tutorial about some of the key features of Canvas for parents. Additionally, our district elementary technology integrationist has shared tips and tricks. Please take some time to look; I think you'll find the information to be useful!
Lost and Found
Do you recognize any of these items? Our lost and found has grown in recent weeks. Items labeled with names have been returned. Remind your students to visit the lost and found area by the gym to claim what belongs to them. Items that remain at Thanksgiving break will be donated.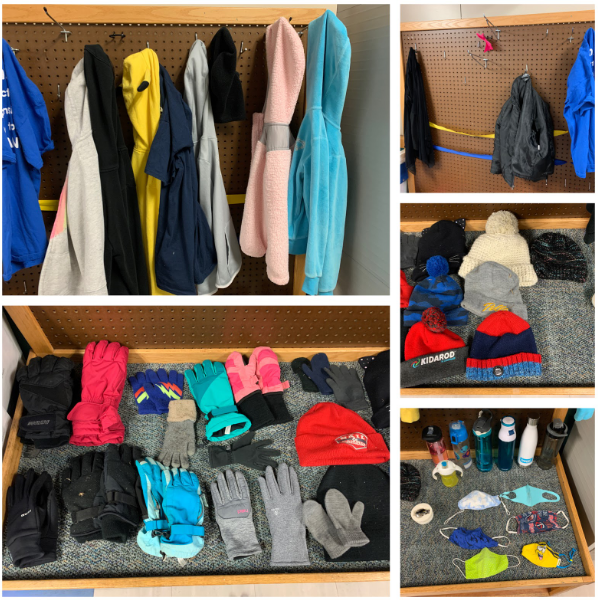 Message from the Attendance Office
Please report absences in Skyward Family Access when your child is absent or tardy, even on their non-cohort days. Children are considered unexcused without an entry in Skyward Family Access or a call to the attendance line from a parent or guardian.
When you are submitting the attendance request in Skyward Family Access, you must be logged in as a parent, not a student.

Calls to the attendance line (763-745-5855) should be reserved for last-minute attendance requests or changes.

Please also reach out to your classroom teacher to notify them of a planned full-day or multi-day absence.
Medications at School
All medications, both prescribed and Over-The-Counter (OTC), administered at school requires a medical order from a person who is a licensed authorized prescribing practitioner (physician, physician's assistant, dentist, podiatrist, osteopath or psychiatrist). Please contact your school health office about medication drop off before the start of school. For more information, visit our Health Services webpage.
Emergency Information Form
For a variety of reasons, there is often a need to contact you throughout the course of the school year. Parents/Guardians are asked to keep their contact information up-to-date in Skyward Family Access Emergency Information Form. Watch the Skyward Family Access video guide if you're not sure how to complete the form.

Virtual Book Fair
Plymouth Creek's fall Book Fair is virtual this year! The Book Fair opened up on November 16 and runs through November 29, but will look a little different this year. Kids can explore a traditional fair set up on their iPad or other device and discover books by reading summaries and viewing fun video clips. We are hoping it will still be an exciting, memorable event that can put books in our kids' hands and in our Media Center. 25% of fair sales go directly to the Plymouth Creek Media Center!
Box Tops are Going Digital
The box tops with the dotted lines and an expiration date can still be clipped and turned into school for redemption. However, the program is moving over to digital and phasing out the clips. Please download the new Box Top for Education app to earn money for Plymouth Creek with products you may already purchase. Here is a video showing how to use the app.
Thank a Teacher this holiday season with a bundt cake!
Want a fun way to honor your child's teacher and support a good cause? Show your support and say thank you to Wayzata Public Schools' teachers and staff with a donation to the Wayzata Education Fund. Each donation made in honor of a teacher or staff until December 18 will include a special certificate of thanks from you, and every donation of $25 or more will come with a bundlet from Nothing Bundt Cakes. We've always known that we have the greatest staff around, but this year it has been more evident than ever! Whether they've helped make a difference in-person or virtually, show your appreciation by participating in our Thank a Teacher program.
Cakes and certificates will be delivered as long as it is safe to do so. If deemed unsafe, certificates will be emailed and cakes will be delivered at a later date.
---
November Wayzata Legislative Action Committee Update
The Wayzata Legislative Action Committee (LAC) held its monthly meeting on Wednesday, November 11. Dr. Chace Anderson, Superintendent; Dr. Jill Johnson, Executive Director of Teaching & Learning; and Dave Lutz, Director of Curriculum & Instruction, provided an update to the committee, including the impact of the COVID-19 pandemic on student learning. The Committee also discussed the draft 2021 Legislative Platform which will be presented to the School Board at the November Work Session and up for approval at the December Regular Meeting. The Wayzata LAC is a non-partisan group of citizens that monitors legislative activity as it affects K-12 education and advocates positions on behalf of the district. For more information, please visit the Wayzata Committees webpage or contact Brian Combs, your school's Wayzata LAC representative.
Destination Imagination
We are so excited to officially kick off a brand-new season of DI! Challenges have been adapted so students can participate virtually. Start forming your team today! Find out more on our registration site.
More Youth Classes:
Space available in Wayzata Kids Full-Day Preschool
Children attend five days per week engaging in academic and social-emotional curriculum. Children must be age 4 by September 1, 2020. Learn more and register!
Fall ECFE classes are available at the Wayzata Early Learning School
The Early Learning School is offering a variety of online classes for parents and families to participate in! Fall Parent Ed classes on topics ranging from helping your kids with routine & flexibility to technology use strategies have openings to sign up for. The Early Learning School is also offering fun online family activities ranging from online dance parties to storytime with favorite authors. Learn more about all these events happening on the Wayzata Early Learning School website!
Monday, November 23, 2020
4:00 PM - 6:00 PM
Monday, December 7, 2020
4:00 PM - 7:00 PM
16005 41st Avenue North, Plymouth, MN 55446 | 763-745-5800