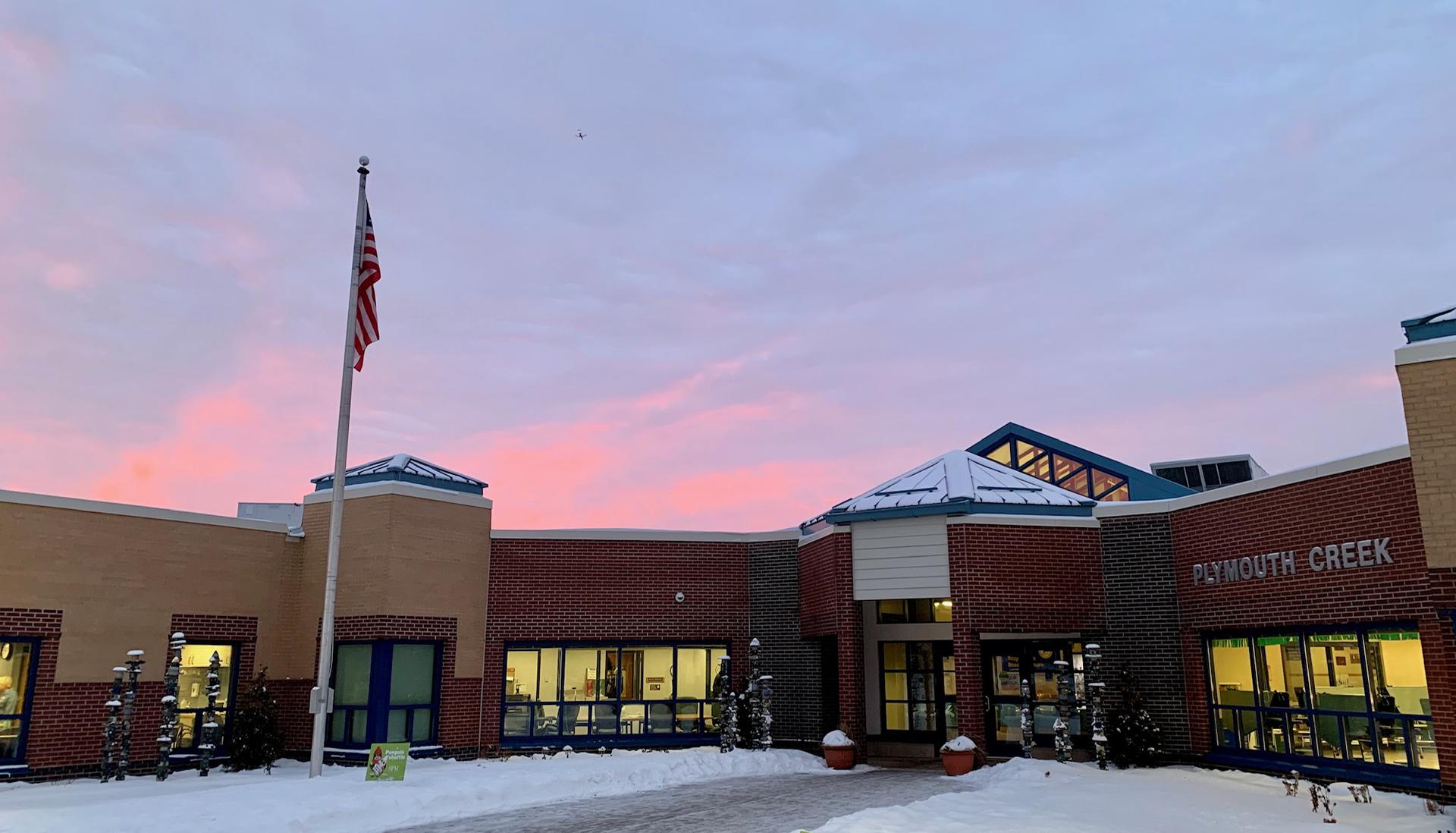 Message from Mrs. Paul
Plymouth Creek Families:
When we started the school year, the goal was to stay in the Hybrid Model as long as safely possible. Last night, the School Board approved the recommendation to begin full distance learning for everyone beginning November 30. Together, we will continue to learn, grow and support each other.
Our staff will be working over the next two weeks to help our students prepare for this transition. We will be sharing more information with you as we finalize our building plans. While we begin our preparations for this transition, I want to provide you with some tips to help your family prepare:
We have learned a great deal about distance education, and it will look and feel differently than what we experienced last spring. Current Distance Choice families are settled in and students have more live teacher time. We will have materials pick up days, which will provide your child with what they need.
Be prepared for live (synchronous) instruction via Zoom on cohort days (A/B) for your child. What this will look like is still to be determined, but you can expect students will engage with their teachers via Zoom. Teachers will share schedules with you soon.
Choose one spot: Find a consistent space with a flat surface to write on, room to keep your child's learning materials, and a comfortable chair.
Limit distractions: Do your best to ensure your child's home learning space is quiet, with few distractions. Consider the noise, environment, background, and movement of the learning area. Many Distance Choice students wear headphones to help them focus.
Organize your materials: The materials you receive from your child's teacher should be kept in their home learning space, maybe even in their backpack! It will be a simple way to keep track of their school materials. We want your child to be as independent as possible during our learning time.
Add visuals: Children will feel more confident and at ease with learning at home if they know what to expect. Classroom teachers will be sharing a learning schedule with their families. Place the schedule in your home learning space to keep your child accountable and on track with their tasks.
Be aware: Families, please remember that the area behind your child is visible during our Zoom meetings. Be aware of what is in the background and make sure it is appropriate for school. Teachers expect student cameras to be on at all times to ensure engagement and participation.
Be sure your child's iPad has been updated to iOS 14. To ensure your District iPad gets the proper update:

Plug the iPad into its charger

Open Settings

Tap "General" on the left side

Tap "Software Update" on the right side


Tap download and install

Allow the update to run overnight.

After the update, users may have to follow the steps below to reconnect their iPad to WiFi.

Open Settings


Tap WiFi

Turn Off WiFi - wait 2 minutes - turn WiFi on

Return to the home screen

Search for the Relay app


Open the Relay Web Filter app - check for you name (email address) toward the

bottom third of the screen


Restart the iPad - hold down the power button on the top of the iPad
If you have any questions or need assistance, please contact the Wayzata Technology Department at helpdesk@wayzataschools.org or 763-745-5100. Families should also open the Self-Service app and re-download Zoom. Students must sign into Zoom using their technology usernames and passwords. This is an important step in making sure devices are ready for Distance Learning.
In closing, I want to say thank you for your patience as we continue to work through this evolving situation. I'll be the first to admit that none of this is ideal, and I know we will find the positives from this situation. The sooner numbers go down, the sooner we can be back in person. Please do your part to stay safe and control the spread. I know my Thanksgiving will look different this year. I am used to a house full of extended family, and this year it will just be the four of us. I will find the positives in this situation as well, and that will be more pie for me. :)
With gratitude,
Ashley Paul
No School Friday, November 13 for Elementary Planning Day
Friday, November 13 will be a no school day for kindergarten through grade 5 students as elementary staff will be participating in a district-wide planning day There will be no morning meeting or distance learning work for this day. Wayzata Kids childcare will continue to be available to tier 1 critical workers.
Canvas Tips for Families
Are you wondering whether your child has submitted all of their assignments for the day? Would you like to know which lessons were assigned? One of our teachers has created this short tutorial about some of the key features of Canvas for parents. Additionally, our district elementary technology integrationist has shared tips and tricks. Please take some time to look; I think you'll find the information to be useful!
Lost and Found
Do you recognize any of these items? Our lost and found has grown in recent weeks. Items labeled with names have been returned. Remind your students to visit the lost and found area by the gym to claim what belongs to them. Items that remain at Thanksgiving break will be donated.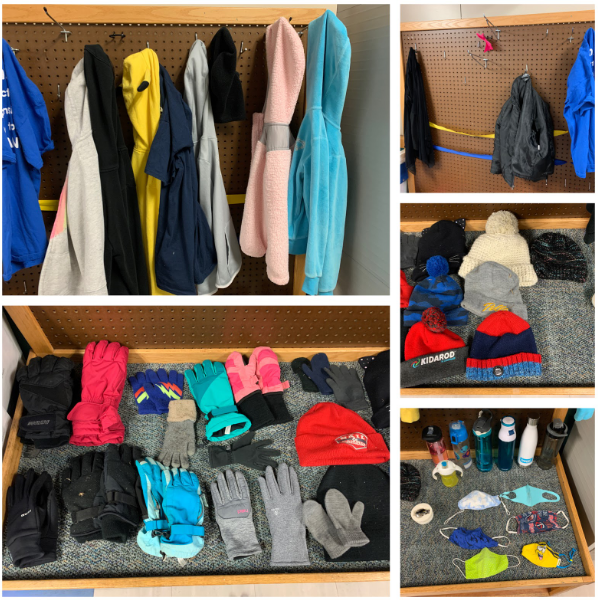 Message from the Attendance Office
Please report absences in Skyward Family Access when your child is absent or tardy, even on their non-cohort days. Children are considered unexcused without an entry in Skyward Family Access or a call to the attendance line from a parent or guardian.
When you are submitting the attendance request in Skyward Family Access, you must be logged in as a parent, not a student.

Calls to the attendance line (763-745-5855) should be reserved for last-minute attendance requests or changes.

Please also reach out to your classroom teacher to notify them of a planned full-day or multi-day absence.
Medications at School
All medications, both prescribed and Over-The-Counter (OTC), administered at school requires a medical order from a person who is a licensed authorized prescribing practitioner (physician, physician's assistant, dentist, podiatrist, osteopath or psychiatrist). Please contact your school health office about medication drop off before the start of school. For more information, visit our Health Services webpage.
Emergency Information Form
For a variety of reasons, there is often a need to contact you throughout the course of the school year. Parents/Guardians are asked to keep their contact information up-to-date in Skyward Family Access Emergency Information Form. Watch the Skyward Family Access video guide if you're not sure how to complete the form.

Box Tops are Going Digital
The box tops with the dotted lines and an expiration date can still be clipped and turned into school for redemption. However, the program is moving over to digital and phasing out the clips. Please download the new Box Top for Education app to earn money for Plymouth Creek with products you may already purchase. Here is a video showing how to use the app.
Online Book Fair - November 16-29
You're invited to shop our Scholastic Book Fair online from November 16-29! All purchases
benefit our school and connect kids with new books, favorite characters, complete series,
and more. You'll love the new option to shop for Book Fair exclusives directly from the interactive booklist and enjoy some special online shopping features. Happy reading!
November Wayzata Legislative Action Committee Update
The Wayzata Legislative Action Committee (LAC) held its monthly meeting on Wednesday, November 11. Dr. Chace Anderson, Superintendent; Dr. Jill Johnson, Executive Director of Teaching & Learning; and Dave Lutz, Director of Curriculum & Instruction, provided an update to the committee, including the impact of the COVID-19 pandemic on student learning. The Committee also discussed the draft 2021 Legislative Platform which will be presented to the School Board at the November Work Session and up for approval at the December Regular Meeting. The Wayzata LAC is a non-partisan group of citizens that monitors legislative activity as it affects K-12 education and advocates positions on behalf of the district. For more information, please visit the Wayzata Committees webpage or contact Alexia Wierzbicki or Amy Walstein, your school's Wayzata LAC representative.
Destination Imagination
We are so excited to officially kick off a brand-new season of DI! Challenges have been adapted so students can participate virtually. Start forming your team today! Find out more on our registration site.
More Youth Classes:
Space available in Wayzata Kids Full-Day Preschool
Children attend five days per week engaging in academic and social-emotional curriculum. Children must be age 4 by September 1, 2020. Learn more and register!
Fall ECFE classes are available at the Wayzata Early Learning School
The Early Learning School is offering a variety of online classes for parents and families to participate in! Fall Parent Ed classes on topics ranging from helping your kids with routine & flexibility to technology use strategies have openings to sign up for. The Early Learning School is also offering fun online family activities ranging from online dance parties to storytime with favorite authors. Learn more about all these events happening on the Wayzata Early Learning School website!
Monday, November 23, 2020
4:00 PM - 6:00 PM
Monday, December 7, 2020
4:00 PM - 7:00 PM
16005 41st Avenue North, Plymouth, MN 55446 | 763-745-5800