Newsletters will be sent weekly on Fridays to parents/guardians & students. If you have questions or suggestions regarding the newsletters, email Deb Lange. We value your feedback. Past newsletters are available on the WHS website.
November 20: Virtual Play Romeo & Juliet
December 11: Mindfulness Class for Students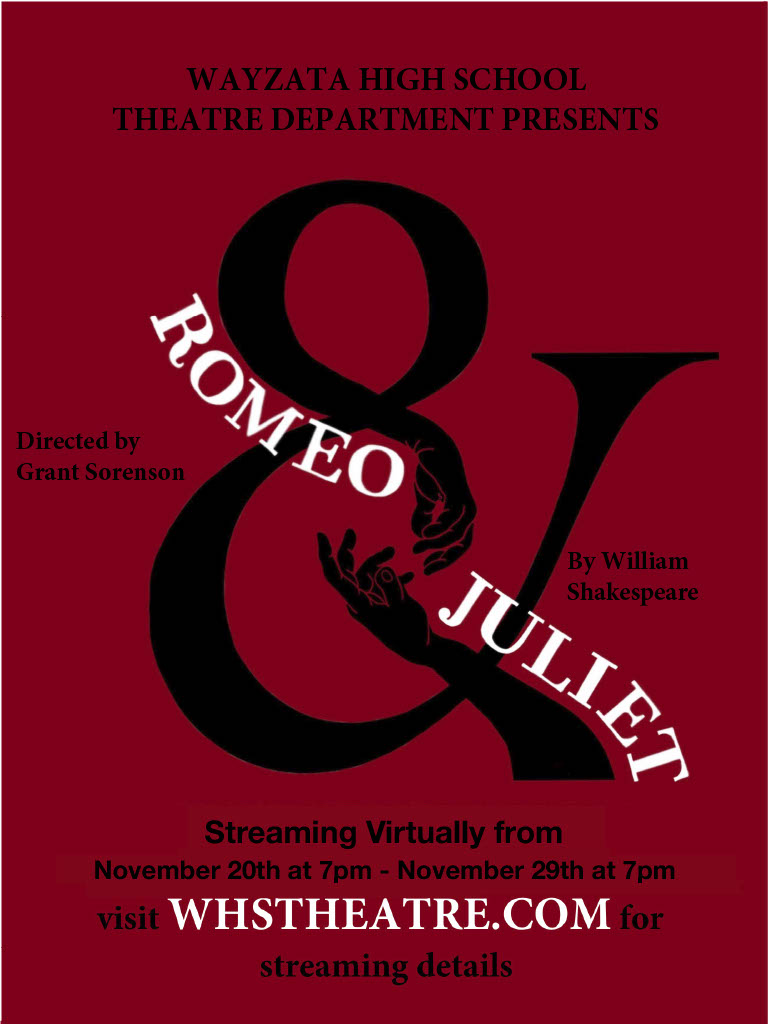 Poster Design by
Sammi Bergren, WHS Senior Student
Romeo and Juliet
By William Shakespeare
Fall play directed by Grant Sorenson
One of the most widely performed and studied plays in history, Romeo & Juliet has captured the imagination of audiences for generations. Two feuding households bear an ancient grudge, but a fateful connection between the children of the families sparks a fast and furious chain of events that ultimately ends in tragedy...but is their death enough to bring peace between the rival houses? In a timely new production, the tragic story of the star-crossed lovers will be told by a troupe of traveling actors during a time of pandemic — the Black Plague that ravaged Europe during the Middle Ages. Romeo & Juliet will be a fully staged production filmed and made available to audiences digitally.
Romeo & Juliet will have its virtual opening night on Friday, November 20 at 7:00 p.m.
Virtual Streaming details at Wayzata High School Theatre
November 20-29: Virtual on demand streaming
Download Cost : Student/Staff $10, Adult $15, Group $40
World Languages Department Feature
Explore the world with World Languages and Cultures at WHS!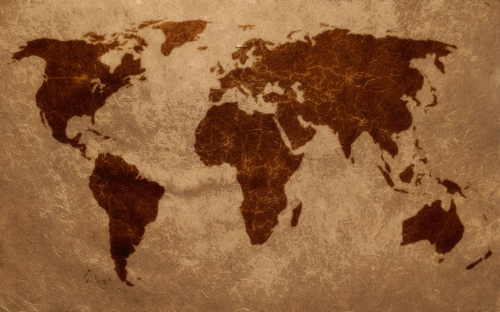 Did you know about 65% of our students study a language at WHS? Watch this short video to hear our students' experiences! In addition to our culturally authentic and technologically interactive courses, we offer a wide variety of travel opportunities each year (provided we are not in the midst of a global pandemic!):
China: We have an annual trip to China every summer and everyone is welcome to participate. The 16-day trip includes Beijing, Xian, Chengdu, Guilin, Shanghai and other excursions that will leave you with one of the most memorable experiences of your lifetime. Contact Ms. Heng for any questions you might have. Check out more details on the China Trip!
France: We offer trips to a French-speaking location almost every summer, including trips to Canada and France. Contact a French teacher, Carrie Berg, Lori Kleffner or Christine Magallanes for more details!
Germany: German has one very special option for practicing language and culture skills outside the classroom. We are very fortunate to have had an exchange partner school in Düsseldorf since 1976. For three weeks in April, we host students from our sister school, Humboldt Gymnasium. Our students will travel to Düsseldorf with Frau Kroll for three weeks in June. Students will stay with their host brother or sister's family. Wayzata students will travel to sites, attend school and have a chance to experience everyday family life in Germany. All WHS students are invited to participate. We are already looking forward to organizing our exchange in the future! For more information, contact Karen Nickel.
Colombia: Mr. Parra Staves organizes a trip to his home country every odd-numbered summer, usually leaving right after school is out in June. Cities visited include Bogota, Villa de Leyva and the coffee region. Watch this informational video to learn more. Mr. Parra Staves also organizes an exchange experience where families from WHS can host students from Colombia. For more information, contact Mr. Parra Staves.
Spain: All students of Spanish are eligible to take part in a 15-day, 7-city tour of Spain in June of even-numbered summers. This is an excellent opportunity for students to put their language learning into action in an authentic, engaging, environment and continue to develop their intercultural competency through their own lived experiences abroad. For more details, contact Alyssa Warne.
Class of 2021/Senior Information
Senior Class Graduation Party
Senior Party Co-Chairs Lauren Hoffman and Dawn Zouber are excited to begin planning the Class of 2021 Graduation Party. If you are interested in being involved with the planning committee or have questions, please email wayzata.seniorparty@gmail.com.
Spanish Club
Does your student have an interest in Spanish? They can join us at our Spanish Club meeting on November 20 via Zoom (schedule for the year). If your student is interested in joining the Spanish Club, they can register using EPay. If they have any questions, or they need the link to our Zoom meetings, they should email Profes Jakucki or Profes Vlach.
French Club
Does your student have an interest in French? They can join us at our next French Club meeting on November 20 via Zoom (schedule for the year). If your student is interested in joining the Spanish Club, they can register using EPay. If they have any questions, or they need the link to our Zoom meetings, they should email Madame Berg. Merci!
Health & Wellness Resources
In these stressful times, it is important to consider how we can have compassion for individuals struggling with substance use. We often see families struggle with having compassion when they are faced with chaos that partners with substance use. This on demand webinar features Helen Troy-Duncan, Supervisor Outpatient Mental Health and Family Program, Hazelden Betty Ford Foundation. She helps families understand the way substance use affects the parent-child relationship and how to come along side of the child if they need treatment. This webinar may be helpful for you or someone you know who might benefit from learning more about their role in helping their loved one with any substance use and/or treatment needs.
Listed below are two links for the free Virtual Family Program and another informational flyer. This program has been incredibly successful in helping anyone that has a loved one struggling with substance use (you do not need to be a client or have a young person in treatment to participate).
If you have any questions or concerns, email Cindy Doth, Outreach Manager, Substance Use Support Specialist, Hazelden Betty Ford Foundation.
November Wayzata Legislative Action Committee Update
The Wayzata Legislative Action Committee (LAC) held its monthly meeting on Wednesday, November 11. Dr. Chace Anderson, Superintendent; Dr. Jill Johnson, Executive Director of Teaching & Learning; and Dave Lutz, Director of Curriculum & Instruction, provided an update to the committee, including the impact of the COVID-19 pandemic on student learning. The Committee also discussed the draft 2021 Legislative Platform which will be presented to the School Board at the November Work Session and up for approval at the December Regular Meeting. The Wayzata LAC is a non-partisan group of citizens that monitors legislative activity as it affects K-12 education and advocates positions on behalf of the district. For more information, please visit the Wayzata Committees webpage or contact Diane Hayden or Ben Johnson, your school's Wayzata LAC representative.
Wayzata Community Ed has created a strategic partnership with A+ Driving School to provide driver education. Classroom and Behind the Wheel packages are available. Classes start monthly and are offered online from the safety of your home! You will receive a secure login to the online classroom. Class times are available from 3:00 - 6:00 p.m., 4:00 - 7:00 p.m. or 6:15 - 9:15 p.m. Be sure to select Wayzata High School as the "location" for online classes. Visit the A+ Driving website for more information.
---
We are excited to officially kick off a brand-new season of DI. Challenges have been adapted to students can participate virtually! Start forming your team today. Find out more on our registration site.

Financial assistance is available or call 763-745-5200 for more information.
Monday, November 23, 2020
4:00 PM - 6:00 PM
Monday, December 7, 2020
4:00 PM - 7:00 PM
4955 Peony Lane, Plymouth, MN 55446 | Phone 763-745-6600