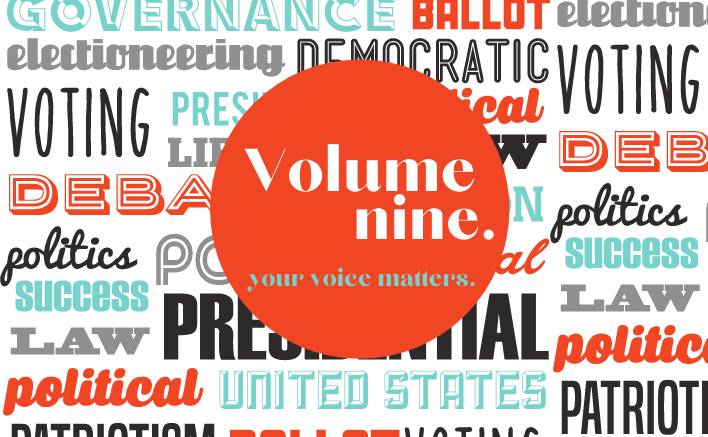 Newsletters will be sent weekly on Fridays to parents/guardians & students. If you have questions or suggestions regarding the newsletters, email Deb Lange. We value your feedback.
November 9-13: Lifetouch Photos
November 13: End of Term Curriculum Collection and Distribution
November 20: Virtual Play Romeo & Juliet"
December 11: Online Mindfulness Class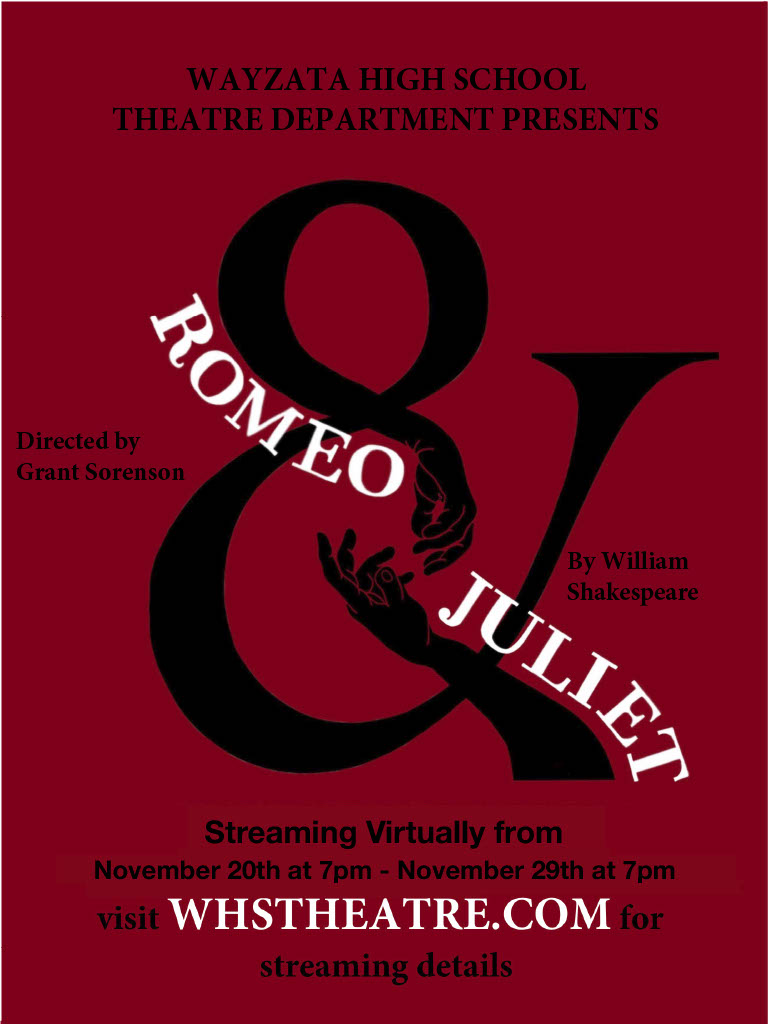 Poster Design by
Sammi Bergren - WHS Senior Student
Romeo and Juliet
By William Shakespeare
Fall play directed by Grant Sorenson
One of the most widely performed and studied plays in history, Romeo & Juliet has captured the imagination of audiences for generations. Two feuding households bear an ancient grudge, but a fateful connection between the children of the families sparks a fast and furious chain of events that ultimately ends in tragedy...but is their death enough to bring peace between the rival houses? In a timely new production, the tragic story of the star-crossed lovers will be told by a troupe of traveling actors during a time of pandemic -- the Black Plague that ravaged Europe during the Middle Ages. Romeo & Juliet will be a fully staged production filmed and made available to audiences digitally.
Romeo & Juliet will have its virtual opening night on Saturday, November 20 at 7:00 p.m.
Virtual Streaming details at Wayzata High School Theatre
November 20-29: Virtual on demand streaming
Download Cost
Student/Staff $10, Adult $15, Group $40
Lifetouch School Photos
Lifetouch portrait photographers will be at Wayzata High School on Friday, November 6, and during the week of November 9. We are asking you to visit WHS to have your school portrait taken by signing up for an appointment. If you are attending hybrid or occasional hybrid classes, you may have your portrait taken on any day while at WHS by signing up for your preferred time. The school portrait will be used for our Wayako yearbook, Skyward student management system, student IDs, security, and be available for families to purchase via Lifetouch/Shutterfly.
Seniors: You do not need your photo taken if you've already submitted a professional graduation photo for the yearbook. However, if you want an updated ID photo, you will need to get your Lifetouch photo taken.
End of Term Curriculum Collection and Distribution
We will be collecting and distributing course materials on Friday, November 13 from 8:00 a.m.-11:00 a.m. and 12:00 p.m.-3:00 p.m. Please look at this chart to see which courses need materials returned and/or distributed. Similar to what we did in the fall, students will check in at the Trojan Head. They will drop off any returned materials there before proceeding to the Media Center door to receive their needed materials. Safety protocols will be in place throughout the process.

Are you unable to attend the Friday distribution event or unable to enter the building? Please fill out our Curriculum Materials Pick Up form and you will be contacted when your materials are available beginning Monday, November 16.
Term 2 Classes Updated
We have updated our "High School Modified Hybrid Learning Plan" on our website to show which courses will be offered as hybrid or occasional hybrid under our modified hybrid learning model. Please review the list of hybrid and occasional hybrid courses as more courses have been identified for in-person learning opportunities for term 2.

Note that when reviewing student schedules in Skyward, in-person hybrid courses will show a classroom number below the course name (for example: D216). Occasional hybrid and distance learning courses will show "ONLINE" under the course name.

If you are enrolled in an in-person/hybrid class scheduled for term 2 or semester 2 and you would prefer distance learning, please contact your Associate Principal for alternative options.

Wayzata High School Associate Principals
Last Names A-FJ: Tyler Shepard
Last Names FL-LAQ: Mary Williams
Last Names LAR-RA: Greg Sowden
Last Names RB-Z: Marian Boyd
2021 Prudential Spirit of Community Award
Are you a student who has been making a difference through volunteering on an on-going basis? The 2021 Prudential Spirit of Community Award application is now open and applications are being accepted until November 10. Three Wayzata High School students will be named as honorees from Wayzata for 2021. Application Instructions for 2020-2021 Prudential Spirit of Community Award. This award honors students who have been doing on-going volunteer service with a specific organization or cause. (If you are a Boy Scout or Girl Scout looking for recognition for your scouting service activities go through your council to apply for this award, rather than Wayzata High School.) The certifier for Wayzata High School is Brenda Badger so email the certification page of your application to Brenda Badger and not to Principal Gengler. Note: This is not the 2020 President's Volunteer Service Award application notice; that will come out in November.
Quiz Bowl Trivia Tournament
On Saturday, October 29, Wayzata's Quiz Bowl A team finished first in the Trivia state tournament over numerous other Minnesota Quiz Bowl teams. In addition, Wayzata's B team finished 2nd in the tournament, losing only to Wayzata's A team in the finals, and Wayzata's D team finished fourth as well. Congratulations to all the Quiz Bowl participants!
CLUB Y.E.S.
Club Y.E.S. students continue to serve our community. This past weekend Club Y.E.S. students participated in a Halloween Food Drive in which students recruited neighbors to participate. Students went around in their Halloween costumes and collected bags of donations for IOCP. Ten completely stuffed vehicles were filled with the food donations collected by Club Y.E.S. students and delivered to IOCP! Students demonstrated leadership in reaching out to their neighborhoods for these donations, creating a sense of community in providing for others. One student filled her own SUV vehicle with donations from her own neighborhood. We also know that our students had fun doing this project, it gave them a sense of purpose and the ability to do something positive right now. A Win Win for all involved. Way to go Club Y.E.S.!

Club Y.E.S. (Youth Extending Service) projects are only open to registered Club Y.E.S. members. Registration for Club Y.E.S. will open again in Epay on January 25, 2021 for students who wish to join the club for the second semester of school.
Spanish Club
Hola Estudiantes! Join us at our Spanish Club meeting on November 20 via Zoom. You can find our school year schedule here. If you are interested in joining the Spanish Club, you can register using Epay. If you have any questions or you need the link to our zoom meetings, email Profes Jakucki or Profes Vlach.
College Visits and College Fairs

Don't Miss the Virtual College Visits
Don't miss this great opportunity to learn more about different colleges and universities. We highly encourage you to attend! You can sign up for the virtual visits on the WHS Hub on the MyApps Portal. Please contact Deb Musser in the College and Career Center (CCC) with any questions.
4955 Peony Lane, Plymouth, MN 55446 | Phone 763-745-6600