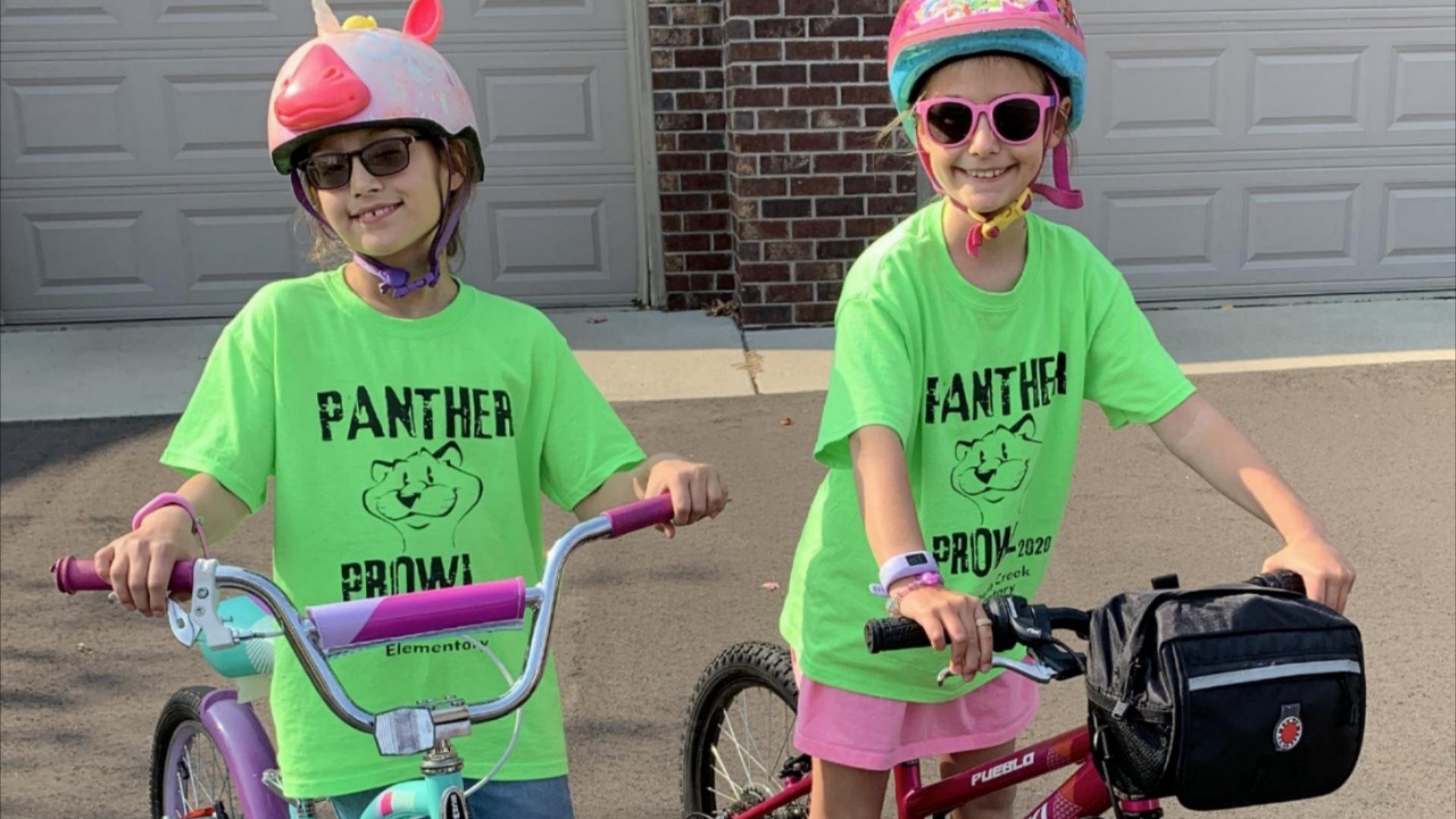 Message from Mrs. Paul
We had so much fun this morning during our live Zoom Panther Prowl culmination! Students and families raised over $27,000! The fundraiser lasts through tomorrow, and if we reach our $40,000 goal I will be turned into a Principal Sundae - It's a good thing I like chocolate syrup!

Thank you for attending fall conferences via Zoom last week. It is important to build the partnership between teachers and families to create the optimal learning experience for your students. We appreciate you taking the time to connect.

Winter weather snuck up on us quickly! I know it takes a lot of energy to dig out and update the winter attire, but doing so early helps everyone to be prepared for recess each day. Please send appropriate winter wear each day for your students, including a warm jacket, snow boots, snow pants, a hat, and mittens or gloves. Take the time to label each item with your child's name - that way, if something is misplaced, we can easily get it back to you!

When the snow falls early, I look to my own children as a reminder - kids love snow, and they allow it to bring joy. Let's all try to do the same!
With gratitude,
Ashley Paul
Elementary Planning Day - Friday, October 23
Friday, October 23 will be a no school day for kindergarten through grade 5 students as elementary staff will be participating in a district-wide planning day. There will be no morning meetings or distance learning work assigned for this day. Wayzata Kids childcare will continue to be available to tier 1 critical workers.
Distance Choice Materials Pick-Up
There is a materials pick up for Distance Choice students in grades K, 1, 2, 3, and 5 tomorrow - Friday, October 23. Teachers will have crates outside on the front sidewalk labeled with their name. Please check that you've taken all of your child's work. Ms. Janish and Ms. Bloom have separate crates for their student materials. Please plan to come before 3:00 PM to pick up your child's materials.
Materials pick up for students in the following classes will be next Friday, October 30: Baldwin/Bame, Dunford, Finnamore, and Shea.
Kobelinksi's next pickup date is November 6.
Mark your calendars for upcoming Distance Choice Materials Pickup dates for all grades November 6 and 20, December 4 and 18, January 8 and 22.
iPad Digital Citizenship
We recommend going through your child's iPad camera roll with your child on a regular basis to remove any unnecessary or inappropriate photos/videos. The photos/videos take up valuable storage space on the device, which makes it challenging to run updates and install new apps. More importantly, going through the camera roll together allows for a connection about what your child is learning in school and what is important to your child. Along the way, if there are inappropriate images, it can turn into a teachable moment about appropriate use of this school-issued device. Please know that if a staff member finds inappropriate content on a student iPad, we will also treat it like a teachable moment. However, since we are mandated reporters, depending on the content, outside agencies may also need to be involved. Thank you for your continued partnership in keeping our students safe and focused on learning.
Message from the Attendance Office
Please report absences in Skyward Family Access when your child is absent or tardy. Children are considered unexcused without an entry in Skyward Family Access or a call to the attendance line from a parent or guardian.
When you are submitting the attendance request in Skyward Family Access, you must be logged in as a parent, not a student.

Calls to the attendance line (763-745-5855) should be reserved for last-minute attendance requests or changes.

Please also reach out to your classroom teacher to notify them of a planned full-day or multi-day absence.
Medications at School
All medications, both prescribed and Over-The-Counter (OTC), administered at school requires a medical order from a person who is a licensed authorized prescribing practitioner (physician, physician's assistant, dentist, podiatrist, osteopath or psychiatrist). Please contact your school health office about medication drop off before the start of school. For more information, visit our Health Services webpage.
Emergency Information Form
For a variety of reasons, there is often a need to contact you throughout the course of the school year. Parents/Guardians are asked to keep their contact information up-to-date in Skyward Family Access Emergency Information Form. Watch the Skyward Family Access video guide if you're not sure how to complete the form.
Save the Date: November 6 PTO Meeting
Please join us for November's PTO meeting via Zoom on Friday, November 6, at 12:00 p.m.
Meeting ID: 722 1882 2973
Passcode: GK3WFX
Panther Prowl - There is Still Time to Donate!
The Panther Prowl is still open until tomorrow, October 23, so there is still time to get your donations in! Does your employer offer a company match? Some, like Medtronics, will match your donations two-to-one!
Digital PTO Calendar
Fun2Raise has designed a digital, clickable and printable (at home) PTO calendar. This interactive calendar will allow you to find current happenings at the school, links to virtual events (as we get them) and information updated in real time. The month of November is live now! Check back often as we will be updating multiple times per month as the year goes on.
Distance Learning Meal Options
---
Stay Home When Ill and Be Prepared to Quarantine
It is important to be prepared as we begin the new school year in the midst of a pandemic. Our new reality will require students, families and staff to check daily for symptoms and stay home if you are ill.
If you or someone in your family is ill, please reference the Minnesota Department of Health (MDH) Decision Tree document to learn what your next steps should be. Report any student absences into Skyward Family Access, specifying if the absence is COVID-19 related. Our school nurses will follow up with any COVID-19 related cases. If you are tested for COVID-19, even if you feel well, it is important that you remain home and away from others until you receive the results.
Everyone must be prepared to stay home and quarantine for up to two weeks if you become ill with or are exposed to COVID-19. We know being quarantined for two weeks will be extremely challenging, but it is absolutely necessary to stop the spread of the virus. Learn how you can prepare for a possible quarantine.
Our nurses will be working closely with MDH to notify students and staff as soon as possible if you have been exposed to COVID-19 at school. Always answer your phone if MDH is calling.
If you have questions, please contact the licensed nurse at your school.
More detail and helpful information can also be found on our Wayzata Learns webpage.
---
Planning travel out of the state or country?
Regardless of whether your students are attending Wayzata Public Schools through hybrid learning or through Distance Choice, the district is required to account for students. Please ensure that the Welcome Center has a copy of your family's Extended Vacation form on file prior to your travel.
---
October Wayzata Legislative Action Committee Update
The Wayzata Legislative Action Committee (LAC) held its monthly meeting on Wednesday, October 7. Jim Westrum, Executive Director of Business and Finance for Wayzata Public Schools, provided a financial update to the committee, including the impact of the COVID-19 pandemic on district finances and additional funds received from the state and federal governments to off-set expenses related to health and safety and ensuring a high-quality education for all students. As a reminder, all seats in the Minnesota House of Representatives and Minnesota Senate will be up for election this year. The Wayzata LAC sent a six-question Q & A to all legislative candidates on the November 3 ballot. The responses that were received are available on the Legislative Action Committee's webpage. To find out who represents you, what is on your ballot, and more election information, visit the Minnesota Secretary of State website. The Wayzata LAC is a non-partisan group of citizens that monitors legislative activity as it affects K-12 education and advocates positions on behalf of the district. For more information, please visit the Wayzata Committees webpage or contact Brian Combs, your school's Wayzata LAC representative.
Space available in Wayzata Kids Full-Day Preschool
Children attend five days per week engaging in academic and social-emotional curriculum. Children must be age 4 by September 1, 2020. Learn more and register!
Fall ECFE classes are available at the Wayzata Early Learning School
The Early Learning School is offering a variety of online classes for parents and families to participate in! Fall Parent Ed classes on topics ranging from helping your kids with routine & flexibility to technology use strategies have openings to sign up for. The Early Learning School is also offering fun online family activities ranging from online dance parties to storytime with favorite authors. Learn more about all these events happening on the Wayzata Early Learning School website!
Parent Tool Kit: Friendships, Relationships, and Social Distancing
Friendships are incredibly important to young people. How do we help our children foster healthy friendships and connection during a time of social distancing? Join Health Educators from myHealth for Teens & Young Adults in conversation and activities to learn what we can do to help our children navigate friendships and relationships.
Date: Thursday, November 5
Time: 6:30 - 7:30 p.m.
Place: Online
Cost: $0
Thursday, October 22, 2020
6:30 PM - 7:30 PM
Thursday, November 5, 2020
6:30 PM - 7:30 PM
Wednesday, November 18, 2020
4:30 PM - 7:30 PM
Monday, October 26, 2020
4:00 PM - 5:00 PM
16005 41st Avenue North, Plymouth, MN 55446 | 763-745-5800