Newsletters will be sent weekly on Fridays to parents/guardians & students. If you have questions or suggestions regarding the newsletters, email Deb Lange. We value your feedback.
October 23: Homecoming Football Game

October 28: FAFSA Completion Workshop for Seniors

October 30: Senior Photos Due

October 30: First Online Mindfulness Class

November 6, 9-13: Lifetouch Photos
Wayzata Spirit Avenue Canceled
Unfortunately, due to the recent snowfall and colder temperatures we will need to cancel the much-anticipated Wayzata Spirit Avenue event scheduled for this Saturday at Wayzata High School. This will be terribly disappointing for many of our students and families. This event was designed by our Club Y.E.S students as an opportunity to safely bring our school community together during COVID-19 to showcase a variety of Wayzata High School student organizations performing or entertaining community guests with their creative, spirit-filled displays. We will explore rescheduling at a later date or when weather permits.
Geology Class Presentation on Copper-Nickel Mining in Northern MN
Mrs. Holz's Geology of Minnesota class is pleased to present two special presentations about the pros and cons of copper-nickel mining in Northern Minnesota during Block 4 (1:50-3:10 p.m.). Join us to learn more about the science and facts, on both sides of the issue. Students must get teacher permission to attend if it conflicts with another class. Sign up to attend these sessions via the WHS Hub. Email Mrs. Holz with questions.
Part 1: Wednesday, October 28 (Block 4, 1:50-3:10 p.m.)
Samantha Chadwick and Levi Lexvold from Save the Boundary Waters will present on October 28. Save the Boundary Waters is an organization and campaign that is leading the effort to ensure permanent protection for the Boundary Waters Wilderness, America's most visited Wilderness and Minnesota's crown jewel, from proposed sulfide-ore copper mining.
Part 2: Monday, November 2 (Block 4, 1:50-3:10 p.m.)
Davide Urlich from Twin Metals Minnesota will present on November 2. Twin Metals Minnesota is committed to developing and operating a safe underground mine to the benefit of northeast Minnesota. Copper for wind power and broadband networks. Nickel for electric cars and medical devices. Cobalt for smart phones and batteries. The world demands more and more metals every day. The minerals we have in Minnesota can help supply this demand. It is all about balance – taking care of the environment while helping the area economically.
Senior Portraits
Your senior portraits are due Friday, October 30. Be sure to visit the WHS Yearbook webpage for all the information about picture requirements and submission details. If you have any questions, please email wayako.portraits@gmail.com.
FAFSA Completion Workshop for Seniors
Wayzata High School, in collaboration with Minnesota College Goal, is pleased to offer a free financial aid workshop on Wednesday, October 28 from 3:30 p.m. - 6:30 p.m. via Zoom to help you complete and submit your Free Application for Federal Student Aid (FAFSA). Six volunteers from area colleges will be on hand. This workshop is for students who plan to attend any postsecondary institution next year. Families will be broken into private Zoom Rooms with a financial aid specialist, who can answer specific FAFSA questions.

If you are interested in receiving help with individual questions on the FAFSA, please register with a time preference. A Zoom link will be emailed to you the week prior to the event.

Before your individual session, we ask that you complete the following:
Create an FSA ID for both one parent and the student. (Separate emails, phone numbers, and social security numbers will be required). FSA ID help video.
Create an account for the FAFSA and begin filling it out.

Items to have accessible:

Social Security Number (both student and parent)

Driver's License Number (if you have one)

2019 Tax Returns for Student and Parent

Information on Savings, Investments, and Business & Farm Assets

for Student and Parent

Records of Untaxed Income
It only takes about 30 minutes to complete your FAFSA. If you have any questions about Minnesota College Goal or our workshop, please call or email Peggy Zimmer. If you would like an interpreter on hand, we can arrange that if you let me know which language is needed.
Lifetouch Cap & Gown Presentation
Our apologies for an early version of the WHS school calendar indicating a "MyTime Senior Meeting: Lifetouch Cap & Gown Presentation" scheduled for Wednesday, October 21. (This meeting was scheduled pre-COVID.) We will reschedule a Senior/Class of 2021 meeting for a later date and post this in our newsletters and an email announcement will be sent out to students and parents. We apologize for the last minute notification and for any inconvenience or confusion this may have caused.
Register To Vote
The 2020 Presidential Election is happening on November 3. We're reaching out to remind you to exercise your right to vote. If you are 18 by November 3, you are eligible to vote!
Please make sure you are registered to vote. Online registration is now closed, but you can still register in person on Election Day! To register at the polls, you must bring your driver's license, learner's permit, or State ID as a form of identification. Go to the Polling Place Finder to find your polling place for Election Day. The youth vote is super important, so please go out and vote!
Audrey Zhou and Jensen Cunz
Club Y.E.S. members
Youth Civic Engagement Fellows at League of Women Voters
Lifetouch School Photos
Lifetouch portrait photographers will be at Wayzata High School on Friday, November 6, and during the week of November 9. We are asking you to visit WHS to have your school portrait taken by signing up for an appointment. If you are attending hybrid or occasional hybrid classes, you may have your portrait taken on any day while at WHS by signing up for your preferred time. The school portrait will be used for our Wayako yearbook, Skyward student management system, student IDs, security, and be available for families to purchase via Lifetouch/Shutterfly.
Seniors: You do not need your photo taken if you've already submitted a professional graduation photo for the yearbook (due October 30). However, if you want an updated ID photo, you will need to get your Lifetouch photo taken.
Newsletter Format Reminder
Due to the length of the newsletter, there may be times the newsletter does not fully display in your email. When this happens, please make sure to click on the View entire message link at the very bottom of the email which will open the entire newsletter for viewing. Below is a sample of what you'll see when it does not completely display.
. . .
[message clipped] View entire message
You're Invited!
Do you know what it takes to launch a successful life and career? Target is hosting Prepare to Launch, a 4-session virtual series starting Friday, October 16, featuring employees and executives from over 24 companies. You will get to meet these amazing speakers, along with successful tech entrepreneurs as they share stories, lessons learned, and must-have skills that have advanced their careers. We hope to see you there and can't wait to help you launch yourself into a successful future!
Series Dates & Times:
Be Curious: Friday, October 16, 8:45-11:00 a.m.

Be Bold: Friday, October 30, 8:45-11:00 a.m.

Build Meaningful Relationships: Friday, November 13,

8:45-11:00 a.m.

Demystifying Tech Careers: Friday, November 20,

8:45-11:00 a.m.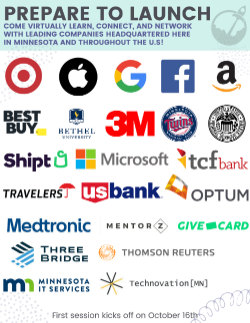 AP Exam Registration for Term 1
The AP exam registration deadline for Term 1, Semester 1 and all Independent Study courses is fast approaching! Students must complete Step 1 and Step 2 prior to November 1.

Please Note: Students who will be taking an AP course that starts Term 2, Term 3, or Term 4 will not register for these AP exams at this time. More information will be provided after the start of these courses.

Step 1: Joining the AP Course on the College Board Site
Most students have completed this step in their AP Classroom. Completing this step gives students access to course materials and provides the College Board with the information needed to generate a testing ticket for the May exam day. Students have until November 1 to complete this step or risk incurring a $40 late fee (per exam) assessed by the College Board.

Step 2: Pay AP Exams on the Total Registration Site
Most students still need to complete this step. Students will go to Total Registration. If a student has taken the PSAT or an AP exam in a previous year, they have a Total Registration account already. Please read the prompts carefully and provide the requested information. As part of the registration process, students will need to provide their school email address and their Skyward user login. This is not a five-digit number. It is the first part of the student's school email address and typically includes the first five letters of their last name + the first 3 letters of their first name + 000. Students have until November 1 to pay for their exams or an exam order will not be submitted for them.
2021 Prudential Spirit of Community Award
Are you a student who has been making a difference through volunteering on an on-going basis? The 2021 Prudential Spirit of Community Award application is now open and applications are being accepted until November 10. Three Wayzata High School students will be named as honorees from Wayzata for 2021. Application Instructions for 2020-2021 Prudential Spirit of Community Award. This award honors students who have been doing on-going volunteer service with a specific organization or cause. (If you are a Boy Scout or Girl Scout looking for recognition for your scouting service activities go through your council to apply for this award, rather than Wayzata High School.) The certifier for Wayzata High School is Brenda Badger so email the certification page of your application to Brenda Badger and not to Principal Gengler. Note: This is not the 2020 President's Volunteer Service Award application notice; that will come out in November.
Skills USA
We will be hosting an informational meeting for Skills USA on Friday, November 6 from
2:00-3:00 p.m. in D216 (Wood Shop). Students can come and hear about this amazing club and get details about how the club will run this year! More information available on the Skills USA website or students can also reach out to Advisor Kyle Swenson. The meeting will be finished in time for students to ride the bus home.
GSA - Gender Sexuality Alliance
GSA is back! We have started weekly meetings every Thursday at 3:30 p.m. via Zoom. If you are interested in joining or have questions, please reach out to the staff advisors, Cali Fielder or Alison McKernan. You can also get connected to our GSA student advisors via Remind. To join Remind, please text the GSA code @43gdkg to 81010. You'll be signed up to receive reminders and get the link to all GSA meetings. GSA is a safe space for all LGBTQ+ students and their allies.
Health & Wellness Resources
Online Mindfulness Class for WHS Students
Mindfulness is a powerful, research-based practice that can help teens reduce stress and anxiety, and improve focus and concentration. This mindfulness class consists of seven sessions in which students will learn basic mindfulness practices and develop strategies for self-care and stress reduction. The course also includes:
strategies for navigating school-related and/or test anxiety

practices for working with overwhelm and distraction

relaxation and calming exercises
The class is open to all interested students and will be taught by Sarah Rudell Beach, a Mindful Schools Certified Mindfulness instructor and former Wayzata High School teacher.
Students are encouraged to join us via Zoom for any or all of the following Fridays from
11:20 a.m.-12:00 p.m. Meeting ID: 898 7002 338, Passcode: 56751223
College Visits and College Fairs

Don't Miss the Virtual College Visits
Don't miss this great opportunity to learn more about different colleges and universities. We highly encourage you to attend! You can sign up for the virtual visits on the WHS Hub on the MyApps Portal. Please contact Deb Musser in the College and Career Center (CCC) with any questions.
Thursday, November 5, 2020
6:30 PM - 7:30 PM
Wednesday, November 18, 2020
4:30 PM - 7:30 PM
4955 Peony Lane, Plymouth, MN 55446 | Phone 763-745-6600