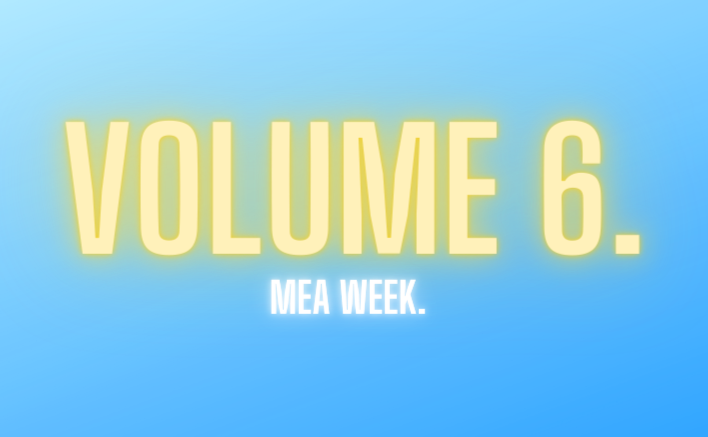 Newsletters will be sent weekly on Fridays to parents/guardians & students. If you have questions or suggestions regarding the newsletters, email Deb Lange. We value your feedback.
October 19-23: Virtual Homecoming Week

October 23: Homecoming Football Game

October 23, 24, 29-31: The Woods

October 24: Wayzata Spirit Avenue

November 6, 9-13: Lifetouch Photos
Date: Saturday, October 24
Time: 5:30 p.m. - 7:30 p.m.
Place: Wayzata High School
Registration: Advanced registration is required and space is limited. Attendees will sign up for a 15-minute time slot. Sign up here to attend as a community guest.
Map: View the map of the event here.
Make this a fun night out with your family and/or friends. But don't forget to pre-register for a time slot.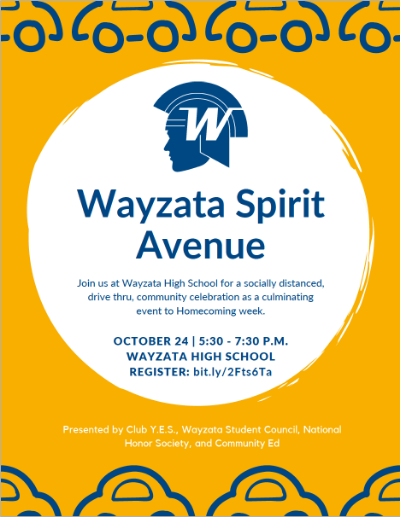 Join us for Wayzata Spirit Avenue! This event, put on by Wayzata High School and Community Ed, is a socially distanced drive-thru, community celebration as a culminating event to Homecoming Week. This drive-thru celebration is a "reverse parade," and will feature a variety of Wayzata High School student organizations performing or entertaining community guests with creative, spirit-filled displays. Student organizations must have signed up in advance and need a coach/advisor or staff member with their respective organization at the event.
A few of the student organizations participating include: Members of WHS Marching Band, Student Council featuring 2020 Homecoming Royalty, team members from WHS Football Team, NHS, Cheerleaders, Club Y.E.S. and more.

Community guests will stay inside their vehicles and drive along the Wayzata Spirit Avenue route, which will be on the Wayzata High School campus. In accordance with Minnesota Department of Health guidelines, a limited number of students and staff will be allowed on campus for the event and a limited number of vehicles will be allowed as well. Please see the Wayzata Spirit Avenue Preparedness Plan for more information on health and safety.

Note: This event is contingent on good weather. If inclement weather is forecasted, a decision and announcement will be made by 3:00 p.m. on Friday, October 23 if the event is cancelled.
The Woods
The Woods will be an original devised theater piece created by the ensemble with guidance from director, Sandra Struthers. The ensemble will take elements of folklore, urban legends, and spooky stories to create an immersive walk-through experience in the woods behind the high school. The perfect way to get into the Halloween spirit, audiences will be invited to walk along these haunted trails in safe, socially-distanced groups.
October 23, 24, 29, 30, and 31 at 6:00, 6:20, 7:00, 7:20, 8:00, 8:20, 9:00, and 9:20 p.m.
Poster Design: Paloma Golston
Graphic Design Teacher: Emma Carroll
Lifetouch School Photos
Lifetouch portrait photographers will be at Wayzata High School on Friday, November 6, and during the week of November 9. We are asking you to visit WHS to have your school portrait taken by signing up for an appointment. If you are attending hybrid or occasional hybrid classes, you may have your portrait taken on any day while at WHS by signing up for your preferred time. The school portrait will be used for our Wayako yearbook, Skyward student management system, student IDs, security, and to allow families to purchase printed portraits via Lifetouch/Shutterfly.
Seniors: You do not need your photo taken if you've already submitted a professional graduation photo for the yearbook (due October 30). However, if you want an updated ID photo, you will need to get your Lifetouch photo taken.
You're Invited!
Do you know what it takes to launch a successful life and career? Target is hosting Prepare to Launch, a 4-session virtual series starting Friday, October 16, featuring employees and executives from over 24 companies. You will get to meet these amazing speakers, along with successful tech entrepreneurs as they share stories, lessons learned, and must-have skills that have advanced their careers. We hope to see you there and can't wait to help you launch yourself into a successful future!
Series Dates & Times:
Be Curious: Friday, October 16, 8:45-11:00 a.m.
Be Bold: Friday, October 30, 8:45-11:00 a.m.
Build Meaningful Relationships: Friday, November 13, 8:45-11:00 a.m.
Demystifying Tech Careers: Friday, November 20, 8:45-11:00 a.m.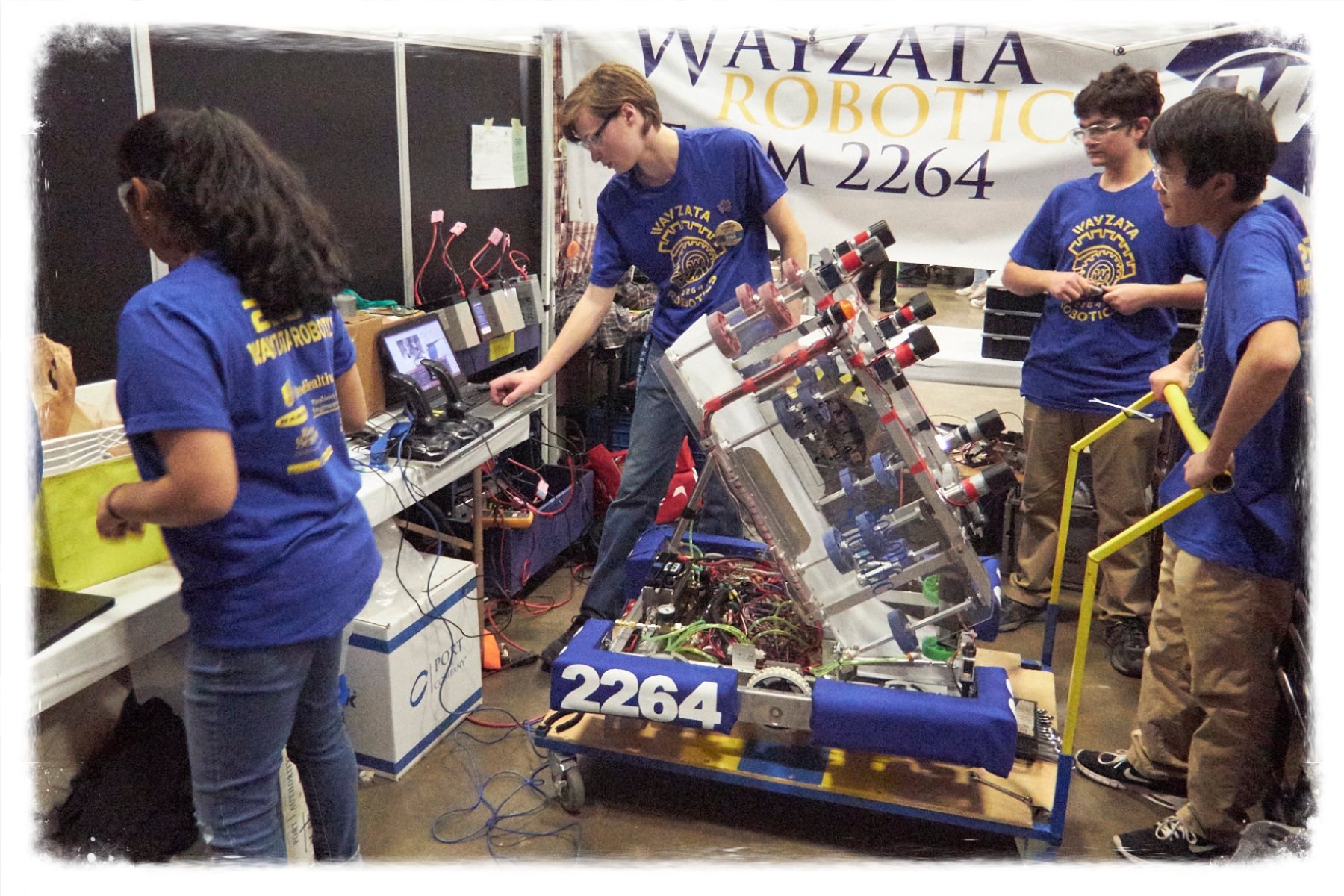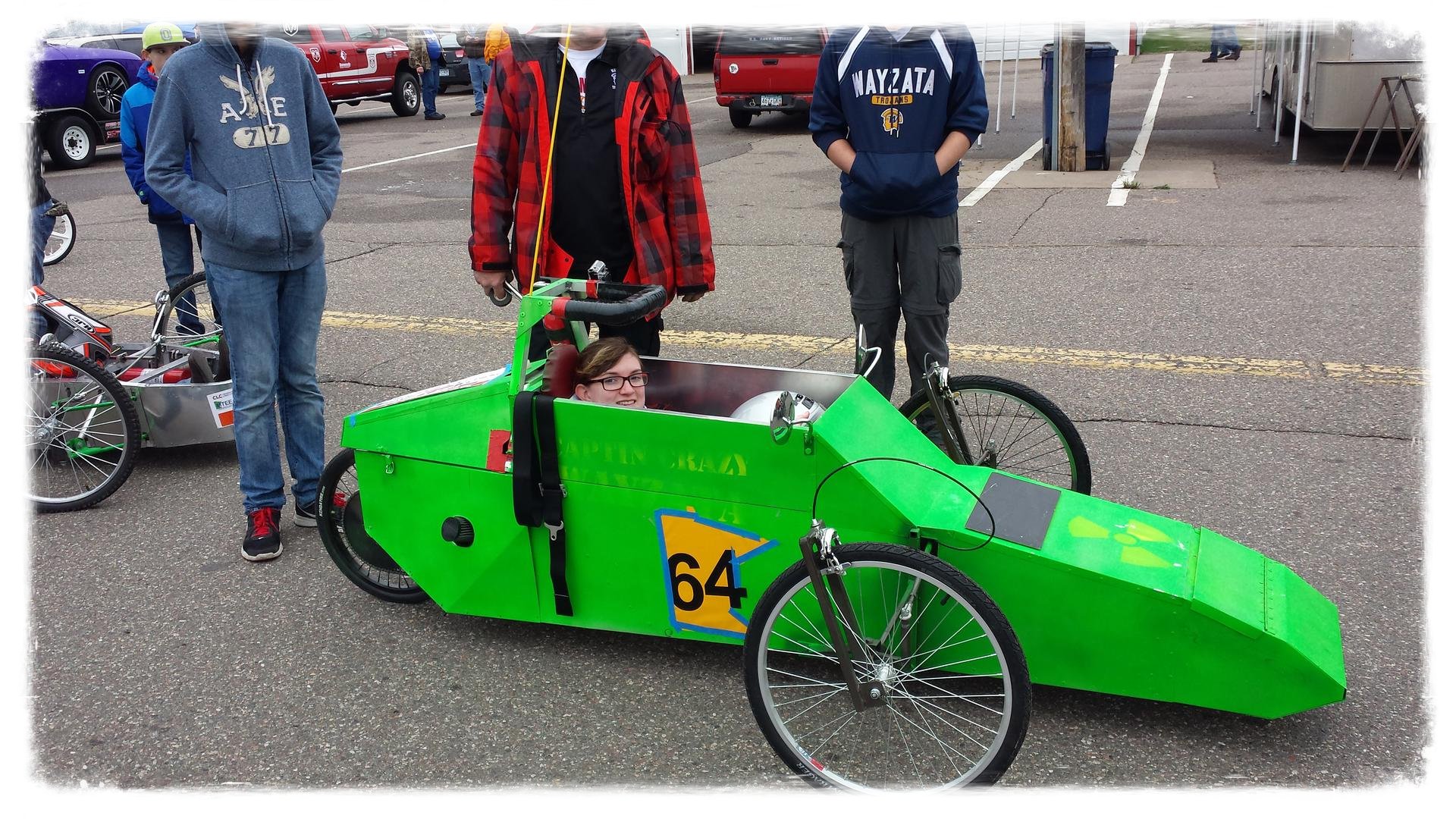 Robotics Team
Do you enjoy building things? The Robotics team will be taking applications for new team members for this season, all grades are welcome to apply. The season starts the first of November and runs through March. There is an application process to become a member of the team. The applications will be located on the door of D215. The applications must be submitted in paper form only. You will need to turn your form in to the second-floor office to be placed in Mr. Pashina's mailbox.
Super Mileage Team
Do you like to construct things. The goal of this activity is to design, construct and race vehicle powered by 2.4 HP gas motor or electric motor and achieve highest fuel economy possible.
If you are interested in joining the Super Mileage Team or would like more information about the team, we are having a meeting after school on Tuesday, October 20 in room D215. All grades are welcome.
Questions regarding the Robotics Team or the Super Mileage Team can be directed to Advisor Mr. Pashina.
Club Y.E.S.
Would you like to join Club Y.E.S. (Youth Extending Service)? The registration deadline is Sunday, October 18. Any student interested in joining must register for the club in Epay. There is no fee; however, make sure you check out of your cart and be sure to get a receipt for joining. Registrations submitted over the weekend are processed on Mondays. Once registered, students will receive a welcome email from Club Y.E.S. and access to the Club Y.E.S. Portal and Canvas Course. For more information, watch the Join Club Y.E.S. video.
College Visits and College Fairs

Don't Miss the Virtual College Visits
Don't miss this great opportunity to learn more about different colleges and universities. We highly encourage you to attend! You can sign up for the virtual visits on the WHS Hub on the MyApps Portal. Please contact Deb Musser in the College and Career Center (CCC) with any questions.
Senior Portraits
Your senior portraits are due Friday, October 30. Be sure to visit whsyearbook.com for all the information about picture requirements and submission details. If you have any questions, please email wayako.portraits@gmail.com.
Thursday, October 22, 2020
6:30 PM - 7:30 PM
Thursday, November 5, 2020
6:30 PM - 7:30 PM
Wednesday, November 18, 2020
4:30 PM - 7:30 PM
4955 Peony Lane, Plymouth, MN 55446 | Phone 763-745-6600