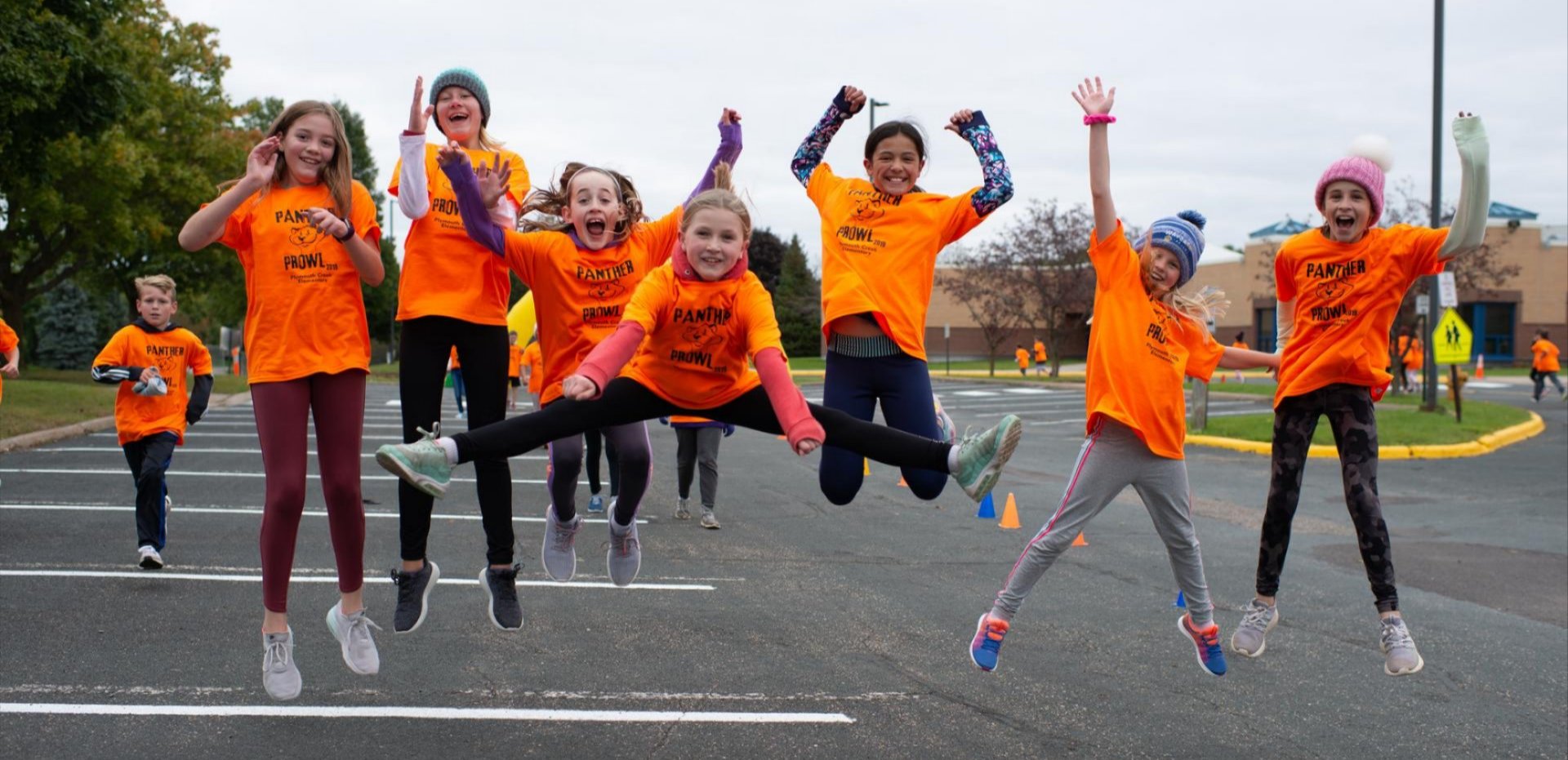 Message from Mrs. Paul
It's time for the Panther Prowl Fun Run! We are excited to kickoff this event during a live Zoom tomorrow afternoon at 12:00 p.m. Students have received a link to this Zoom from their teachers and Mr. H. During the kickoff, a presentation will be shared that explains changes to the Fun Run this year, how to participate, and school-wide incentives.

While the Fun Run remains a fundraising event to support our teachers and students, we are focusing on participation this year. Students are being asked to get outside and exercise, while keeping track of minutes, miles, and steps. We'd love it if you could take some pictures of your students in their Panther Prowl t-shirts while they are exercising and post them to the Padlet.
We are looking forward to connecting with you at Zoom conferences next week on Tuesday and Wednesday. Please use the links below to sign up if you haven't already. The signup will close on Monday morning at 8:00 a.m.
Enjoy the beautiful weather this weekend...and exercise for our Panther Prowl!

With gratitude,
Ashley Paul
Specialist Spotlight
Our specialist teachers are missing your students! Specialists have noticed a decline in participation with our Distance Choice students. These classes are important. Please follow your child's digital day specialist schedule and make sure they are viewing and participating in specialist content on their live learning days. Beginning next Wednesday, Distance Choice specialist classes will be live via Zoom.
Distance Choice Materials Pick-Up
There is a materials pickup for Distance Choice students tomorrow - Friday, October 9. Teachers will have crates outside on the front sidewalk labeled with their name. Please check that you've taken all of your child's work. Ms. Janish and Ms. Bloom have separate crates for their student materials. Please plan to come before 3:00 PM to pick up your child's materials.
No School - MEA Break
There will be no school for students from Wednesday, October 14 - Friday, October 16. School will resume again on Monday, October 19. Families that registered for Wayzata Kids childcare during this break will take their children to Kimberly Lane Elementary.
Book Checkout for Distance Choice Students
Requested library books for Distance Choice students can be picked up on Fridays between 9:00 a.m. and 3:00 p.m. in the front entryway of the school. Please watch for an email saying the book is ready for pick up before driving to school. Sometimes a book is checked out to someone else or has a waitlist and is not available when your student puts it on hold. Books may also be returned during this time and must be placed in the return bin for proper check in.
Message from the Attendance Office
Please report absences in Skyward Family Access when your child is absent or tardy. Children are considered unexcused without an entry in Skyward Family Access or a call to the attendance line from a parent or guardian.
When you are submitting the attendance request in Skyward Family Access, you must be logged in as a parent, not a student.

Calls to the attendance line (763-745-5855) should be reserved for last-minute attendance requests or changes.

Please also reach out to your classroom teacher to notify them of a planned full-day or multi-day absence.
Medications at School
All medications, both prescribed and Over-The-Counter (OTC), administered at school requires a medical order from a person who is a licensed authorized prescribing practitioner (physician, physician's assistant, dentist, podiatrist, osteopath or psychiatrist). Please contact your school health office about medication drop off before the start of school. For more information, visit our Health Services webpage.
Emergency Information Form
For a variety of reasons, there is often a need to contact you throughout the course of the school year. Parents/Guardians are asked to keep their contact information up-to-date in Skyward Family Access Emergency Information Form. Watch the Skyward Family Access video guide if you're not sure how to complete the form.
Digital PTO Calendar
Fun2Raise has designed a digital, clickable and printable (at home) PTO calendar. This interactive calendar will allow you to find current happenings at the school, links to virtual events (as we get them) and information updated in real time. The month of October is live now! Check back often as we will be updating multiple times per month as the year goes on.
Distance Learning Meal Options
---
Planning travel out of the state or country?
Regardless of whether your students are attending Wayzata Public Schools through hybrid learning or through Distance Choice, the district is required to account for students. Please ensure that the Welcome Center has a copy of your family's Extended Vacation form on file prior to your travel.
---
October Wayzata Legislative Action Committee Update
The Wayzata Legislative Action Committee (LAC) held its monthly meeting on Wednesday, October 7. Jim Westrum, Executive Director of Business and Finance for Wayzata Public Schools, provided a financial update to the committee, including the impact of the COVID-19 pandemic on district finances and additional funds received from the state and federal governments to off-set expenses related to health and safety and ensuring a high-quality education for all students. As a reminder, all seats in the Minnesota House of Representatives and Minnesota Senate will be up for election this year. The Wayzata LAC sent a six-question Q & A to all legislative candidates on the November 3 ballot. The responses that were received are available on the Legislative Action Committee's webpage. To find out who represents you, what is on your ballot, and more election information, visit the Minnesota Secretary of State website. The Wayzata LAC is a non-partisan group of citizens that monitors legislative activity as it affects K-12 education and advocates positions on behalf of the district. For more information, please visit the Wayzata Committees webpage or contact Alexia Wierzbicki or Amy Walstein, your school's Wayzata LAC representative.
Healthy Parents, Healthy Kids
Navigating the stress and isolation of COVID-19 has presented added challenges for parenting our kids. How can we as parents support each other in our efforts to help our kids build and maintain resilience, self-esteem, and mental health in the midst of a pandemic? Parents of elementary-age children are invited to join a parent support group facilitated by Judy Hoy, DSW and Chithra Binoy.

Upcoming Youth Classes:
Parenting with Vision Online:
Thursday, October 22, 2020
6:30 PM - 7:30 PM
Thursday, November 5, 2020
6:30 PM - 7:30 PM
Wednesday, November 18, 2020
4:30 PM - 7:30 PM
Monday, October 12, 2020
7:00 PM - 9:00 PM
Monday, October 26, 2020
4:00 PM - 6:00 PM
16005 41st Avenue North, Plymouth, MN 55446 | 763-745-5800