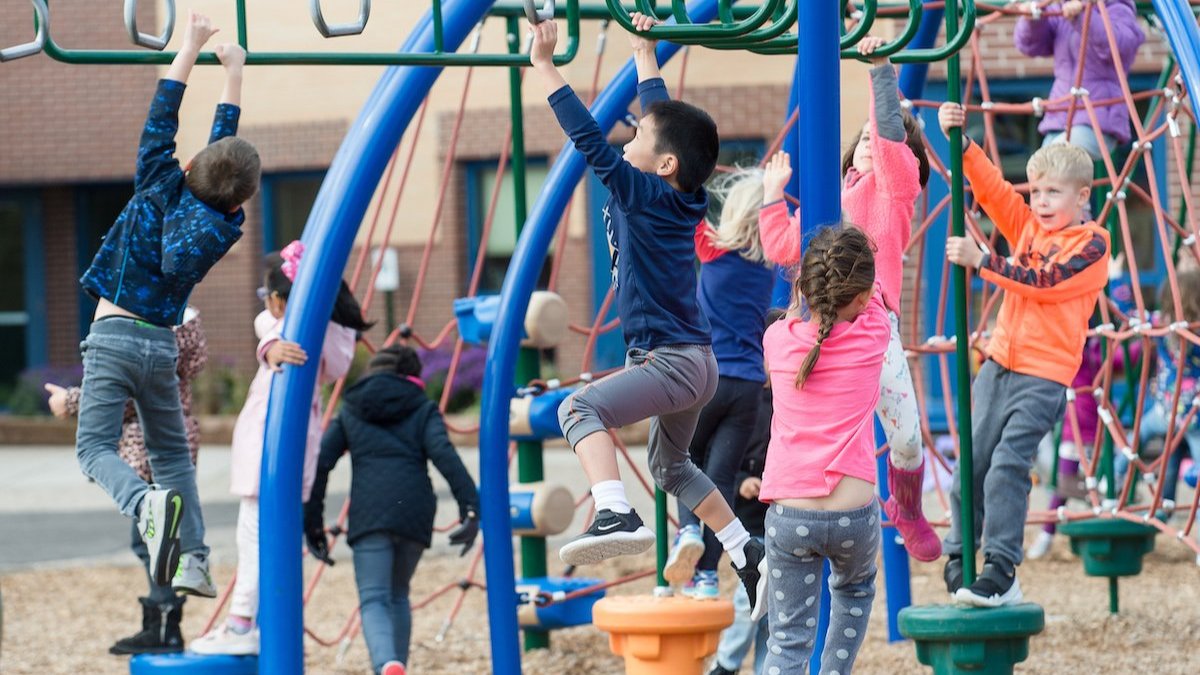 Message from Mrs. Paul
Thanks to everyone who was able to join us for our Virtual Open House yesterday. It was so great to reconnect and we are excited for the school year to start! I want to highlight a few questions that came up during Open House from which we thought everyone would benefit:
How will morning drop-off work?
We're using a similar morning drop-off process as previous years.

Doors will open at 7:30am, so please do not let your child exit your vehicle before that time.

Remain in your vehicle and ask your child to exit from the passenger side only. (Park in the lot if you feel you need to get out of your vehicle.)

Student temperatures will be checked by a staff member upon exiting the vehicle. Please do not drop your child off and drive away. Instead, wait for a staff member to approach your vehicle, indicate that your student(s) should exit, and to take the temperatures of the students. Have your child ready to exit the vehicle when you are within the orange cones in the front of the building.

Please remind your child to put their mask on and practice social distancing before they exit the vehicle.

Our goal is for your child to be in their classroom by 7:45am, however, we plan to extend the bus and parent drop-off time as needed at the beginning of the year.

We have staff available to support social distancing and temperature checks as students enter the school.

Note: Kindergarten teachers will meet their students in the gym during the first week of school and a kindergarten paraprofessional will be watching for students outside in the mornings to ensure our youngest learners get where they need to go safely.
Can families come into the office to drop students off in the morning?
Families will not enter the office before 7:45am because their children can participate in the drop-off process outlined above.

If a family needs to drop their child off late (i.e. after 7:45am) they should call the main office (763-745-5800) to request that an office staff member comes to the entry doors to receive the student.
How will afternoon pick-up and dismissal work?
Please be sure your child's teacher knows where your child needs to be at the end of the day.

Sending a note to school in the morning is required for all changes.

We use a staggered dismissal time to alleviate congestion in the hallways. This starts around 2:15 p.m., so it's important you communicate changes with us well in advance of this time.

Last-minute changes can create issues, so please communicate all pick-up changes in writing before 1:30 p.m. (at the latest).

We will be routing all regular parent pick-ups through the same process as the morning drop-off. Students will be dismissed outside and will be supervised by a staff member until they enter your vehicle. You may wait in your car in the pick-up line, or park and walk up to the main entrance sidewalk to get your student.

In the event you need to pick-up your child early, send a note to school in the morning and email the teacher/office so we can try to have your child ready and waiting for you inside the office. Please call the office (763-745-5800) when you arrive.
Should families enter the office or school?
Generally, families will not enter the school. There may be specific circumstances when it will be necessary for a guardian to enter the school. The office staff will use their discretion in these cases.

As a school district, we have "paused" in-person volunteering and/or family visits.

A system for picking up distance learning supplies is being developed. We'll communicate that out by grade-level and teacher. In the event we have distance learning supplies for families to pick-up, we plan to restrict that to either outside or the vestibule in the main entryway.
How will attendance work?
If your child is not able to engage in learning please mark them "absent" in Skyward Family Access.

All students should plan to attend morning meetings, as this is the time when teachers will take attendance.

We recognize you may not have a link, iPad, or access to Morning Meeting videos the first week of school as we're launching our routines. For this reason, attendance during

Morning Meeting for students who are participating in distance learning for their non-cohort days will start the week of the September 21.

If you have additional questions about attendance or need support, please call our office para, Mrs. Kim Smith, at 763-745-5802 or go to Skyward Family Access to report the absence.
Please work with our district LPN, Lynda Lankford, on all health-related concerns.
Will students enrolled in Wayzata Distance Choice have access to school library books?
Can my child wear a face shield instead of a face mask?
All students and staff are expected to wear a face mask. Face shields are an acceptable substitute for those who cannot wear a face mask for a documented medical, behavioral, or developmental reason. You can viewWayzata School Board Policy 103 for more information about face coverings.
I hope you have a fantastic weekend and we look forward to a wonderful year of learning and partnership.
With gratitude,
Ashley Paul
Kindergarten Bus Ridership
It is important for students to understand and practice bus safety. Typically, we hold a Bus Ridership even for incoming kindergarten students. Due to COVID-19 and the safety precautions in place, the district has created a Bus Ridership video for students. Please find a few minutes to view this with your kindergarten student.
Safety at School
Using guidance from the Minnesota Department of Health and the Minnesota Department of Education, our district has worked to establish some routines to keep us safe at school. Together, we will need to do our part to help keep all of us healthy this year. For a snapshot of the safety protocols for the year, you may visit the We all play a part in staying safe at school section of the Wayzata Learns webpage to learn more. We will continue to do our best to align our protocol to the state recommendations.
School Supplies
1-5 grade school supply lists can be found on our Plymouth Creek website. Students in both the Hybrid and Distance Choice models should have these supplies. Kindergarten students will purchase a supply pack from the school, and families will receive information about these supplies from your child's kindergarten teacher.
First Day of School - Monday, September 14 or Tuesday, September 15
We look forward to officially welcoming you back to school on September 14 (Cohort A) and September 15 (Cohort B) for Hybrid and Distance Choice students. School hours are from 7:45 to 2:25 daily.
2019-2020 Yearbooks
Plymouth Creek 2019-2020 yearbooks have finally arrived! If you ordered a yearbook last year, it will be handed out to hybrid students on their first day of in-person instruction. Distance learning students had their yearbooks placed in their bag of distance learning materials. If you did not order a yearbook, and would like to purchase one, please reach out to Karna Ryder; yearbooks are $15 each.
Medications at School
All medications, both prescribed and Over-The-Counter (OTC), administered at school requires a medical order from a person who is a licensed authorized prescribing practitioner (physician, physician's assistant, dentist, podiatrist, osteopath or psychiatrist). Please contact your school health office about medication drop off before the start of school. For more information, visit our Health Services webpage.

Plymouth Creek Spirit Wear
24/7 Active is excited to launch the Wayzata Spiritwear program with Plymouth Creek Elementary. Purchases can be made online or stop in their Lake Street, Wayzata location for in-person shopping. Plymouth Creek PTO will receive 10% of all sales!
Welcome to a new school year from PTO!
The Plymouth Creek PTO wants to let you know that we are here 100% for our families, the Plymouth Creek Teacher and Staff and most importantly, the students! We want to make sure we are helping everyone in any way that we can and are ready to take on the challenges this school year may bring on.
We want to make this school a positive experience for all and though we can not do some of the things we normally do, we do have some great ideas on how to have many of the beloved activities that our students, families and staff look forward to at Plymouth Creek Elementary.
As always, the Plymouth Creek PTO is committed to supporting and strengthening our school community. We serve as a communication resource among parents, teachers, and administrators. We also provide countless programs ranging classroom/teacher grants, (virtual) field trips, educational online subscriptions, (virtual) school assemblies, and much more through our fundraising efforts. We also help with volunteer opportunities and classroom room parents. We are working with the school to see how we can still provide these provide these wonderful opportunities this year.
The PTO holds five meeting a year; our first meeting is scheduled for Friday, September 25 at 12:00. Please stay tuned for more information on the agenda and the Zoom link to join the meeting. The remaining PTO meeting dates are as scheduled: October 23, December 11, February 5, and May 21. At this time, all meetings are going to be held via Zoom at 12:00 noon. We will adjust the meeting time and dates if needed. We hope to "see" you at one of our upcoming meetings!
We are excited to announce that we will still hold our Plymouth Creek Panther Prowl Fun Run this year! This year's fun run will be a bit different, but our wonderful Plymouth Creek Staff and PTO are busy brainstorming ideas on how to make this event go on as safely as possible and involve our entire PCE student body. The date of the fun run will be Friday, October 9. Please stay tuned for more information in the coming weeks.
We look forward to a great year together! Please let us know if you have any questions, comments and/or suggestions. Thank you!
Plymouth Creek PTO Board
How to Access Your Child's Culinary PIN
---
Stay Home When Ill and Be Prepared to Quarantine
It is important to be prepared as we begin the new school year in the midst of a pandemic. Our new reality will require students, families and staff to check daily for symptoms and stay home if you are ill.
If you or someone in your family is ill, please reference the Minnesota Department of Health (MDH) Decision Tree document to learn what your next steps should be. Report any student absences into Skyward Family Access, specifying if the absence is COVID-19 related. Our school nurses will follow up with any COVID-19 related cases. If you are tested for COVID-19, even if you feel well, it is important that you remain home and away from others until you receive the results.
Everyone must be prepared to stay home and quarantine for up to two weeks if you become ill with or are exposed to COVID-19. We know being quarantined for two weeks will be extremely challenging, but it is absolutely necessary to stop the spread of the virus. Learn how you can prepare for a possible quarantine.
Our nurses will be working closely with MDH to notify students and staff as soon as possible if you have been exposed to COVID-19 at school. Always answer your phone if MDH is calling.
If you have questions, please contact the licensed nurse at your school.
More detail and helpful information can also be found on our Wayzata Learns webpage.
---
Staying Safe at School
We are busy preparing our buildings and staff for the start of the new school year, with a big focus on preventing the spread of COVID-19 within our staff and student body. All of our buildings have optimal ventilation and enhanced cleaning and sanitation procedures are in place. Our school principals have established new guidelines for everything from entering the building to eating lunch. We need you to understand and follow them so that we can all stay safe and prevent the spread of the virus.
Staying Safe at School Overview
---
Bus Safety in Wayzata Public Schools
Students demonstrate how to ride the bus and what to do in the event of an emergency.
Parenting with Vision: Helping your kids through tough transitions
In partnership with Relate Counseling Center, Wayzata Community Ed is offering a series to parents to help them with tough transitions for their kids. These webinars will take place online and are free to attend with no registration required.
Transitioning to Kindergarten - Parents of incoming kindergarteners are invited to join this webinar hosted by Anne Sitorius Maas, MA, LPCC, a Relate Counseling Center early childhood therapist. Parents will learn tips and skills on how to support your child through this upcoming transition.
---
Join us in our online classrooms! We have many opportunities for our youth and adult learners. You can find all our class options on our registration site.
Healthy Parents, Healthy Kids - Navigating the stress and isolation of COVID-19 has presented added challenges for parenting our kids. How can we as parents support each other in our efforts to help our kids build and maintain resilience, self-esteem, and mental health in the midst of a pandemic? Parents of elementary-age children are invited to join a parent support group facilitated by Judy Hoy, DSW and Chithra Binoy.
Monday, September 14, 2020
7:00 PM - 9:00 PM
Tuesday, September 29, 2020
4:00 PM - 6:00 PM
16005 41st Avenue North, Plymouth, MN 55446 | 763-745-5800