Hello Class of 2024 Students and Parents/Guardians!

Your Wayzata High School Link Crew is looking forward to welcoming you to Trojan Nation! We are excited to help you make the transition to Wayzata High School and guide you towards making the next four years of your life an investment in yourself. Our Link Leaders were in your shoes just a couple years ago--they were nervous about the first day of school, unsure of where their classes were, confused about how lunches work—but with the help of a Link Leader during Orientation, they learned how to navigate the ins and outs of school. Now, they're returning the favor to you by sharing their wisdom and experiences and memories so that your first week of school runs smoothly.

Considering the circumstances surrounding COVID-19, we will need to make some changes to our Freshmen Orientation this year. Don't worry—you'll still get a chance to find your classes, see some of your friends, make new friends, and meet your teachers. These opportunities are summarized in three sections below:
Phone Call, Email, Zoom Link: August 31-September 2
During the week of August 31 - September 4, you (students) will receive an email and then a phone call from your Link Leader who will introduce him/herself to you. The email will have a link to a virtual tour of Wayzata High School as well as a Zoom meeting so you can meet the rest of your Link Crew group. If you don't get a phone call or an email/Zoom meeting request by 3:00 p.m. on Wednesday, September 2, you can email your Link Leader directly using this group information:
Virtual Orientation: September 3, 10:00 a.m. - 12:00 p.m.
From 10:00 a.m. - 12:00 p.m. this Thursday, September 3, your Link Leaders will lead you through a Virtual Orientation with the rest of your Link Crew group so that you can all connect with one another. Link Leaders will lead you through a set of meaningful activities to help connect the group and they'll address any questions you may have about what it's like to be a high school student at WHS. Please be sure you attend your group Zoom meeting from 10:00 a.m. - 12:00 p.m. on September 3, and make sure your iPad is fully charged prior to the Virtual Orientation! In the meantime, please watch this virtual tour: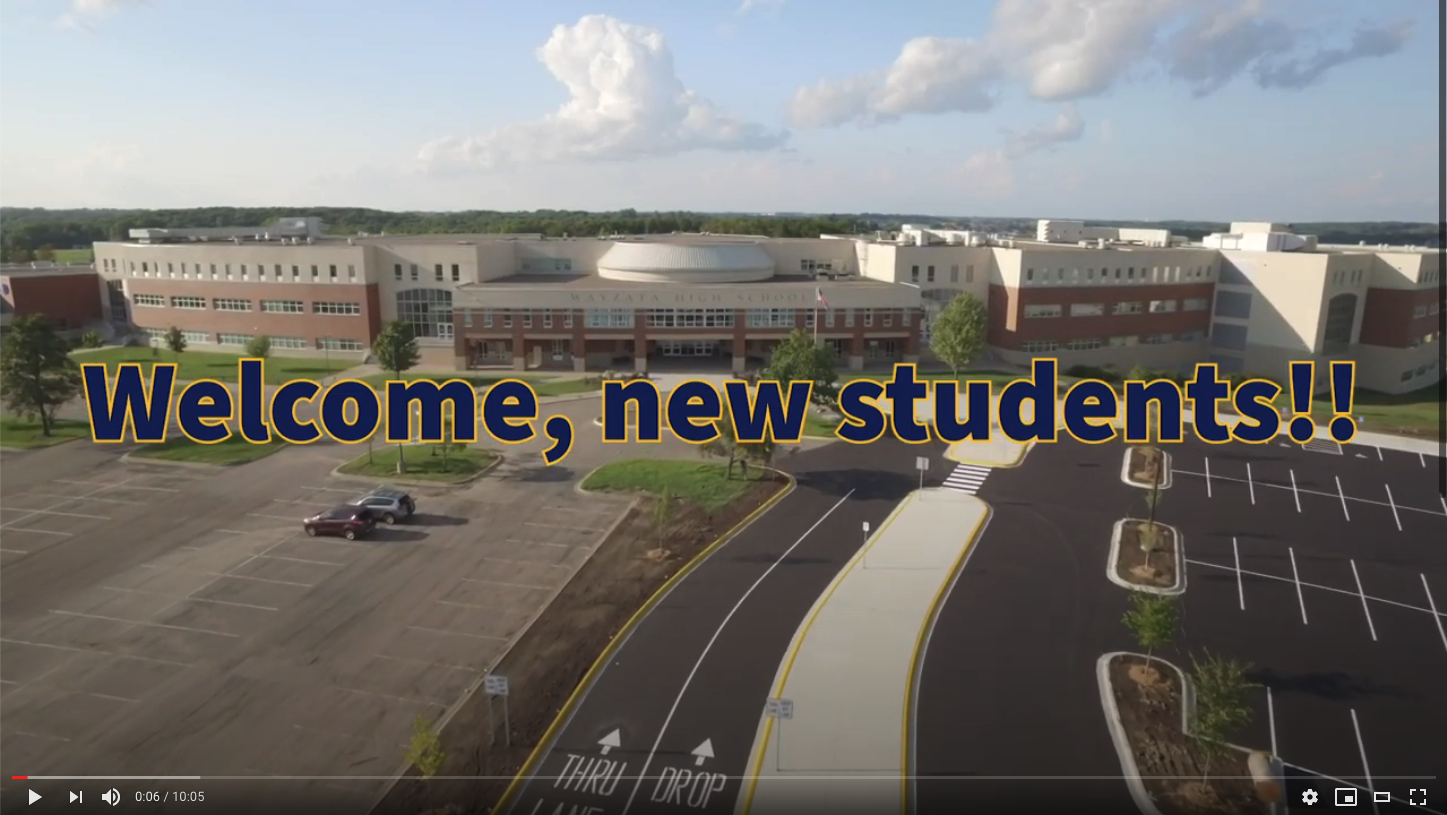 Orientation, Tour, Schedule Walkthrough, Lunch: September 8-11
From September 8-11, freshmen and new 10th-12th grade students will have an opportunity to come into the building for a soft opening and orientation so you can walk through your schedule and meet your teachers. You will first meet in the main gym (follow the signs!) and will then report to your Link Crew groups based on your group number. Please know which group number you are in before you arrive! This will help control the flow of traffic in and out of the gyms! You will then get a chance to meet your Link Leaders and your group members in person as well as your support team (associate principal, dean, social worker, and counselors). From there, you will be given a tour by your Link Leaders, and then you will walk through your schedule. Please bring a backpack with you on this day so you can take home the materials needed for your distance learning classes. Lunch will also be provided so that you can practice going through the lunch lines.
9th Grade and New to WHS Orientation
8:30 a.m. - 12:30 p.m.
Tuesday,
September 8
Wednesday,
September 9
Thursday,
September 10
Friday,
September 11
Student last names
A-Fj
Student last names
Fl-Laq
Student last names
Laq-Ra
Student last names
Rb-Z & New 10th-12th Graders
8:20-1:00 – Schedule rotation
8:20-9:20 – Students meet in Main Gym, Welcome, Alpha Teams introductions, tours
9:30-9:50 – Block 1
10:00-10:20 – Block 2
10:30-10:50 – Block 3
11:00-11:20 – Block 4
11:30-12:50 – Day 2 Classes for those who have one
11:20-11:50 – Hand out planners/Lunch for students who don't have a Day 2 class
11:50-12:15 – Hand out planners/Lunch for students who have a Day 2 class
11:50-12:30 – Depart to buses
Safety first
In order to make this a safe environment for all students who choose to attend, the following expectations will be in place:
Students are required to wear a mask at WHS.

Students are expected to maintain social distancing protocol at all times.

Students are required to complete a temperature check when entering the building at one of the temperature kiosks.

Students are expected to follow signage, directing where to enter the main gym. Please make sure you know which group you're in before entering the gym. If you forget, please find the "VIP" table.
Parents/Guardians, if you are driving your student to school that day, please bring them to the main athletics doors (do not bring them to the front doors).

We have put a lot of thought and work into making this a meaningful experience for you! We can't wait to welcome you to Wayzata High School! We're ready to help you get started on a new life adventure!

See you soon!
Wayzata Link Crew
4955 Peony Lane, Plymouth, MN 55446 | 763-745-6600