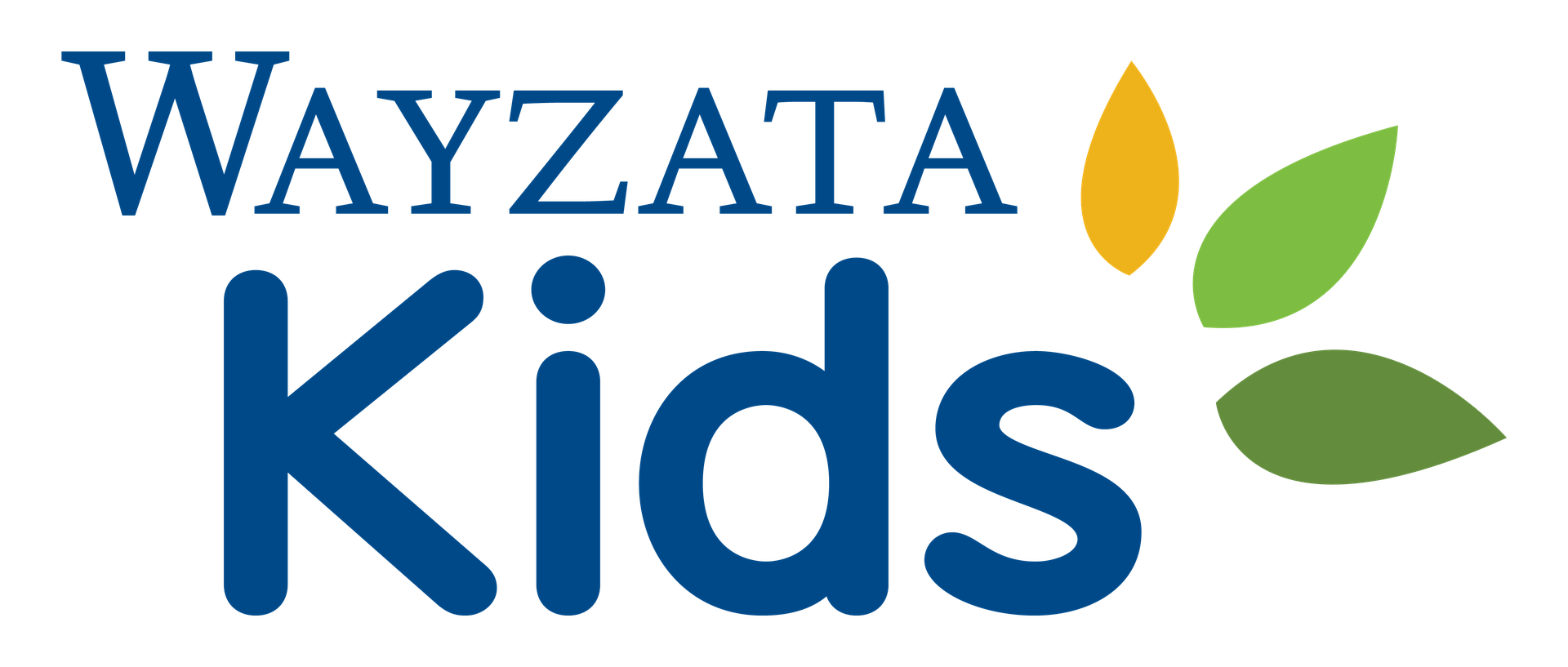 Dear Elementary Student Families,

Thank you for your patience as we continue to develop the Wayzata Kids childcare options. We wanted to share more information in hopes that we can answer your questions as you make decisions for the upcoming school year.
Below are key, new health and safety processes we will be following this fall, as well as answers to some common questions we have received from parents. This and additional information is included in the Parent Handbook Addendum, which we will continue to update as well as a School Year FAQ guide.
If you have further questions, please contact our Community Ed office at 763-745-5200 or email CommunityEd@wayzataschools.org. Thank you for your continued patience and understanding.

Be Well,
Hilary Disch
Wayzata Kids Program Manager
Free School Day Childcare for Tier 1 Critical Workers
Beginning September 8, childcare will be provided for eligible children at no cost during regular school hours on their distance learning days. Childcare will be provided for WPS enrolled children grades K-5 who are children of critical workers in Tier I of the state critical worker list. Additional before- and after-school childcare is available for a fee. Tier I critical workers include:
Healthcare and public health

Law enforcement, public safety and first responders

Food and agriculture

Judicial Branch (essential services)

National Guard (activated under a Governor Executive Order)

Educators and school staff providing in-person instruction or caring for children of critical workers

Child care and school-age care providers
If you are a Tier I critical worker and intend to register for childcare, please send employment verification to our Community Ed office at CommunityEd@wayzataschools.org. Verification includes a letter from your employer or a picture of your badge. If you do not have an account in Eleyo, our childcare registration system, please create one prior to sending your employment verification to our office. Creating an account will assist us in documenting your employment verification and is your first step in getting registered.
Important Registration Information
Registration will open at 8 a.m. on Thursday, August 20. Note, this is a revised district timeline.

All families needing childcare need to re-register.

Please register your student for childcare by the

end of the day on August 24

to help us with planning for fall staffing.

Registration will remain open throughout the school year.

Critical workers receive first priority and then families with current Wayzata Kids contracts. All other current families accepted on a first come, first serve basis.

Before- and after-school care may be limited based on space and staff availability.

You can find the registration page on our website. Further information on how to create an account and how to register will be sent prior to August 20.

Your A/B hybrid group will be emailed to you on August 19. You will need this information to register for the specific days noted below:
 
Monday
Tuesday
Wednesday
Thursday
Friday
Before School (for a fee)
Group A
& Critical Workers
Group B
& Critical Workers
Group A
& Critical Workers
Group B
& Critical Workers
Groups A, B & Critical Workers
School Day (free)
Critical Workers
Critical Workers
Critical Workers
Critical Workers
Groups A, B & Critical Workers
After School (for a fee)

Group A
& Critical Workers
Group B
& Critical Workers
Group A
& Critical Workers
Group B
& Critical Workers
Groups A, B & Critical Workers
Please Note:
Consistent schedules are required on student's cohort days. For example, group A must sign up for both Monday and Wednesday and group B must sign up for both Tuesday and Thursday. Friday is optional.
Families who do not qualify as Tier 1 critical workers can register for free school day childcare Monday to Thursday. Space is limited and priority will be given to critical workers and then current Wayzata Kids families.
Fee assistance may be available for qualifying families.
Current Accepted Wayzata Kids Contracts Paused
If you have a current Wayzata Kids contract, it will be paused. In the event that the district goes to all in-person learning, your current contract will be reinstated. You will have an opportunity to make changes to your contract should that occur. If you have a current Wayzata Kids accepted contract (created prior to March 2020) and do not use Wayzata Kids for the 2020-2021 school year, you will remain on the priority registration list for future registrations (Summer 2021 or School Year 2021-2022).
Registration Fees
The Wayzata Kids program has a $40 registration fee. If you register for before- or after-school, you will be charged a registration fee. If you are a current Wayzata Kids family and already paid a registration fee, you will not be charged again. A registration fee will not be charged for school day childcare.
Cost Schedule
The cost for before- and after-school childcare has been adjusted for the hybrid model. The updated cost schedule takes into account the change in start and end times and additional program costs incurred due to COVID-19. Please note that there is only one fee for before school and one fee for after school. The 4:30 p.m. pick up has been discontinued to simplify the registration process and for staffing and contact tracing purposes.
Staff Support with School Work
Staff will be at our childcare sites to support students with their school work if we are in a hybrid or distance model. Childcare staff will assist students with their technology, ensure they are joining all their scheduled live Zoom meetings, and provide general school work support in a hybrid or distance model. When not completing their school work, enrichment activities will be provided. Students will spend a majority of their day in their homeroom.
Transportation
Families will need to provide transportation for students registered for school day childcare. Transportation is not provided for childcare students on days that they are not scheduled to be in school.
Meals and Snacks
For school day childcare, lunch may be purchased for your student. If you opt not to purchase lunch, please send a lunch from home. Lunch will be eaten in the classroom. Your student will receive an afternoon snack.
Health
Exclusion Guidelines per the Minnesota Department of Health will be followed:
Students will be sent home or denied entry if presenting any of the following

Either a new onset cough or shortness of breath or

at least two of the following: fever (100.4ºF or higher), chills, muscle pain, sore throat, fatigue, congestion, loss of sense of smell or taste, or gastrointestinal symptoms of diarrhea, vomiting, or nausea.

Students that are exhibiting any symptoms and have not received a clinical COVID test will need to:

Stay home until you have had no fever for at least 24 hours and improvement of other symptoms and at least 10 days have passed since your symptoms first appeared.

Siblings and household members also stay home for 14 days

If a student is ill and is being sent home, the siblings of the student will also be sent home for observation.

We recommend you have back-up childcare in case of exclusion

If a person has a new symptom with no other diagnosis to explain it, they should stay home and talk to their health care provider about testing for COVID-19, even if it is the only symptom they are experiencing.
You will not be charged for days your student is asked to quarantine due to possible exposure through the Wayzata Kids program. If your student is experiencing symptoms or is quarantined and exposure did not occur within the Wayzata Kids program, you will be charged for days absent.