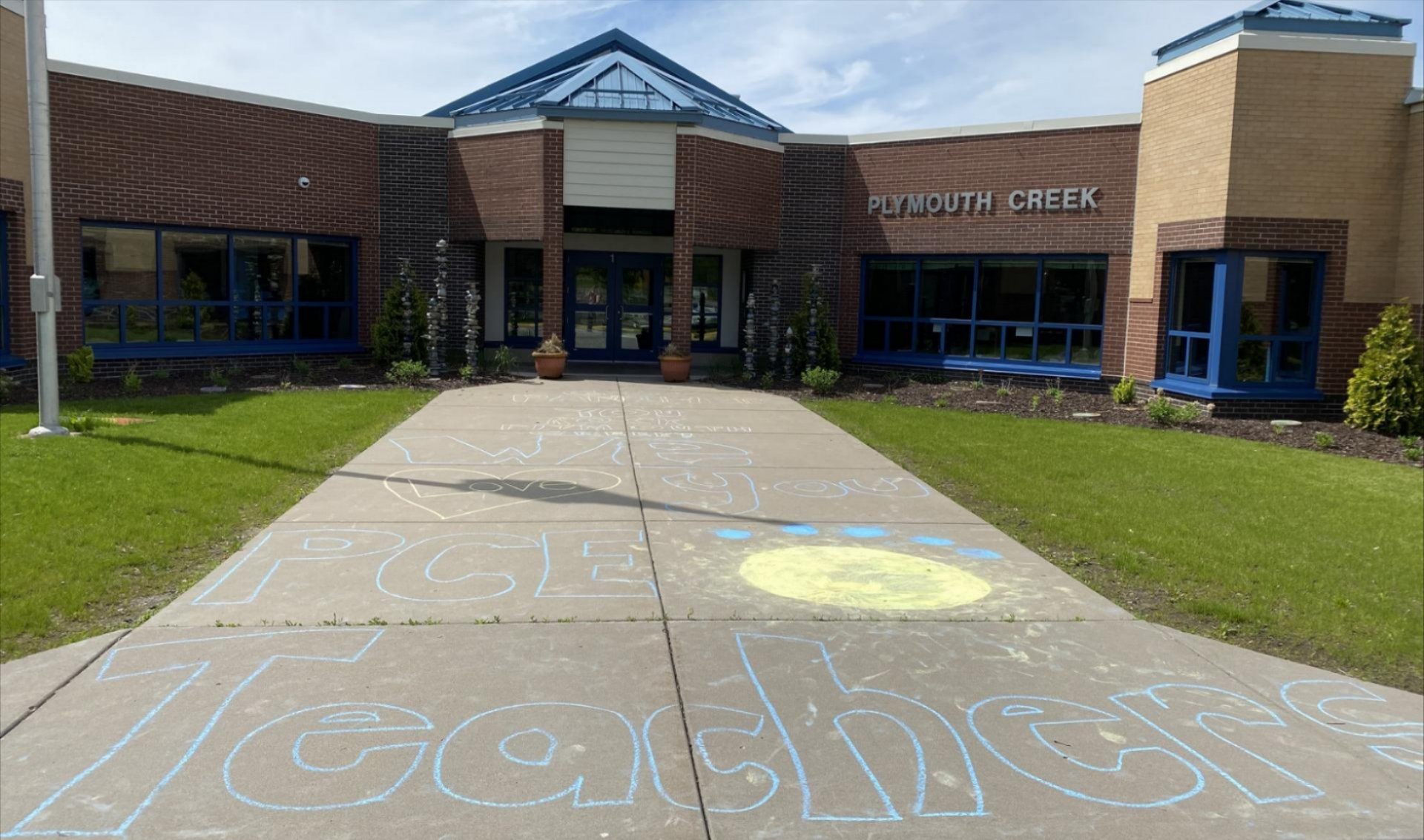 Message from Dr. Thompson
Dear Plymouth Creek Families,
As we officially move into summer vacation time, I hope you are all doing well and enjoying the warm weather. This information from Relate Counseling Center was shared with me this week. If you are looking for resources to help a child struggling with stress or anxiety, Relate services may be of interest. This is not a school or district sponsored program but we do work with Relate services during the school year. I hope you find this information helpful.
Dr. Thompson
Plymouth Creek will be Closed this Summer
If you need to contact us over the summer, please email our building secretary, Sarah Feingold.
Resources for Parents/Guardians
General suggestions for conversations with children about tragedy
Resources about discussing race with children
Books for conversations with E-5 students*
Don't Forget to Order Your 2020-2021 School Supplies!
School supply packs for the 2020-2021 school year are now available to order online. Supply packs for grades 1-5 can be ordered online (school code is PLY003). Kindergarten packs are not available to order online as they will be purchased at school in the fall. Supply packs can be ordered through June 14, 2020. This year, instead of being delivered to the school, your supply packs will be delivered to your home by August 17.
Please note, the supply packs do not contain all of the items needed for your student. Please see the 2020-2021 School Supply List for a list of items that need to be purchase separately. Information will also be in your student's bag of materials today.
Information About Food Distribution
Wayzata Public Schools is providing meals for students who need them every Tuesday through the end of June. Seven breakfast meals and seven lunches will be available for pick up each week. Meals are available for anyone 18 years old and younger at no charge. No identification or paperwork is required to receive food. If your family is in need of assistance but are unable to pick up food, please contact Dr. Thompson for delivery assistance.

Keep Collecting Box Tops This Summer!
Even though school is out for the summer, you can still help Plymouth Creek out by collecting Box Tops! This fantastic program has benefited our children greatly over the years. Please take a minute to download the new Box Tops app, scan your receipts after each shopping trip, and watch our school earnings increase thanks to you!
We Are Wayzata Strong Food Drive – Thursday, June 11
We Are Wayzata Strong
, a community-based group of west metro neighbors, friends and Wayzata High School's Club Y.E.S., will host a food drive to supply the food shelf at Interfaith Outreach on Thursday, June 11, 8 a.m. - 2 p.m. in the Wayzata High School parking lot (4955 Peony Lane N, Plymouth).
Wayzata Strong Food Drive Flyer
---
Distance Learning End-of-Year Parent Survey
We want to hear your voice regarding how well we delivered on our goal of providing high-quality, inviting, and accessible instruction for all students during Distance Learning this spring. Your honest feedback will help us improve our Distance Learning practices in the future. All parents and guardians received an email from K12 Insight, our survey partner, the week of May 25. The survey is anonymous and no one from the District will know if you participate or how you answered the questions. The final survey results will show the overall findings and themes. This survey will take approximately 10 minutes to complete and will be open until June 10. If you have more than one student enrolled in the Wayzata Public Schools, you can click on the link at the end of the survey to take the survey again. Thank you for taking the time to complete this survey.
---
Mindful Kids: Managing Stress During Hard Times
Being stuck at home and away from school and friends is difficult for many kids and teens. Relate Counseling Center is offering online Mindfulness and Stress Reduction groups to help kids ages 7-11 manage emotions during COVID-19. Groups will incorporate discussion around feelings about the current pandemic, as well as provide tangible tools to help manage stress and anxiety. Kids will also engage in movement and relaxation strategies. The cost is $10 per week and meets Tuesdays from 1:00-1:30 p.m. Contact Kelly Smith, LGSW at
knsmith@relatemn.org
for more information.
---
Wayzata Education Fund's Thank a Teacher Program
We have the best teachers and staff around, and never has it been clearer than during these unprecedented times. Whether they've helped make a difference in person or virtually this year, show your appreciation by participating in our
Thank a Teacher program
. From May 4 to June 3, any donation you make to the
Wayzata Education Fund
honoring a teacher or staff will come with a certificate of appreciation from your student. Additionally, if you donate $25 or more, they will also receive a bundlet from
Nothing Bundt Cakes Minnetonka
. Say thank you and support a good cause at the same time!
Certificates will be sent via email. Bundlets will be delivered at a later date when it is deemed safe to do so, and when teachers and staff are back on school property.
---
What can I do to protect myself and others?
Avoid being around others who are sick – when to keep your child home. When reporting attendance in Skyward Family Access, note that we have added Influenza-like Illness (oral temperature of 100° F or higher with a cough or sore throat) as an option. If your child has an oral temperature of 100° F or higher, please keep him/her home until they have been fever-free without medication for 24 hours.
Cover your nose and mouth with a tissue when you cough or sneeze, or cough or sneeze into your sleeve.
Wash your hands often with soap and water or an alcohol-based hand sanitizer.
Do not share drinking cups and straws.
Frequently clean commonly touched surfaces (doorknobs, refrigerator handles, phones, water faucets).
Talking to Kids About the Coronavirus – Child Mind Institute.
---
We've had so many great Ask Ali questions in our inbox – thanks to all who have submitted! Ali, along with her network of local experts, has been working hard to answer these questions. Responses are posted every Monday on her blog at partnersinpreventionmn.org/askali. Parents, you've got to check out the responses to these questions! There are some interesting ones that have been asked; chances are you might be wondering some of these things.
We welcome you to our online classrooms! Our online classes ensure that you are able to gain valuable information, stay on track with your fitness routine, learn new skills, and connect with others during the next month. Our buildings may be closed, but lifelong learning never stops. We are offering a variety of online classes for adult and youth. You can find all the online options on our
registration site
.
Monday, June 22, 2020
4:00 PM - 6:00 PM
Monday, July 13, 2020
7:00 PM - 9:00 PM
16005 41st Avenue North, Plymouth, MN 55446 | 763-745-5800