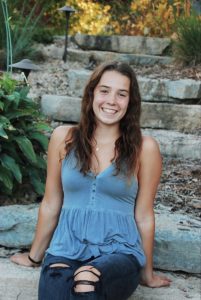 Wayzata's 2020 Athena Award Winner - Grace Treanor
The St. Paul Area Athena Awards program honors outstanding female high school senior student-athletes from St. Paul and suburban public and independent high schools for their athletic achievements. The award is based on excellence in individual sports or for participation and accomplishments in team sports. Athena is the Goddess of Wisdom and Skills. She was brave and possessed the essence of all that is noble. Legend tells us that she possessed the gifts of dignity, power, and youth, making her invincible.
Grace's accomplishments in athletics and school include:
Five-year state meet participant in Gymnastics

Winner of nine individual section titles in Gymnastics

State Class AA Uneven Bars champion (2018)

All-State Diver (2018, 2019)

Academic All-American (2020)

Student Council Senate (2017-2020)
She will attend the Air Force Academy and study biochemistry. Congratulations to Grace on her outstanding high school athletics career!
Dates to Remember - Important Status/Updated Information

As of May 18, the following events have been canceled:
May 18 - Senior Awards Ceremony, 7:00 p.m., Auditorium 1 (This event had been moved from May 4 to May 18.)

May 21 - Orchestra Concert, 7:30 p.m., Auditorium 1

May 22 - Senior Directed One Act Performances, 7:00 p.m., Black Box

May 23 - Senior Directed One Act Performances, 1:00 p.m., Black Box

May 26 - Band Concert, 7:30 p.m., Auditorium 2

May 28 - Band Concert, 7:30 p.m., Auditorium 1
As of May 18, the following events are still scheduled:
Summer Student Volunteer Opportunities
Summer is a great time for students to volunteer. The 2020 Club Y.E.S. Summer Youth Volunteer Opportunities brochure is now available for students.

Club Y.E.S. is a school year only program, but summer is a time when students often have more time to dedicate to volunteering. In this brochure, students will find many different volunteer opportunities. It is important to note that these opportunities are not considered "Club Y.E.S. projects" over the summer months, yet some of the opportunities are with the local community partners who Club Y.E.S. partners with during the school year.
The main difference over the summer is that the Y.E.S. portal will be down. If students want to volunteer, they must make contact with organizations in need of volunteers directly. Additionally, students must keep track of their hours and get documentation for proof of service. Please get signatures, if possible, but emails or letters from site supervisors will also work as proof of hours. There is a "special note" section on the front page that highlights the uncertainties this summer due to COVID-19.
Finally, registration for Club Y.E.S. during the 2020-2021 school year will open on August 5 in EPay. Any student who wishes to be a part of Club Y.E.S. next year must register or re-register in EPay.

If you have any questions, send an email to Brenda Badger, Club Y.E.S. Program Manager.
2020 President's Volunteer Service Award
Any Wayzata High School student who is interested in receiving recognition for his/her volunteer service done over the course of a year may apply for the President's Volunteer Service Award. Wayzata High School is a "certifying organization" and may issue awards to students who qualify once a year.

New Changes have been made for the 2020 President's Volunteer Service Award cycle:
New time frame! Hours for the award must now fall into the calendar year (January 1 - December 31, 2020)
No fee to apply for the award
Volunteer service must be within the U.S. (i.e., mission trips with U.S. churches to countries out of the U.S. do not qualify for the award)
Please review the 2020 PVSA Information Flier & Application Details and 2020 PVSA Hours Tracking Form before applying.
Recognize A WHS Staff Member

Recognizing Mark Gitch, Orchestra Teacher
Mr. Gitch practices incredible patience with his students. I'm continually amazed at how he empathizes with students that may be a challenge for others and does so in an upbeat and encouraging way. His personal investment of time outside the classroom with both parent and student is unequaled. - Rhonda Palmersheim
Share the good things - Recognize a WHS Staff Member
Class of 2020/Senior Information
Graduation Cap & Gown Orders
If your senior has not yet ordered their cap and gown, please note that there will be extras available when we get our Senior Cap & Gown Distribution Day rescheduled. The cap, gown and tassel are supplied to each senior by the District at no cost. If you have further questions, you may contact the Lifetouch rep, Carson Amiot.
Senior Lunch Account Balances
If your senior leaves a balance after May 28, be sure to check out your lunch account balance options available through Culinary Express.
Senior Party 2020 Information
Senior Party Information
Mark your calendars for the the night of August 1 for the Senior All Night Party. With the date change for graduation, we have confirmed the date change for this fun-filled event. More details will follow. Stay up to date and submit your email for direct parent update notifications by visiting our Senior Party website!
Wayzata Education Fund's Thank a Teacher Program
We have the best teachers and staff around, and never has it been clearer than during these unprecedented times. Whether they've helped make a difference in person or virtually this year, show your appreciation by participating in our
Thank a Teacher program
. From May 4 to June 3, any donation you make to the
Wayzata Education Fund
honoring a teacher or staff will come with a certificate of appreciation from your student. Additionally, if you donate $25 or more, they will also receive a bundlet from
Nothing Bundt Cakes Minnetonka
. Say thank you and support a good cause at the same time!
Certificates will be sent via email. Bundlets will be delivered at a later date when it is deemed safe to do so, and when teachers and staff are back on school property.
---
What can I do to protect myself and others?
Avoid being around others who are sick – when to keep your child home. When reporting attendance in Skyward Family Access, note that we have added Influenza-like Illness (oral temperature of 100° F or higher with a cough or sore throat) as an option. If your child has an oral temperature of 100° F or higher, please keep him/her home until they have been fever-free without medication for 24 hours.
Cover your nose and mouth with a tissue when you cough or sneeze, or cough or sneeze into your sleeve.
Wash your hands often with soap and water or an alcohol-based hand sanitizer.
Do not share drinking cups and straws.
Frequently clean commonly touched surfaces (doorknobs, refrigerator handles, phones, water faucets).
Talking to Kids About the Coronavirus – Child Mind Institute.
---
We've had so many great Ask Ali questions in our inbox – thanks to all who have submitted! Ali, along with her network of local experts, has been working hard to answer these questions. Responses are posted every Monday on her blog at partnersinpreventionmn.org/askali. Parents, you've got to check out the responses to these questions! There are some interesting ones that have been asked; chances are you might be wondering some of these things.
We welcome you to our online classrooms! Our online classes ensure that you are able to gain valuable information, stay on track with your fitness routine, learn new skills, and connect with others during the next month. Our buildings may be closed, but lifelong learning never stops. We are offering a variety of online classes for adult and youth. You can find all the online options on our
registration site
.
---
Stay Creative While You Stay At Home!
In these days of social distancing and stay-at-home guidance, it's more important than ever to connect with friends and family members and to continue expressing your creativity.

Destination Imagination's Global Finals 2020 Virtual Tournament (GF20) is a one-of-a-kind collaborative problem-solving experience that takes place online and is open to all students and families (yes, you read that right!) who enjoy being creative, collaborative, and solving fun challenges that require out-of-the-box thinking. You do not need to have been on a Destination Imagination (DI) team for the 2019-20 DI season in order to participate. GF20 is a whole new experience and is open to EVERYONE!

For Global Finals 2020, you will work with your DI teammates, friends, or family members online to participate in several different Challenge Experiences. The cost to participate in the Global Finals 2020 Virtual Tournament is $199. Your team may participate in as many or as few of these Challenge Experiences as you choose. GF20 teams will compete for a number of awesome awards and prizes! Check them out here.
We're excited to welcome everyone to the Summer of Creativity and hope you'll join us for this historic, one-time-only event! Learn more on the Global Finals website.
Thursday, May 28, 2020
All day
Saturday, August 1, 2020
6:30 PM - 9:00 PM
Monday, May 18, 2020
4:00 PM - 6:00 PM
4955 Peony Lane, Plymouth, MN 55446 | Phone 763-745-6600