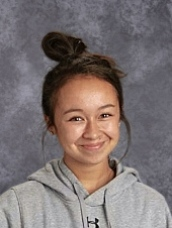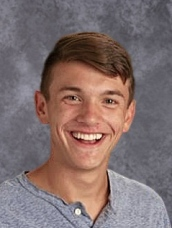 Senior Speech Winners
Senior Speech winners for 2020 Commencement are Coco Crandall and Ian Zukor. Congratulations!
Dates to Remember - Important Status/Updated Information

As we continue to move through the challenges we are all dealing with, we will keep you updated regarding the status of the events still happening listed here:
May 5 - Coffee with the Principal, 7:00 - 8:30 a.m., B204 (2nd Floor Forum) - Canceled
May 16 - Prom, 8 :00 p.m. - Midnight, International Market Square - Canceled
May 18 - Senior Awards Ceremony, 7:00 p.m., Auditorium 1 (This event had been moved from May 4 to May 18.) - Canceled
As of April 20, the following events are still scheduled:
May 7 & 8 - Magic Theatre Band Concert, 7:30 p.m., Auditorium 1

May 14 & 15 - A Moment In Time Choir Concert, 7:30 p.m., Auditorium 1

May 21 - Orchestra Concert, 7:30 p.m., Auditorium 1

May 22 - Senior Directed One Act Performances, 7:00 p.m., Black Box

May 23 - Senior Directed One Act Performances, 1:00 p.m., Black Box

May 26 - Band Concert, 7:30 p.m., Auditorium 2

May 28 - Last Day for Seniors

May 28 - Band Concert, 7:30 p.m., Auditorium 1

August 1 - Commencement Ceremony, 6:30 p.m., Mariucci Arena (This event has been postponed from May 29 to August 1.)
Yearbook Update
This year a total of 440 pages are being printed for the 2020 Wayako yearbook! The yearbook staff worked very hard before spring break to complete the main book. Thank you to those who helped by submitting photos and quotes. Currently, the yearbook staff is working on the supplement. The supplement will be like no other as they try to capture this unique learning and sports season. Don't forget to buy your copy to capture these memories that people will talk about for years to come! We have a limited number of books left to purchase. You can purchase a book through the WHS Yearbook website. We will keep you posted about how yearbooks will be distributed as soon as we get more information on the school format in May.
Virtual Calming Room - Correction
Our apology for last week's article which contained a bad link for the Virtual Calming Room. Please use this corrected link for the Virtual Calming Room.
Keeping Your Family Healthy
Vaping continues to be a significant struggle for youth. They are flooded with inaccurate information and are specifically targeted by tobacco companies. Juul (a leading producer of electronic vaping devices) has purchased ads on many websites designed to help adolescents with their homework. They have also sought out celebrities and social media influencers with underage followers to help attract youth. According to the latest Minnesota Student Survey, 77.1 % of 11th graders at Wayzata High School did not vape or use an electronic cigarettes in the past 30 days. It has also been reported that 89.3% recognize some level of risk harming themselves physically or in other ways if they use vaping devices (slight, moderate, or great risk). Despite the social pressures, the data shows that the majority of students do not use vaping products. To continue to help support students make good choices regarding substance use, parents and families can make a huge difference. Research shows that many students do not want to disappoint their parents, and therefore do not drink alcohol or use other drugs. Many parents are interested in resources to support their young person in making healthy choices. It may also be helpful for care givers to learn more about electronic cigarettes and risks of use.
If you have any concerns related to substance use or want to learn more, please feel free to contact me directly for support and guidance. I can be reached at 763-509-3963 or by email at cdoth@hazeldenbettyford.org.

Cindy Doth
Outreach Manager, Hazelden Betty Ford Foundation
Science Department News
Hello from the Science Department! In these unprecedented times, the importance of having a society that understands science is clear. Now is the time that all those good things we teach in our classes become suddenly relevant to day to day life including how the immune system works, why PCR is used to detect an illness in a blood sample, how a virus infects a cell, how to read a graph, how to critically analyze and interpret data from reputable sources, and the value of scientific modeling. Our students can understand what is happening in the world around them because of what we teach in our classes. Ask your students to interpret the front page of the paper, and if any questions arise in their minds, they can bring those questions to our distance-learning meetings!

The teachers in the Science Department are working hard. We have been delivering our curriculum remotely with our students' needs in mind. We have always known that a great deal of science can be learned at home. The major challenge we face is how to replace in-classroom hands on learning with distance learning instruction and web-based tools. Fortunately, many resources have been created over the last 10 years or so. We have web-based simulation programs, animations of processes, and even videos of teachers demonstrating labs. Had the COVID-19 lock-down happened 15 years ago, this would have been even more difficult.

We look forward to the time when we can see your student in our classroom, ready to dissect animals, investigate chemical reactions, and model physics phenomena. Until then, encourage curiosity and experimentation at home. Science doesn't have to happen within the classroom and the WHS Science Department is here for your student to support their needs during this time.
Highlight from the Physics Department:
On Friday, April 17, students in our Particle Physics class participated in an International Masterclass in which they worked in pairs to analyze the muons detected when two proton beams were collided in the LHC at CERN. However, WHS students were not the only ones doing this analysis. Over 250 high school aged students world-wide were completing this analysis on the same day. With everyone's help, close to 11,500 collisions were analyzed. After checking in with Mrs. Foss through Zoom to discuss their results, students were then led through a discussion of the significance of their findings by Fermilab Physicist, Allison Hill, and professors Sadhir Malik of the University of Puerto Rico Mayaguez and David Martinez of SD Mines and Technology. The students seemed to really enjoy the experience and were even able to "ask the physicists anything" after the organized discussion. It was a fantastic way to engage students. Thanks Mrs. Foss for providing our students with this opportunity!
Recognize A WHS Staff Member

Recognizing - Jeff Dahl, Choir Teacher
Amazing teacher, exemplary leader, inspiring, kind and caring. He welcomed my son as a freshman into his class. He inspired the love of music in my son. He is a kind and caring man who sets an amazing example of how to treat each other. From a simple "hi" in the hallways to constructive advice, he leads by example whether my son is currently in his class now or not. Bravo to Mr. Dahl and thank you for all that you do. - Shelley Fischer
Share the good things - Recognize a WHS Staff Member
Class of 2020/Senior Information
Graduation Cap & Gown Orders
If your senior has not yet ordered their cap and gown, please note that there will be extras available when we get our Senior Cap & Gown Distribution Day rescheduled. The cap, gown and tassel are supplied to each senior by the District at no cost. If you have further questions, you may contact the Lifetouch rep, Carson Amiot.
Senior Party 2020 Information
Senior Party Information
Mark your calendars for the the night of August 1 for the Senior All Night Party. With the date change for graduation, we have confirmed the date change for this fun-filled event. More details will follow. The Senior Party has merchandise available for sale through our website. Options include yard signs, banners and note cards that can be used as graduation cards or thank you notes. Orders due by May 1.
Stay up to date, purchase merchandise, and submit your email for direct parent update notifications by visiting our Senior Party website!
What can I do to protect myself and others during Cold & Flu Season?
Avoid being around others who are sick – when to keep your child home. When reporting attendance in Skyward Family Access, note that we have added Influenza-like Illness (oral temperature of 100° F or higher with a cough or sore throat) as an option. If your child has an oral temperature of 100° F or higher, please keep him/her home until they have been fever-free without medication for 24 hours.
Cover your nose and mouth with a tissue when you cough or sneeze, or cough or sneeze into your sleeve.
Wash your hands often with soap and water or an alcohol-based hand sanitizer.
Do not share drinking cups and straws.
Frequently clean commonly touched surfaces (doorknobs, refrigerator handles, phones, water faucets).
Talking to Kids About the Coronavirus – Child Mind Institute.
---
We've had so many great Ask Ali questions in our inbox – thanks to all who have submitted! Ali, along with her network of local experts, has been working hard to answer these questions. Responses are posted every Monday on her blog at partnersinpreventionmn.org/askali. Parents, you've got to check out the responses to these questions! There are some interesting ones that have been asked; chances are you might be wondering some of these things.
New Online Classes
We welcome you to our online classrooms! Our online classes ensure that you are able to gain valuable information, stay on track with your fitness routine, learn new skills, and connect with others during the next month. Our buildings may be closed, but lifelong learning never stops. We are offering a variety of online classes for adult and youth. You can find all the online options on our registration site.
Monday, April 27, 2020
4:00 PM - 6:00 PM
Monday, May 11, 2020
7:00 PM - 9:00 PM
4955 Peony Lane, Plymouth, MN 55446 | Phone 763-745-6600