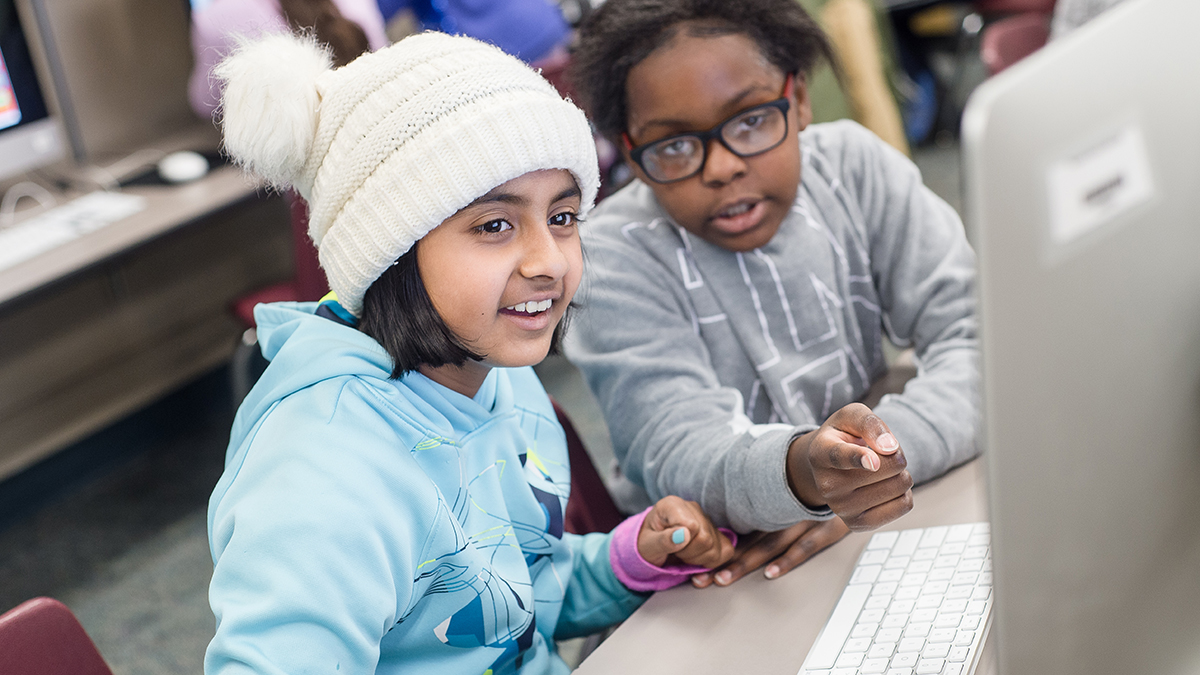 Message from Dr. Thompson
Dear Plymouth Creek Parents, Students and Staff,
As we continue to experience unprecedented times, I want to assure you that together we will get through this. As a staff we are constantly responding to new information and guidelines and working hard to be ready to start eLearning on Monday, April 6. Thank you for your patience and support as we are all navigating new norms in our families, homes, and learning. As you continue to take the necessary steps to keep your family healthy, we want to remind you to also take care of your emotional health and the social / emotional health of your children. Below are three messages we hope you find helpful:
A message from me to students and families that I'd love for you to share with your children.

A message from our social worker, Mrs. Shoultz with some tips for parents to support the social/emotional needs of children tips for parents to support the social/emotional needs of children during this challenging time and the importance of maintaining a routine/schedule at home for your children.

A fun story shared by one of our 5th grade teachers, Mrs. Schmidt, which is appropriate for all grades.
Thank you,
Dr. Thompson
Love by Matt de la Pena
Here's a fun book Mrs. Schmidt, one of our fifth grade teachers shared with me. I hope you enjoy it.
Below are a few tips to help you maintain your physical and emotional health during this period.

Take care of yourself physically
If possible, try to get in at least 15-30 min. of light exercise a day. Any activity that raises your heart rate such as walking or riding a bike will help combat stress, raise the endorphins (mood stabilizers) in your brain, and promote better sleep.

Eating healthy and good nutrition are essential in combating stress and perhaps the single most important ingredient in maintaining good overall health. When bored, avoid eating foods that are high in fats, salt, and sugary. Instead, go easy on that stuff and eat fruit, nuts, whole grain bread, and breakfast cereals. These are much healthier options.

Stay connected to others
It's time to take advantage of social media in a good way. Keeping in touch with family and friends, assisting those in need, and reaching out to support others is a good way to feel like you're still connected with others. These activities also help avoid feelings of isolation. Making cards for the elderly who are isolated from families in nursing homes is a very good activity. When we focus on helping others, it actually feels good and we find meaning in it.

Use healthy news habits: not too much & use trusted sources
Due to the prevalence of Social Media there is good and bad to take with it. There is a lot of information out there on the Coronavirus -- both accurate and inaccurate. All this information can be overwhelming and confusing. Take breaks from reading, watching and even talking about the coronavirus as much as you can to protect your sanity.

Focus on things that you can control
Focusing on the things that we can't control can have a negative effect on our emotions. Feelings of having no control will cause you to worry. When we focus on the things we can control, we don't worry about what we can't. This type of thinking always puts us on the right track

Maintain a sense of hope and positive thinking
Despite our current circumstances, we can still have hope in our futures by focusing on the positives in our lives. One day we know that this coronavirus thing will end, and we will move on from it. In the meantime, we all have things, people, family, and circumstances that are positive in our lives. This gives us reasons to be thankful by providing us a sense of hope for our futures.

Maintain normal routines as much as possible
To fight the dreaded feeling of being bored, do your best to structure your time so that you are on a routine daily. Structured time for reading, journaling, and perhaps movies will help you maintain your internal clock for when you need to be ready to jump back into academics. Also, structured time for exercise, communicating with friends, and spending time with your family are good ways to fight boredom. Avoid sleeping-in all day and long periods of no activity. This behavior will set you up for possible emotional challenges from being bored.

Take the time to learn new skills like cooking, hobbies, etc
Taking the time to learn new skills has numerous benefits. First, learning new skills will provide you with more options to entertain yourself far beyond after we recover from this coronavirus thing. And, learning new activates is just a fun way to learn. Keeping your brain active by learning new skills will also help you prepare you for when we do get back to school.
Reporting Attendance in Skyward Family Access
A reminder that all absences (vacations, religious holidays, doctor appointments, illnesses, family emergencies, etc) should be entered via Skyward Family Access. Families will no longer need to complete a Travel Plan Form when they go on vacation, as all absences are now entered via Skyward Family Access. A few reminders when it comes to attendance:
Children are considered unexcused without an entry in Skyward Family Access or a call to the attendance line from a parent or guardian.

Students will also be marked unexcused if they arrive late to school and are not escorted into the office by a parent or adult.

When you are submitting the attendance request in Skyward Family Access, you must be logged in as a parent, not a student.

Calls to the attendance line (763-745-5855) should be reserved for last-minute attendance requests or changes.

Remember to also reach out to your classroom teacher to notify them of a planned full-day or multi-day absence.
Emergency Information Form
For a variety of reasons, there is often a need to contact you throughout the course of the school year. Parents/Guardians are asked to keep their contact information up-to-date in Skyward Family Access Emergency Information Form. Watch the Skyward Family Access video guide and to complete the form.

Box Tops are Going Digital!
If you still have a collection of the traditional clippings, please continue to turn those into your child's teacher, the office, or the container by the gym door, but be aware that the physical Box Tops are being phased out. Plymouth Creek's lifetime earnings from Box Tops is almost $38,000! This is a fantastic program that has benefited our children greatly over the years. Please take a minute to download the new Box Tops app, scan your receipts after each shopping trip, and watch our school earnings increase thanks to you!
Getting Ready for Distance Learning
We know that you and your family are still adjusting to this new normal and it's been challenging for everyone in different ways. Please remember that we are here for you and we will do our very best to support you.
Distance learning
will take place on
Seesaw
(K-3) and
Canvas
(4-5) beginning April 6, after spring break. If you have technical questions:
---
What can I do to protect myself and others during Cold & Flu Season?
Avoid being around others who are sick – when to keep your child home. When reporting attendance in Skyward Family Access, note that we have added Influenza-like Illness (oral temperature of 100° F or higher with a cough or sore throat) as an option. If your child has an oral temperature of 100° F or higher, please keep him/her home until they have been fever-free without medication for 24 hours.
Cover your nose and mouth with a tissue when you cough or sneeze, or cough or sneeze into your sleeve.
Wash your hands often with soap and water or an alcohol-based hand sanitizer.
Do not share drinking cups and straws.
Frequently clean commonly touched surfaces (doorknobs, refrigerator handles, phones, water faucets).
Talking to Kids About the Coronavirus – Child Mind Institute.
---
We've had so many great Ask Ali questions in our inbox – thanks to all who have submitted! Ali, along with her network of local experts, has been working hard to answer these questions. Responses are posted every Monday on her blog at partnersinpreventionmn.org/askali. Parents, you've got to check out the responses to these questions! There are some interesting ones that have been asked; chances are you might be wondering some of these things.
After school youth class opportunities at Plymouth Creek:
Dazzling, Sparkly Art
Hatchimals
Check out our youth summer camp preview!
New this year! Cricket Club at Greenwood, open to students grades 3-5 from all elementary schools. Find more information on our registration site.
Financial assistance is available, find more information here or call 763-745-5200.
---
Upcoming Events:
Young Scientist Roundtable: CANCELED: Beneficial Insects - Thursday, April 9
Parenting with Vision: Do you feel overwhelmed by your child's big emotions or behaviors? Do you find yourself in disbelief when they seem to do the exact opposite of what you ask them to? Are you feeling tired of the same arguments coming up in your home over and over? Join us on April 21 at 7 p.m. for "Dealing with Difficult Behavior" and learn tips and tools to address and prevent unwanted behaviors while staying connected with your child.
**While parents of any aged child are welcome and may find the tips and tools helpful, most examples and strategies are aimed for 3-14 years old.

Events are free with no registration required.
Monday, April 13, 2020
7:00 PM - 9:00 PM
Monday, April 27, 2020
4:00 PM - 6:00 PM
16005 41st Avenue North, Plymouth, MN 55446 | 763-745-5800