March 9 - Selective College Night, 6:30 - 8:30 p.m., Auditorium 2

March 10 - Band Concert, 7:30 - 9:30 p.m., Auditorium 1

March 10 - Orchestra Concert, 7:30 - 9:30 p.m., Auditorium 2

March 12 - Orchestra Concert, 7:30 - 9:30 p.m., Auditorium 2

March 13 - Band Concert, 7:30 - 9:30 p.m., Auditorium 1

March 19 - Choir Concert, 7:30 p.m., Auditorium 1
WHS Science Olympiad Team Takes 1st Place in State Competition
Congratulations to the WHS Science Olympiad Team and coaches for taking first place on March 7 for the MN State Competition which was held at Bethel University in St. Paul! The National Science Olympiad Tournament will take place May 14 - May 16 in Raleigh, North Carolina on the North Carolina State University (NCSU) campus. The team will be staying three nights in the dorms on campus and get a glimpse into college life. In addition to the tournament and celebration itself, the team will also experience a "behind the scenes" tour of the Museum of Natural Sciences and a STEM expo.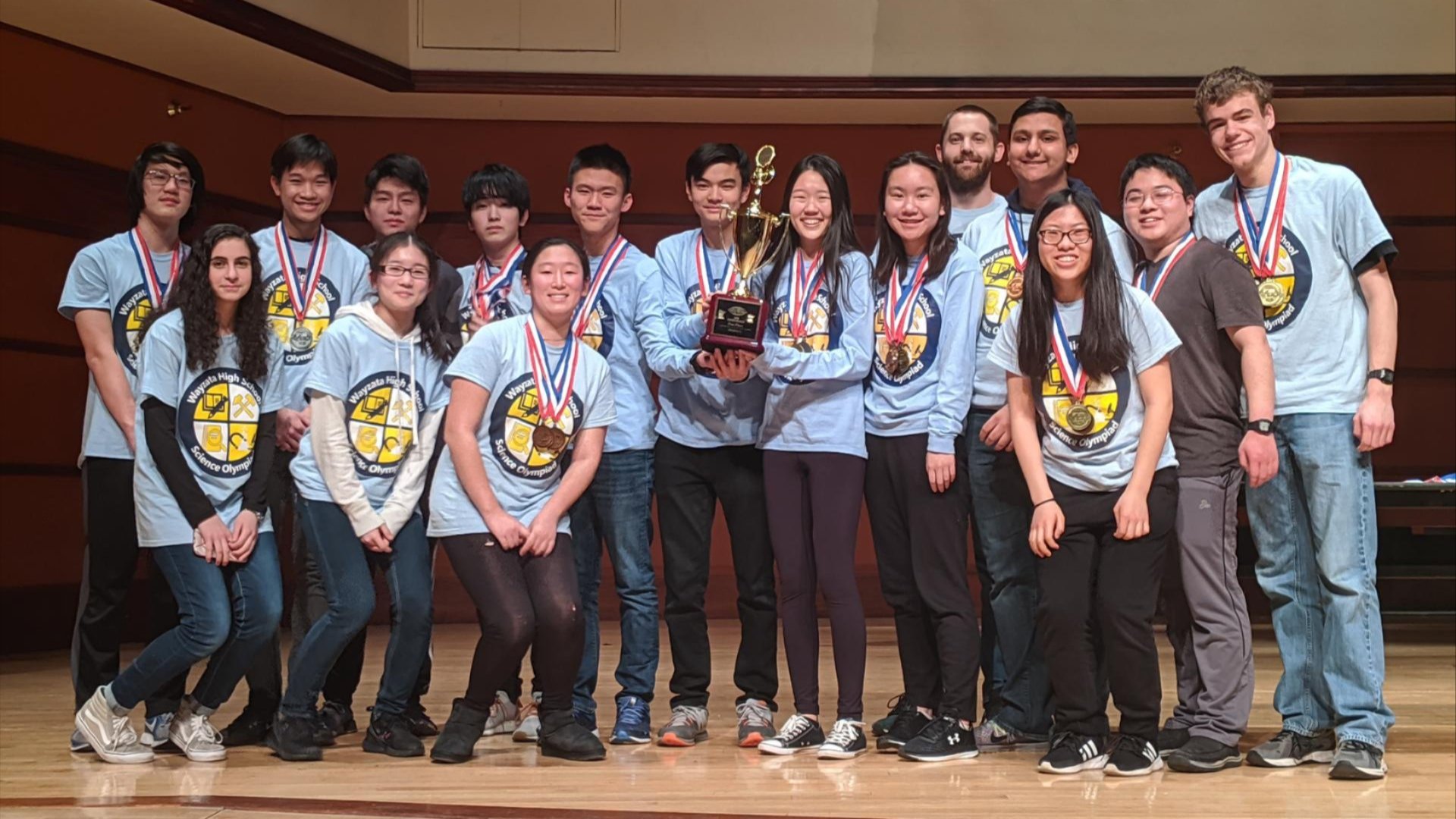 Selective College Night - March 9, 6:30 - 8:30 p.m., Auditorium 2
Come meet with representatives from universities and colleges. They will offer insight and candid remarks about the general application process as well as updates about each of their respective campuses. A short Q & A will follow the presentation.
Mid Term Grades
Mid Term grades will no longer be posted in Skyward Family Access. Grades are constantly being updated in Skyward Family Access, so there is no longer a need for mid term grades.
Skyward Student Information
Please log into Skyward to ensure your student's full name is spelled correctly. The name in Skyward is your student's legal name (name on birth certificate) and is used for transcripts, diplomas and all documents supplied by WHS. Contact the Welcome Center at 763-745-5240 if your student's legal name is not spelled correctly. You will need to supply the Welcome Center with a passport or birth certificate to change the legal name.
Student Withdrawals
Moving? Changing schools? Please contact Nancy Vogt, High School Registrar, at 763-745-6731. If your student is leaving before the end of the school year, please have your student stop by the Administrative Office on the 2nd floor and fill out a Withdrawal Form.
Family & Consumer Science Department News
There is a lot happening in the Child Psychology One Class. Check it out! Students in Child Psychology I learn about infant & toddler development, the biological and environmental factors that shape human development, prenatal development, and the physical, intellectual, emotional, social, and moral development of infants and toddlers. Students have the opportunity to interact with guest instructors throughout the term. One of the guest instructors is Sandy Klein-Mirviss, MS OTR/L, Pediatric Occupational Therapist and Director of Unified Therapies at The Family Partnership in Minneapolis. The students are educated specifically on understanding and working with children who were prenatally exposed to drugs and/or alcohol. At the end of the term, the students have the opportunity to give back to the community by bringing in donations for the children and families at The Family Partnership. The Family Partnership is an innovative and highly impacting nonprofit in the Twin Cities area whose mission is building strong families, vital communities, and better futures for children.
Class of 2020/Senior Information
Graduation Cap & Gown Orders Due February 28
Graduation cap and gown orders were due to Lifetouch February 28. If your senior has not yet ordered their cap and gown, please note that there will be extras available on April 29 at the upcoming Senior Cap & Gown Distribution Day. The cap, gown and tassel are supplied to each senior by the District at no cost. If you have further questions, you may contact the Lifetouch rep, Carson Amiot.
Senior Party 2020 Information
Senior Party Information
As we get closer to graduation, Senior Party information will continue to be updated. Please submit your email to wayzata.seniorparty@gmail.com to receive all updates. Be sure to check our Senior Party website frequently!
Spring Sports Registration
Athletic registration for spring sports began on February 11. Please visit the registration web page for more information.
What can I do to protect myself and others during Cold & Flu Season?
Avoid being around others who are sick – when to keep your child home.
Cover your nose and mouth with a tissue when you cough or sneeze, or cough or sneeze into your sleeve.
Wash your hands often with soap and water or an alcohol-based hand sanitizer.
Do not share drinking cups and straws.
Frequently clean commonly touched surfaces (doorknobs, refrigerator handles, phones, water faucets).
Talking to Kids About the Coronavirus – Child Mind Institute.
---
We've had so many great Ask Ali questions in our inbox – thanks to all who have submitted! Ali, along with her network of local experts, has been working hard to answer these questions. Responses are posted every Monday on her blog at partnersinpreventionmn.org/askali. Parents, you've got to check out the responses to these questions! There are some interesting ones that have been asked; chances are you might be wondering some of these things.
Did you know that Wayzata High School has a co-ed Badminton Team! Registration is now open for the spring 2020 season. Whether you want to compete and improve your skills, or just play for fun, we have options for everyone. Join the captains at an upcoming information meeting on March 12 at 3:30 p.m. or Friday, March 13 at 7:30 a.m. in B403 Forum Room. You can also find more information on our registration site.
---
Upcoming Events:
Young Scientist Roundtable: Facial Surgery: Where Dentistry Meets Medicine - Dr. Deepak Kademani, oral & maxillofacial surgery specialist, sees patients from all over the state and region for complex head and neck problems. Dr. Kademani will highlight developments in facial surgery, and the overlap of dentistry and medicine. Tomorrow, March 10 at 7 p.m., Central Middle School Auditorium

Events are free with no registration required.
Tuesday, March 10, 2020
7:00 PM - 8:45 PM
Thursday, April 9, 2020
7:00 PM - 8:40 PM
Tuesday, April 21, 2020
7:00 PM - 8:30 PM
Monday, March 9, 2020
7:00 PM - 9:00 PM
Monday, March 23, 2020
4:00 PM - 6:00 PM
4955 Peony Lane, Plymouth, MN 55446 | Phone 763-745-6600