February 3 - 18 - 2020-2021 Course Registration Window

February 3 - 7 - NHS Snow Days

February 3 - Registration Information/Incoming 9th Grade Parent Orientation Night, 6:00 - 9:00 p.m.

February 5 - Open House - Winter/Semester 2, 5:00 - 8:30 p.m.

February 7 - Mr. Wayzata Performance, 7:00 - 9:00 p.m., Auditorium 1

February 8 - Sadie Hawkins Dance, 8:00 - 11:00 p.m., Culinary Express

February 10 - Club Y.E.S. Registration for Semester 2 Closes in EPay at 8:00 a.m.

February 10 - Term 2 Report Cards Posted in Family Access
Coffee With the Principal, February 11, 11:00 a.m. - 12:30 p.m., WHS Upper Commons
Join Principal Scott Gengler and other WHS parents for the next Coffee with the Principal. In preparation for the 2020-21 class registration, Associate Principal, Tyler Shepard, will be there to tell us about new courses and registration-related news. This is a casual gathering for all parents of WHS students. Come to learn and ask questions. Lunch will be provided by the PTO.
Student Parking Changes
With the increasing demand for student parking spaces and our dedication to continuously improving the student experience, Wayzata High School will be making some changes to our parking lot access for the remainder of the 2019-2020 school year. The"Daily Parking Lot" will become a permitted lot. It will be utilized as overflow parking for Zone 1 and will also serve as the lot for students with a Zone 2 parking permit.
Trojan Way and the Turf Lot (current Zone 2 parking) will convert to daily free parking as well as overflow for Zone 1 and 2 permits. Please refer to the image below. All students who wish to utilize daily free parking must register their vehicle by following the registration procedure on EPay. This is only required once per school year.
These changes should provide more students with an opportunity to park on campus and will take effect immediately.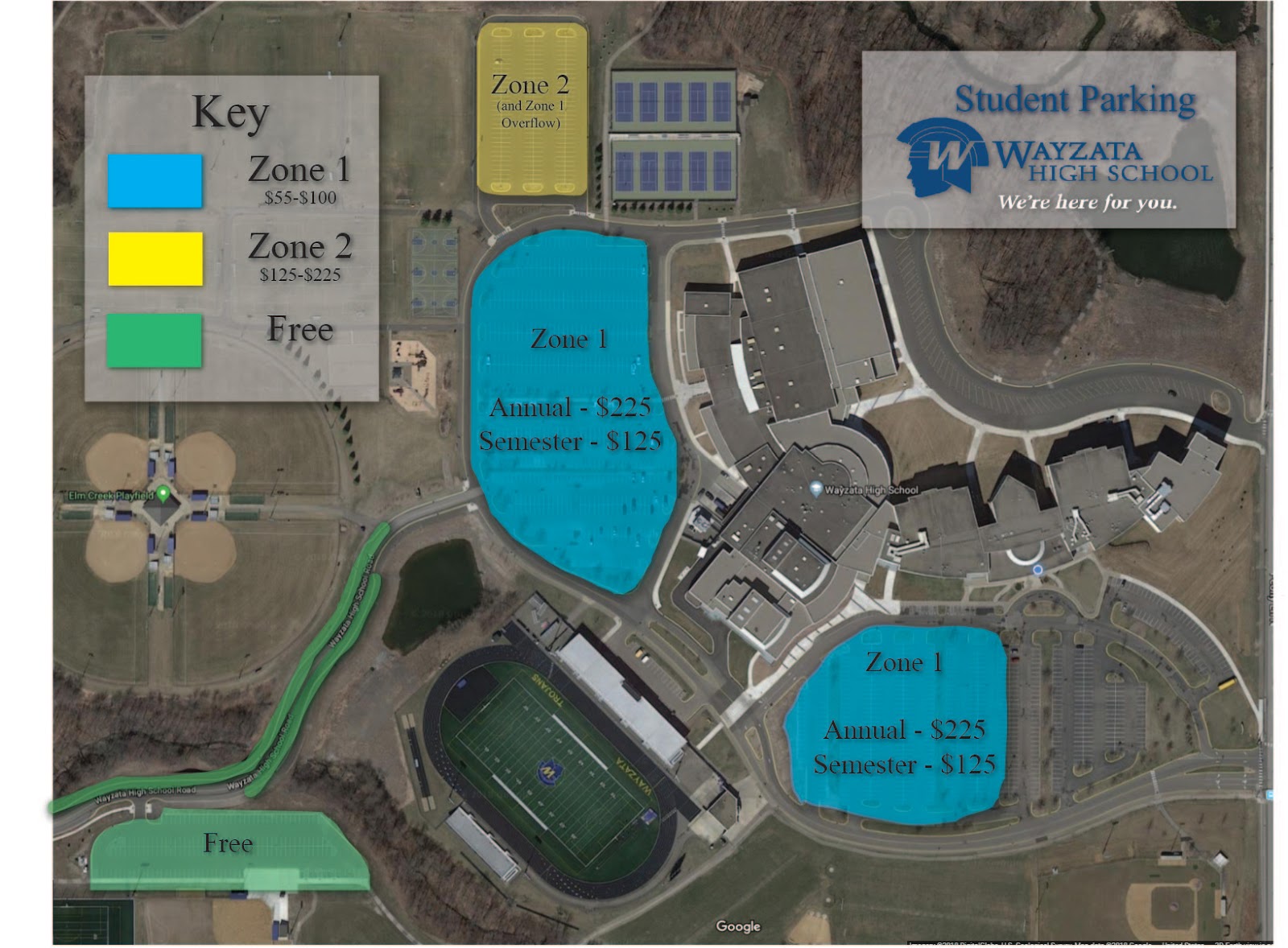 Lake Conference Nordic Ski Championships
The Wayzata girls Nordic ski team finished first while the Trojans' boys placed second at the Lake Conference championships Thursday. Wayzata's Colin Freed and Lauren McCollor won the boys and girls races respectively. Congratulations WHS Nordic Ski Teams!
Registration Information Night - February 3, 6:00 - 9:00 p.m.
All parents are invited to Registration Information Night tonight. Registration Information Night is a drop-in opportunity for you and/or your student to explore course options for next year. Teachers will be available by department from 6:00-9:00 p.m. throughout our 1st and 2nd floors to answer questions related to course registration and scheduling, to provide you with a better understanding of what your student will experience in class, and to offer seminars on specific topics related to course selection, registration, and more! Review the schedules, below:
Seminar Schedule: Parents of students entering Grade 10 [http://bit.ly/30Owgeq]
Seminar Schedule: Parents of students entering Grades 11-12 [http://bit.ly/2GoB2pu]
Please check the email you have already received for more details about this event.
President's Volunteer Service Award Applications Due - February 7
Student applications for the President's Volunteer Service Award are due no later than 3:30 p.m. on Friday, February 7. Completed applications must be submitted to the Club Y.E.S. office. See the President's Volunteer Service Award Instructions for more information and for links to the application form.
Career & Technical Education Fair - February 19, WHS Upper Commons
The 3rd Annual Career and Technical Education (CTE) Fair will feature representatives from various careers, trades, businesses, technical and community colleges, and specialty schools. It will be open to all students and parents from 4 - 7 .p.m during Parent Teacher Conferences on Wednesday, February 19, 2020.Students will have the opportunity to interact with employers and educational institutions that teach/employ in various career fields. The fair exhibitors will offer virtual technology to simulate various career pathways so students can get hands-on experience of real jobs that are in high demand. Students can also learn about careers that offer apprenticeships and other opportunities.
If you have any questions, please contact Deb Musser at deb.musser@wayzataschools.org or Kyle Swenson at kyle.swenson@wayzataschools.org.
WHS Compass Department News
The Wayzata High School Compass Professional Studies program might be a great option to consider as you help your child register for classes next year. In Compass, our students:
Explore careers related to course topics

Learn from industry professionals and work on customer projects

Are supported by two teachers and a mentor

Experience a dynamic learning environment

Are eligible for free college credit
The following four classes are currently offered as part of the Compass program. Please email scott.tordeur@wayzataschools. org with questions or stop by the Compass table on Registration Information Night. More information is included in our department news.

Fall/Spring Semester Classes:
Course 9992C - Graphic Communications

Course 9993 - Cybersecurity and Applied Mathematics

Course 9994C - Ecology of Food and Nutrition

Course 9991C - Business Management and Economics (SENIORS only)
What's Cooking in Culinary
Volunteer Table Washers Urgently Needed
Calling all parents - we need you! Culinary Express needs you to be a Table Washer in the cafeteria – pick any date that works for you and it only takes two hours! Culinary Express relies strictly on parent volunteers to wash tables after lunches are done. If you only pick one thing to volunteer for at the high school this year, please consider helping out in this area. For every hour covered by a volunteer, Culinary Express pays for the volunteer time by contributing the funds raised to support the Senior Graduation Party each year. All parents are welcome to participate. Thank you!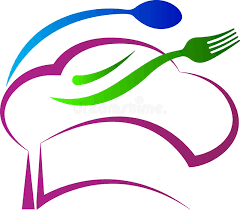 Class of 2020/Senior Information
Graduation Cap & Gown Orders - Due February 28, 2020
If your senior has not yet ordered their cap and gown, please have them do so. The cap, gown and tassel are supplied to each senior by the District at no cost. If you have further questions, you may contact the Lifetouch rep, Carson Amiot.
Senior Party 2020 Information
Senior Party Information
The Senior Party website is up and rolling! You can visit our website for all information on upcoming events , important dates and volunteer opportunities. Check back often!
Spring Sports Registration
Athletic Registration for spring sports begins February 11.
We've had so many great Ask Ali questions in our inbox – thanks to all who have submitted! Ali, along with her network of local experts, has been working hard to answer these questions. Responses are posted every Monday on her blog at partnersinpreventionmn.org/askali. Parents, you've got to check out the responses to these questions! There are some interesting ones that have been asked; chances are you might be wondering some of these things.
Check out our next ACT Prep seminar: ZAPS - ACT Preparation Workshop.
Financial assistance is available, find more information here or call 763-745-5200.
---
Upcoming Events:
Young Scientist Roundtable: Beneficial Insects - Many insects provide valuable goods and services to humans. Some of these services are used in very diverse fields including the garment industry, sport fishing, subjects for the study of aging and longevity, genetics, acoustics, and the physics of flight. In this presentation, Dr. Ferrington will provide a series of short examples of ways in which insects can be beneficial, including examples from the state of Minnesota. He will also bring in samples that will be looked at in small groups following the main presentation. Monday, February 3 at 7 p.m., Central Middle School Auditorium

Parenting with Vision: Gray Matter: Parenting Through Complicated Emerging Trends - A panel of experts will discuss the difficult in-between areas of parenting. From vaping to privacy, technology use and social media. These are just a few of the gray topics that parents face trying to address emerging trends and raising youth in a world where things aren't black and white. Monday, February 24 at 7 p.m., Central Middle School Auditorium

Events are free with no registration required.
Monday, February 10, 2020
7:00 PM - 9:00 PM
Monday, February 24, 2020
4:00 PM - 6:00 PM
4955 Peony Lane, Plymouth, MN 55446 | Phone 763-745-6600