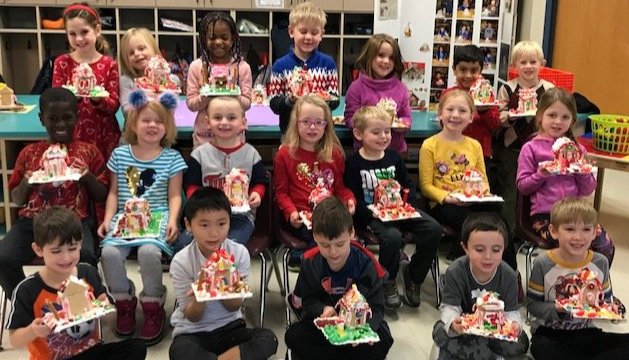 Message from Dr. Thompson
As of today, we still have not received our school photos from Lifetouch. We will notify all families via email as soon as we have a time frame for their arrival. In the meantime, Lifetouch has offered a full refund to families who purchased school pictures.
I would like to thank all of you for the continuous support and partnership that is present at our school every day. We are so fortunate to have such a supportive community and fantastic staff. From all of us at Plymouth Creek, we wish you a safe and enjoyable holiday season and winter break.
School will resume on Thursday, January 2. Our building will be closed over winter break starting Monday, December 23 - Wednesday, January 1. If your family will be traveling beyond these dates, please report your absences using Skyward Family Access. More detailed instructions can be found in the "Reminders" section below.
Our school health para, Sharon Hanson, is in need of clean, gently-used clothes:
Gender-neutral elastic-waistband pants, size 6-8 (colors such as navy, grey, black, green, blue, or district apparel are preferred)

Gender-neutral mittens and gloves
If you have items you are able to donate, we would appreciate it.
Panther Pride Winners - December 13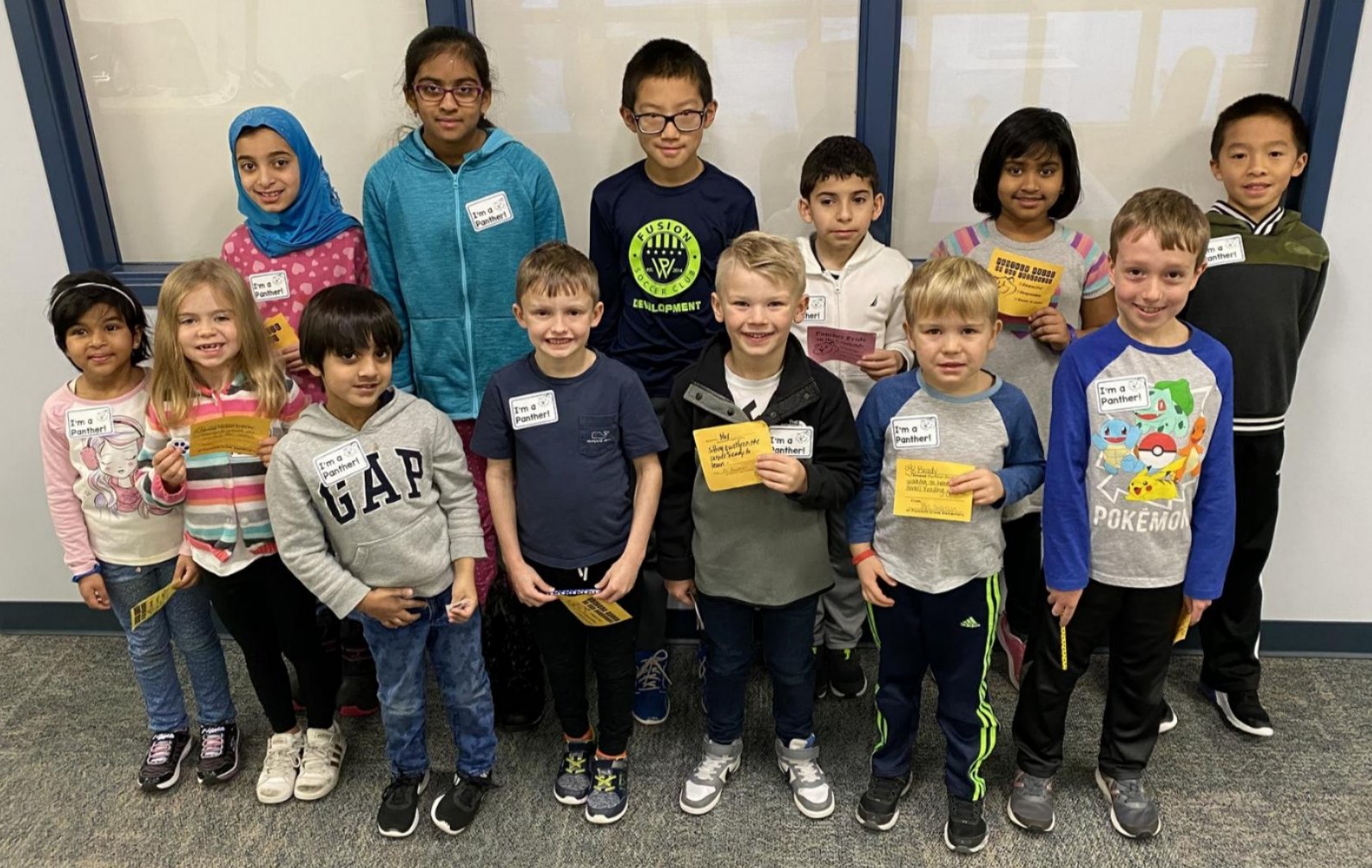 End-of-Day Change of Plans
If you have an end-of-day change that affects Home Base or any of the smaller childcare buses that serve the school, you must let them know if your student will not be riding that bus or attending Home Base. At the end of the day, we have to hold all buses if we are looking for students who are supposed to be in those locations. Thank you for your support in helping our end of day run smoothly!
Lost and Found
Please check out our lost and found, located in the front entryway. There is a large collection of gloves, sweatshirts, hats, and water bottles. Parents can stop by during the day or after school. Students can search for missing items before school or during their lunchtime.
Reporting Attendance in Skyward Family Access
As the holiday season approaches and families begin planning for trips and vacations, we wanted to remind you that all absences (vacations, religious holidays, doctor appointments, illnesses, family emergencies, etc) should be entered via Skyward Family Access. Families will no longer need to complete a Travel Plan Form when they go on vacation, as all absences are now entered via Skyward Family Access. A few reminders when it comes to attendance:
Children are considered unexcused without an entry in Skyward Family Access or a call to the attendance line from a parent or guardian.

Students will also be marked unexcused if they arrive late to school and are not escorted into the office by a parent or adult.

When you are submitting the attendance request in Skyward Family Access, you must be logged in as a parent, not a student.

Calls to the attendance line (763-745-5855) should be reserved for last-minute attendance requests or changes.

Remember to also reach out to your classroom teacher to notify them of a planned full-day or multi-day absence.
Emergency Information Form
For a variety of reasons, there is often a need to contact you throughout the course of the school year. Parents/Guardians are asked to keep their contact information up-to-date in Skyward Family Access Emergency Information Form. Watch the Skyward Family Access video guide and to complete the form.

Box Tops are Going Digital!
If you still have a collection of the traditional clippings, please continue to turn those into your child's teacher, the office, or the container by the gym door, but be aware that the physical Box Tops are being phased out. Plymouth Creek's lifetime earnings for Box Tops is almost $38,000! This is a fantastic program that has benefited our children greatly over the years. Please take a minute to download the new Box Tops app, scan your receipts after each shopping trip, and watch our school earnings increase thanks to you!
December Wayzata Legislative Action Committee Update
The Wayzata Legislative Action Committee (LAC) met Wednesday, November 11. Scott Croonquist, executive director of the Association of Metropolitan School Districts (AMSD), presented the 2020 AMSD Legislative Platform and Position Papers. AMSD, which Wayzata Public Schools is a member of, advocates for metropolitan school districts and works to advance legislation that supports student achievement. The LAC also discussed the draft of the 2020 Wayzata Legislative Platform, which Annie McDaniels, citizen chair of the Wayzata LAC, will present at the Monday, December 16 Wayzata School Board Work Session. In the coming months, members of the Wayzata LAC will be meeting with senators and representatives from the nine senate and house districts that represent Wayzata Public Schools to discuss these legislative positions. The Wayzata LAC is a non-partisan group of citizens that monitors legislative activity as it affects K-12 education and advocates positions on behalf of the district. For more information, please visit the Wayzata Committees webpage or contact Alexia Wierzbicki, your school's Wayzata LAC representative.
---
Cold, Flu, and Lice… What Can You Do to Help?
Influenza, commonly called "the flu", is a contagious respiratory illness caused by the influenza virus, which infects the nose, throat, and lungs. It can cause mild to severe illness, and at times can lead to death. If your child will be out sick with the flu, they must be without a fever for over 24 hours before returning to school. When contacting the school to report that your child is sick, please be specific including if the fever is 100 or greater and if your child has a cough or a sore throat. More information is available on the Minnesota Department of Health website.
Head lice are a common problem for children in childcare settings and schools and anybody can get it. Most cases of head lice are acquired outside of school. Remember to check your child's head after returning from a play date or sleepover – two common settings where head lice are spread. Regular observation by parents can also be an effective way to detect and quickly treat head lice. More information is available on the Minnesota Department of Health or CDC websites as well as ways to treat head lice.
When to keep your child home from school
---
Home Base is Hiring!
If you enjoy working with school-age children between PreK to grade 5, you may be qualified to work in our Home Base before- and after-school childcare program! You must be available to work after school during the school year and we have summer hours, too. Typical shifts are three hours, between 2:00 and 6:00 p.m. (up to four-hour shifts possible). Starting pay for Program Assistants is $14.78 per hour and $17.09 per hour for Program Instructors. Apply online today!
---
Wayzata Education Fund's Thank a Teacher Program
We have a lot of amazing teachers and staff here at Wayzata Public Schools. What better way to show them you appreciate them by giving back to our schools? From November 21 to December 17, any donation through Wayzata Education Fund's Thank A Teacher program will come with a certificate of appreciation to that teacher or staff member from the student named in the donation. As a bonus, any donation of $25 or more also comes with a bundlet from Nothing Bundt Cakes-Minnetonka, our generous partner in this program. Say thank you and support a good cause all in one!
---
We've had so many great Ask Ali questions in our inbox – thanks to all who have submitted! Ali, along with her network of local experts, has been working hard to answer these questions. Responses are posted every Monday on her blog at partnersinpreventionmn.org/askali. Parents, you've got to check out the responses to these questions! There are some interesting ones that have been asked; chances are you might be wondering some of these things.
Winter after school class opportunities at Plymouth Creek:
Yoga & Art
Art Lab
Engineering Club
Financial assistance is available, find more information here or call 763-745-5200.
---
Upcoming Events:
Young Scientist Roundtable: Man's Best Friend Helping to Treat Brain Cancer -There is groundbreaking work being done at the University of Minnesota's Veterinary Medical Center and Masonic Cancer Center in the treatment of brain tumors in dogs. Dr. Liz Pluhar, Board Certified Veterinary Neurosurgeon and Director of the Canine Brain Tumor Clinical Trials Program, will discuss new immunotherapies that greatly extended the survival of canine patients with Glioblastoma (GB) and how these are to be translated into trials in human GB patients. *note date change from the printed calendar
Wednesday, January 15 at 7 p.m., Central Middle School Auditorium

Parenting with Vision: Bully Proofing Your Kids - Bullying is experienced in a variety of forms and can be distressing for both kids and parents. Navigating the dynamics of bullying can be complicated and has become even more difficult with the prevalence of cell phones and social media. Parents may feel overwhelmed, defenseless and caught off guard when issues of bullying emerge with their child. Learn about the different types of bullying that exist, who is likely to be affected, and what parents can be attuned to, and leave with tools that can be used within parent-child relationships to be preventative and responsive to issues of bullying. January 13 at 7 p.m., Central Middle School Auditorium
**Most examples in this presentation will pertain to students within the ages of kindergarten through 8th grade. However, all parents, grandparents, and caregivers are invited to attend.

Events are free with no registration required.
Monday, January 13, 2020
7:00 PM - 9:00 PM
Monday, January 27, 2020
4:00 PM - 6:00 PM
16005 41st Avenue North, Plymouth, MN 55446 | 763-745-5800