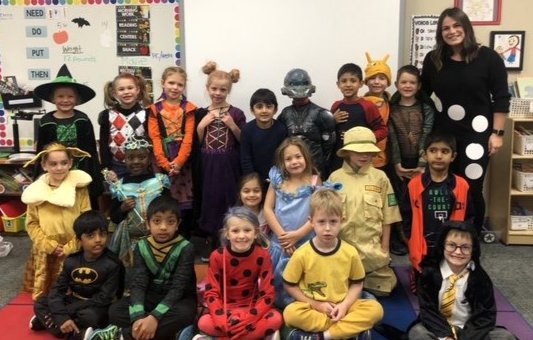 Message from Dr. Thompson
Thank you to all the volunteers, as well as Mrs. Lapensky and Mrs. DuPre for a very successful book fair and is still going today 7:30 a.m. - 8:00 p.m., and tomorrow 7:30 a.m. - 5:00 p.m. Family Service Night is tonight from 6:00-8:00 p.m. Thank you to all who donated food for the lunches for Mary's Place. We will be making 1200 lunches at Family Service Night tonight, and they will be delivered tomorrow morning to families in need. We hope to see you tonight.
Thank you again to all the volunteers, Mrs. Avelar Mrs. McAuliff, and the student council, for all your work in making our service project a wonderful event. Student council is hosting a concession stand this evening during our Family Service Night, with proceeds going to Make-A-Wish Foundation of Minnesota. In addition, students will be writing cards to children with cancer, in support of the Pinky Swear Foundation.
It certainly feels like winter is here to stay. Please remind your children to wear appropriate attire to school since students go to recess everyday. Remember to label every item (hats, snow pants, jackets, gloves) with your student's name, so that it can be returned to the student; otherwise it will end up in our lost and found by the gym.
Panther Pride Winners - November 1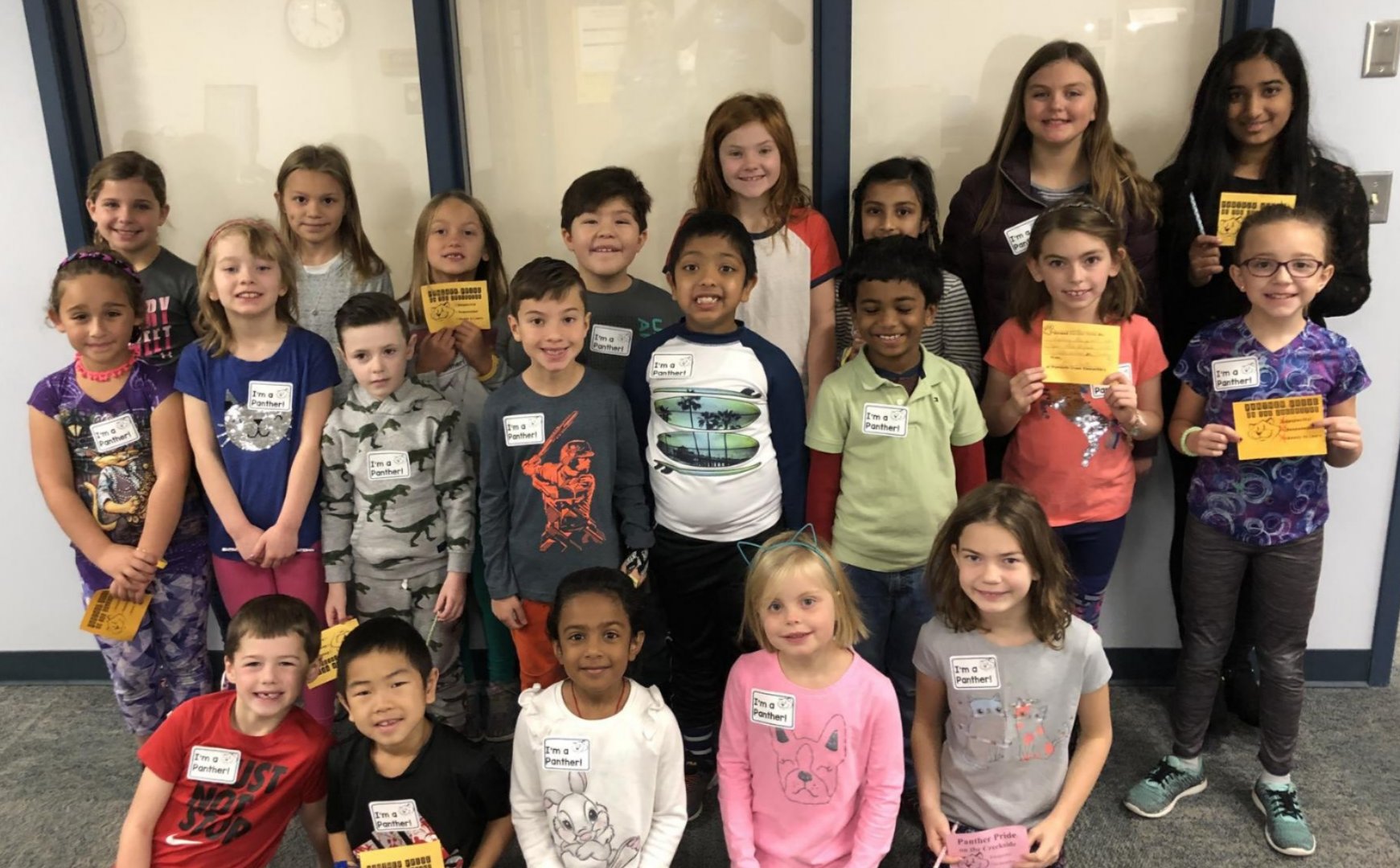 Picture Retake Day
Due to the fact there has been a delay in getting your school picture packages, retake day has been rescheduled for Wednesday, November 20. Pictures can be ordered online.
Lost and Found
Please check out our lost and found, located in the front entryway. There is a large collection of gloves, sweatshirts, hats, and water bottles. Parents can stop by during the day, after school or while they are here for conferences. Students can search for missing items before school or during their lunchtime. All hats, gloves, and mittens will be washed and brought to the Health Office. Remaining items will be donated to Interfaith Outreach in mid-November.
New Reading Curriculum Generates Excitement
Katie Englund's 1st grade classroom at Gleason Lake Elementary helped to pilot the new reading curriculum that is now being used in all Wayzata elementary schools this year. Pictured here, Shae was super excited to find the word "hopes" in her book and insisted that her mom send Ms. Englund a picture right away.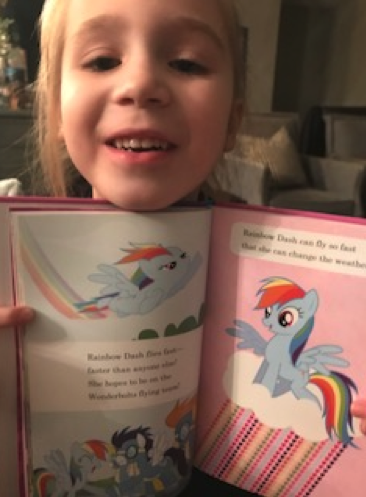 Reporting Attendance in Skyward Family Access
As the holiday season approaches and families begin planning for trips and vacations, we wanted to remind you that all absences (vacations, religious holidays, doctor appointments, illnesses, family emergencies, etc) should be entered via Skyward Family Access. Families will no longer need to complete a Travel Plan Form when they go on vacation, as all absences are now entered via Skyward Family Access. A few reminders when it comes to attendance:
Children are considered unexcused without an entry in Skywards Family Access or a call to the attendance line from a parent or guardian.

Students will also be marked unexcused if they arrive late to school and are not escorted in to the office by a parent or adult.

When you are submitting the attendance request in Skyward Family Access, you must be logged in as a parent, not a student.

Calls to the attendance line (763-745-5855) should be reserved for last-minute attendance requests or changes.

Remember to also reach out to your classroom teacher to notify them of a planned full-day or multi-day absence.
Emergency Information Form
For a variety of reasons, there is often a need to contact you throughout the course of the school year. Parents/Guardians are asked to keep their contact information up-to-date in Skyward Family Access Emergency Information Form. Watch the Skyward Family Access video guide and to complete the form.

Box Tops are Going Digital!
If you still have a collection of the traditional clippings, please continue to turn those into your child's teacher, the office, or the container by the gym door, but be aware that the physical Box Tops are being phased out. Plymouth Creek's lifetime earnings for Box Tops is almost $38,000! This is a fantastic program that has benefited our children greatly over the years. Please take a minute to download the new Box Tops app, scan your receipts after each shopping trip, and watch our school earnings increase thanks to you!
If school is canceled, will you get the call?
With winter on its way, make sure you're familiar with Wayzata Public Schools inclement weather procedures for school cancellations. To ensure you receive messages regarding any weather-related cancellations, check that your phone numbers and email addresses are listed correctly in Skyward Family Access. In the event of inclement weather, please listen to the radio and TV news; watch for updates on Facebook and Twitter; and check the district website. If you have subscribed for SMS messages, be sure to text "YES" to 67587 to confirm your opt-in.
---
November 2019 Wayzata Legislative Action Committee (LAC) Meeting Update
The Wayzata LAC met Wednesday, November 13. Jim Westrum, executive director of finance and business, presented an update on finances for Wayzata Public Schools. During the 2019 Legislative Session, an additional 2% was added to the general formula for 2019-2020 and 2020-2021. In addition, WPS will also receive an additional $400,000 in one-time safe schools aid. Wayzata Public Schools' LAC is a non-partisan group of citizens that monitors legislative activity as it affects K-12 education and advocates positions on behalf of the district.
---
Youth Enrichment Opportunities
Be sure to check out all the Community Ed options below... from chess, to strings, to theatre, and more!
---
We've had so many great Ask Ali questions flooding our inbox over the past month. Thanks to all who have submitted! We want you to know Ali, along with her network of local experts, have been working hard to answer these questions. Responses are posted every Monday on her blog at partnersinpreventionmn.org/askali. Parents, you've got to check out the responses to these questions! There are some interesting ones that have been asked; chances are you might be wondering some of these things. Keep the questions coming!
After school classes at Plymouth Creek:
Engineering Club
Fall 2019 STEM Sampler - Join us as we explore new STEM topics. We will shake things up as we investigate volcanoes, earthquakes, and plate tectonics. Explore aerodynamices by designing and testing our own flying machines as we learn about lift, drag, and thrust. Experiment with mixtures that are sloppy, slimy, and foamy.
The Frozen Princesses - Join us for this one day class on Dec 5! We will create a sparkly, wintery castle scene featuring our favorite princess!
Upcoming Events:
Young Scientist Roundtable: New Treatments for Spinal Cord Injuries, December 9

Parenting with Vision: HELP! Technology is Taking Control: Strategies for Leading Young People in Healthy Relationships with Technology - Raising children in this age of technology can be so confusing, and let's face it – scary! How do we know how much screen time is too much, what kids are exposed to on the internet, and how to set healthy boundaries? One of the top experts in the Twin Cities regarding technology and video gaming, Mathew Meyers, LMFT, from Traverse Counseling & Consulting, will provide information for parents of pre-teens and teens. Thursday, November 21, 7:00-8:30 p.m., Wayzata High School Auditorium. Parenting with Vision is sponsored by the District Liaison Committee and your PTA/PTO.

Events are free with no registration required.
Thursday, November 21, 2019
7:00 PM - 8:30 PM
Monday, December 9, 2019
7:00 PM - 8:45 PM
Monday, January 13, 2020
7:00 PM - 8:30 PM
Monday, November 18, 2019
4:00 PM - 6:00 PM
Monday, December 2, 2019
4:30 PM - 6:30 PM
16005 41st Avenue North, Plymouth, MN 55446 | 763-745-5800