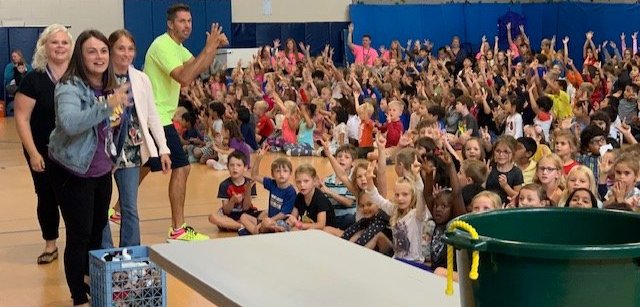 Message from Dr. Thompson
Our Panther Prowl Kick-off was a great success. Thank you to everyone who participated. Hopefully all of your children brought home the information packet for your family to send out and collect pledges. The kids are all excited and we hope to add to our enrichment opportunities and atrium usage with the funds raised. Thank you for your support and we hope every family will participate with at least one pledge!

During the Panther Prowl on Friday, October 4, our front parking lot will be closed. We will have staff out front directing traffic and ask that everyone park in the overflow parking lot next to the church. We will have small buses and carpool drop off along the curb on the south side of 41st Ave. This means no parking on the north side of 41st Ave. Thank you for your support with the necessary changes on the day of our Panther Prowl Fun Run.
A few reminders for parents:
With the fall weather blowing in, it's important for students to start wearing proper attire for the cooler weather because they will always go outside to recess, unless it's raining or extremely cold.

Please make changes to your child's after school pick up routine before school. We are happy to communicate a change in schedule on an "emergency" basis but not on a regular basis.

We will continue to deliver a forgotten lunch, gym shoes, etc. each day between 9:45 - 10:00 a.m. If anything is dropped off after 10:00 a.m., students will need to pick up their item from the office. We are trying hard to teach responsibility to our students so this includes trying to minimize the number of times a parent needs to drop off something for their child. Thank you for your support in helping us teach all students to be responsible for their lunch, shoes, and homework.
Panther Pride Winners - September 20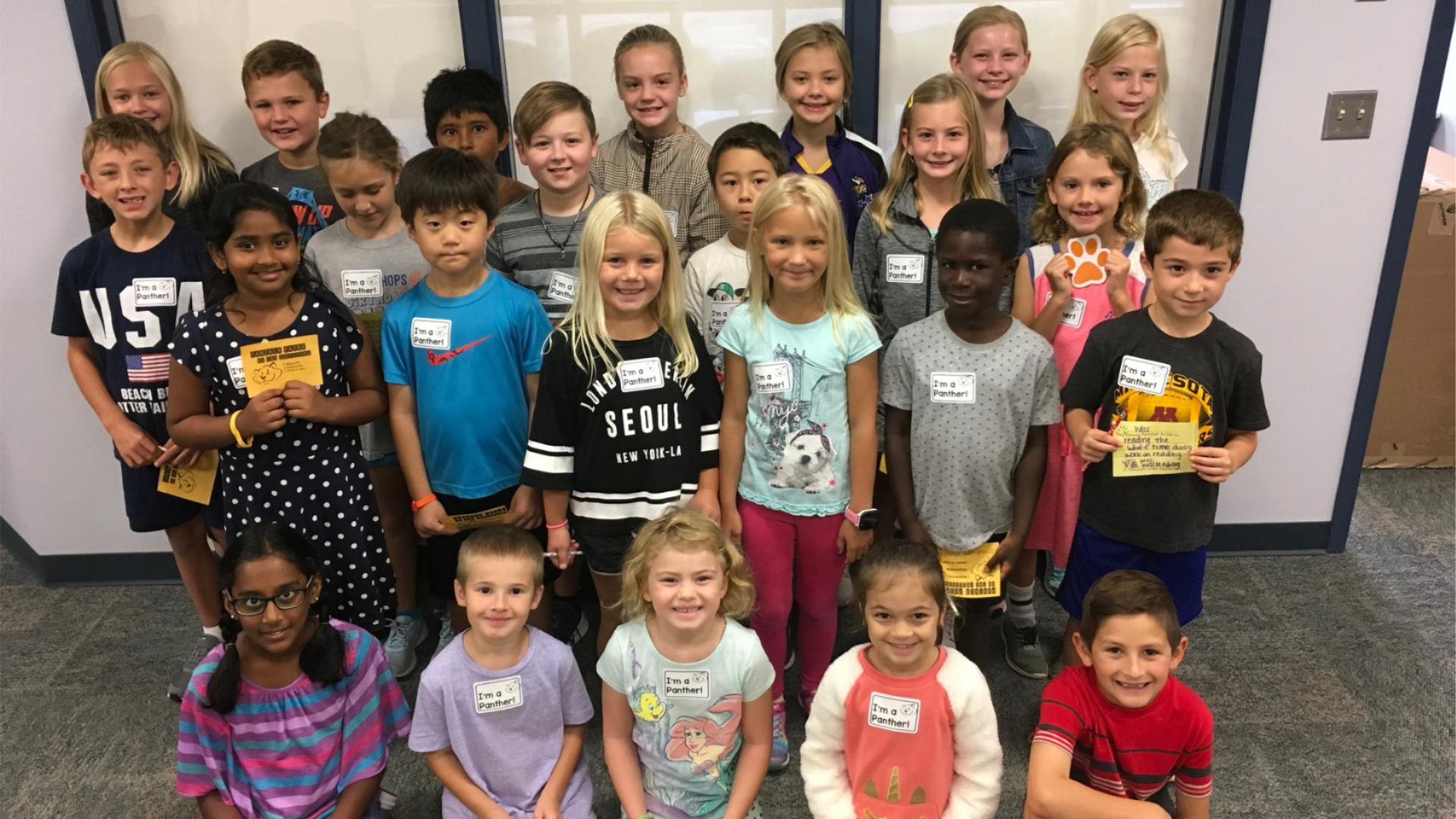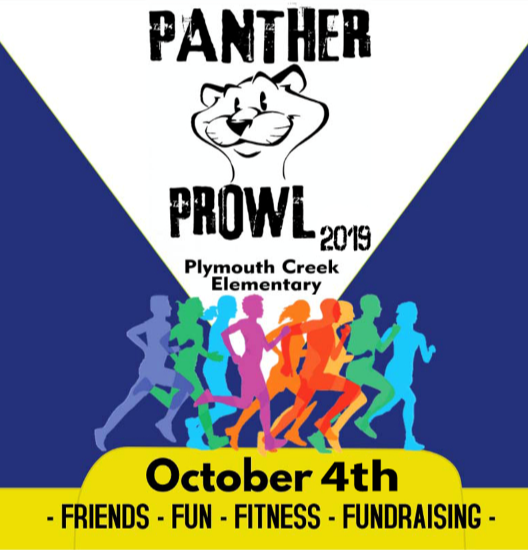 Plymouth Creek's Panther Prowl Fun Run is coming Friday, October 4. Students received fundraising packets on Monday, September 23 after the all-school Panther Prowl Kick-Off Assembly. Our physical education teachers are doing a great job of getting students prepared and excited for this event, and we hope all families will support this one and only fundraiser. Watch last year's video to see all the fun we had.
Picture Day is Coming!
Lifetouch will be here Tuesday, October 8 to take yearbook photos of our students. Photos can be ordered online. Picture retake day will be Wednesday, November 13.
Health Screening
Every school year, students participate in grade-level health screening. Students also receive hearing and/or vision screening upon request from their parents or guardians or if the teacher suspects that there may be a hearing or vision concern that is affecting the student's ability to learn.
If your child does not pass any part of the hearing and vision screening, health office staff will re-screen to verify the results. If the student does not pass the second screening following the MN Department of Health guidelines, a letter will be sent home with the student outlining the findings and recommendation for follow-up with a physician. If at any time you question your child's hearing or vision, feel free to contact the health office. If you do not wish for your child to receive health screening, please inform the health office at 763-745-5815.
From the Media Center
Plenty of exciting events have been going on in the media center since the start of the school year! Author Hena Khan will visit Plymouth Creek on Monday, November 11. You can order her books, and receive a 20% discount, by October 14. 5th graders had a Skype visit with Author Dusti Bowling. 3rd graders have been previewing the Minnesota Star of the North books for this school year
Reporting Attendance in Skyward Family Access
Please report absences in Skyward Family Access when your child is absent or tardy. Children are considered unexcused without an entry in Family Access or a call to the attendance line from a parent or guardian. When you are submitting the attendance request in Skyward Family Access, you must be logged in as a parent, not a student. Calls to the attendance line (763-745-5855) should be reserved for last-minute attendance requests or changes. Please also reach out to your classroom teacher to notify them of a planned full-day or multi-day absence.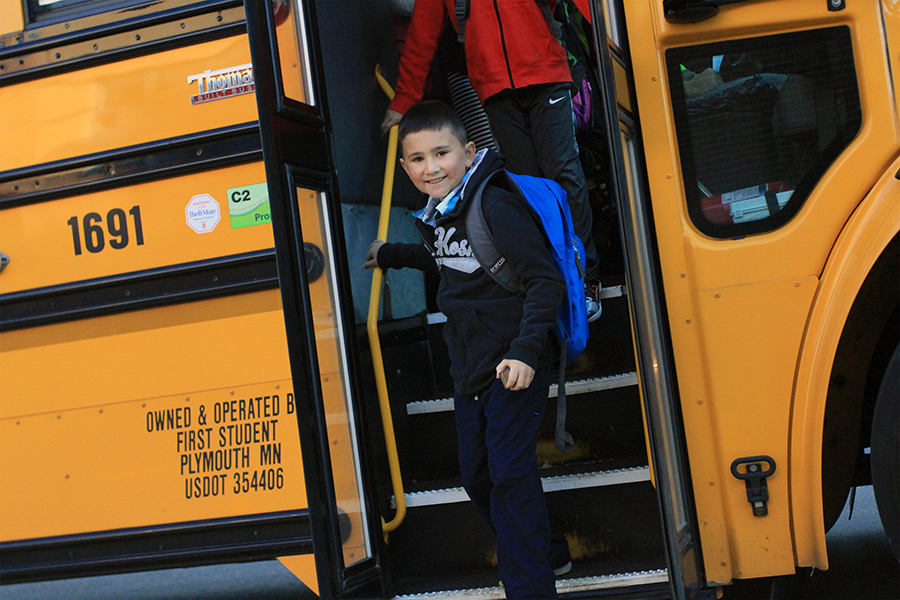 From the Health Office
Please notify our health office if your child has any health conditions, such as asthma, allergies, seizures, diabetes, or needs to take any medications while at school. If your child is new, please make sure you have submitted his/her up-to-date immunization records. Sharon Hanson, in the health office, can be reached at 763-745-5815.
Emergency Information Form
For a variety of reasons, there is often a need to contact you throughout the course of the school year. Parents/Guardians are asked to keep their contact information up-to-date in Skyward Family Access Emergency Information Form. Watch the Skyward Family Access video guide and to complete the form.

Student Directory Forms are Now Online!
You can now fill out the online form for the Plymouth Creek Elementary Student Directory online! All families that want their information included in the directory need to fill out the online form by Friday, September 27, regardless of whether the form was filled out in previous years.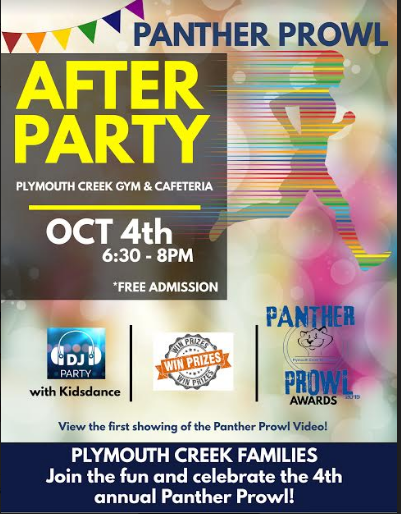 Panther Prowl
Thank you to teachers and staff for a wonderful Panther Prowl Kick-Off Assembly! We're excited to get the momentum going for 12 great days of fundraising! There will be a Panther Prowl After Party on October 4, from 6:30-8:00 p.m.! Please join us for prizes, games, music, and awards.
2019 School Board Elections
On November 5, eight candidates will be on the ballot for four positions on the Wayzata School Board. Three incumbents are running. Election and voting information is available on the School Board Elections webpage .
---
Youth Enrichment Opportunities
Be sure to check out all the Community Ed options below... from chess, to strings, to theatre, and more!
---
Wayzata Legislative Action Committee (LAC) September Update
The Wayzata LAC held its first meeting of the year Wednesday, September 11. The committee was joined by Kimberley Dunn Lewis from Minnesota School Boards Association and Troy Melhus from Association of Metropolitan School Districts to learn tips for effective advocacy. The LAC is a non-partisan group of citizens that monitors legislative activity as it affects K-12 education and advocates positions on behalf of the district. We value our positive and collaborative relationships with the four senators five representatives that represent Wayzata Public Schools. To learn more about the LAC and who represents you, visit the District Committees webpage.
---
Reporting Absences in Skyward Family Access
New this year, we are asking elementary parents/guardians to begin reporting student absences online in Skyward Family Access. Middle and high school parents/guardians are already reporting student absences online.
Please remember that students will be considered unexcused if an absence is not reported. And you will still be able to call your school to report an absence if you don't have online access.
It's also important to make sure your phone numbers are updated in Skyward Family Access in case of an emergency. More information and reporting attendance instructions can be found at the link below.
We appreciate your help and patience as we make this transition. If you have any questions about using Skyward Family Access, contact helpdesk@wayzataschools.org.
Reporting Attendance Instructions
---
We've had so many great Ask Ali questions flooding our inbox over the past month. Thanks to all who have submitted! We want you to know Ali, along with her network of local experts, have been working hard to answer these questions. Responses are posted every Monday on her blog at partnersinpreventionmn.org/askali. Parents, you've got to check out the responses to these questions! There are some interesting ones that have been asked; chances are you might be wondering some of these things. Keep the questions coming!
Our Wayzata MacPhail Strings program offers violin and cello lessons for 2-5 graders! Registration is open now through September 30. Lessons take place at Gleason Lake, Greenwood, Meadow Ridge, and Plymouth Creek, students from all elementary schools are welcome. (Cello lessons are at Greenwood on Tuesdays).
After school classes at Plymouth Creek:
Engineering Club
Junior Robotics
Olaf and Friends
Fall 2019 STEM Sampler
The Frozen Princesses
Destination ImagiNation Information Night for parents and Team Managers is Thursday, Oct 3, from 6:30-7:30 at Central Middle School. Visit our website for more information on DI.
Youth and Adult Enrichment catalog is online! Check out all our offerings!
Opportunities for adults and youth together:
Mike Lynch's MN Star Watch Party!: youth ages 6-17 may register with a registered adult
Upcoming Events:
Young Scientist Roundtable: Riding a Laser Beam to Alpha Centauri, Oct 14 at 7:00 p.m., Wayzata High School Auditorium
Parenting with Vision: Join us on October 10th for Top 20 Parenting! Do you struggle with helping your child persevere through challenges? Does your child complain about boredom or procrastination? Do you wish you had language and strategies when you come into conflict with your child? Come learn about Top 20. Students in Wayzata Public Schools are using Top 20 strategies, to become more engaged in school. Parents will learn useful phrases and strategies to help your child navigate the teenage years. Learn to see things differently and respond more effectively in all relationships. This could be a game-changer for your family! 7-8:30 pm, Wayzata High School, Auditorium 2.
Events are free with no registration required.
Monday, October 14, 2019
7:00 PM - 9:00 PM
Monday, October 28, 2019
4:00 PM - 6:00 PM
16005 41st Avenue North, Plymouth, MN 55446 | 763-745-5800